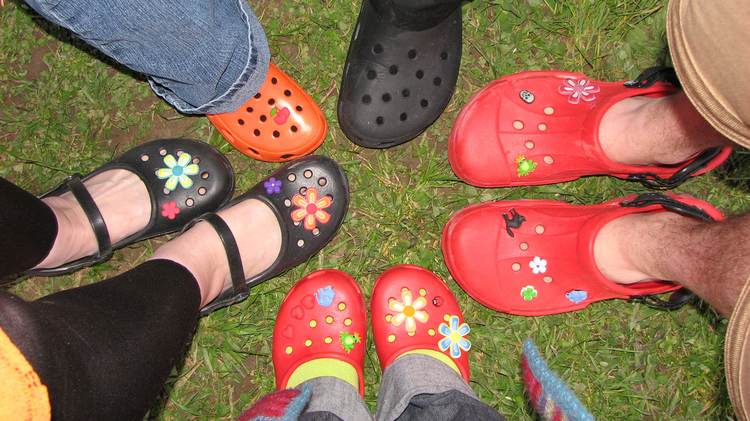 ☆
Crocs contain materials dangerous to health, German report says
credits/photos : Flickr
Colorful but a possible health risk. Many plastic clogs contain cancerous materials
6 out of 10 tested models contain cancerous materials, strong smell clear sign of contamination
10Colorful plastic-clogs can contain highly cancerous chemicals which will be absorbed through the skin.
German broadcaster WDR, sent ten plastic-clogs from different price ranges to the lab for testing. According to the analysis all ten tested shoes, including those of US brands Crocs and Skechers, contained problematic substances.
The report urges those who still wish to sport their plastic footwear to wear socks to protect their health, as dangerous toxins are absorbed by the skin when it comes in direct contact with the materials. The German Federal Institute for Risk Assessment (BfR) also advises consumers to mainly avoid plastic clogs with unpleasant odor.
The especially problematic substances are so-called polycyclic aromatic hydrocarbons (PAHs), which have been identified as carcinogenic, mutagenic, or teratogenic.
PAHs were found in six out of ten shoes, with black shoes having the highest amounts. The toxic chemical can be inhaled or absorbed through the skin.
While the shoes of the original of US Company Crocs did not contain any PAHs, four types of solvents that can lead to skin irritations and allergies were found. Also five other tested brands contained solvents.
Crocs released a statement saying: "We do not know the exact parameters used in the test that this report is based on. Furthermore, our production processes are aligned so that all our products comply with European legislation."
Also US Company Skechers, whose shoes contained solvents, PAHs, and heavy metals, said that their shoes are produced according to the European Community Regulation on chemicals and their safe use (REACH).
The EU regulation currently does not have a limit for PAHs in place. While the plastic industry is using a voluntary limit of 10mg/kg in the production of car tires, health experts demand a limit of 0,2mg/kg for consumer products.
Before buying Crocs or any of their numerous knock offs, it is recommended to smell the shoes. A biting or sweet smell is a sure sign that the shoes are releasing solvents.