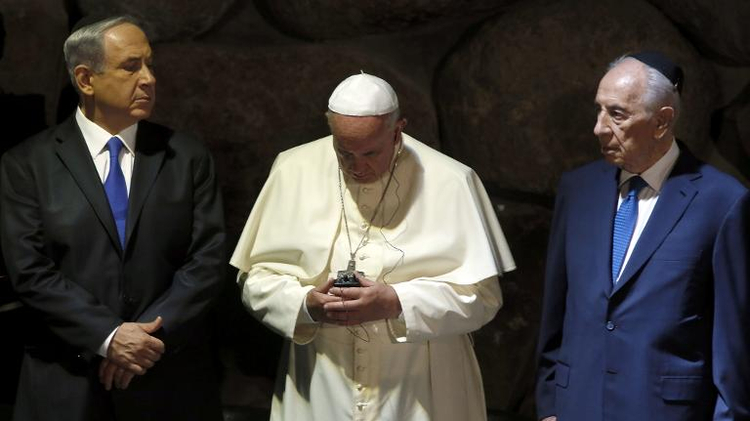 ☆
Abbas, Peres to 'invoke peace' at Vatican
credits/photos : Gali Tibbon (AFP/Archives)
Le pape François à côté du président israélien Shimon Peres (d) et du premier ministre israélien Benjamin Netanyahu (g) à Jérusalem le 26 mai 2014
Prayer meeting with Pope Francis to include symbolic tree planting; Vatican insists event 'purely spiritual'
The Israeli and Palestinian presidents will plant an olive tree as a symbol of peace after an unprecedented prayer meeting with Pope Francis in the Vatican Gardens on Sunday amid high tensions in the Middle East.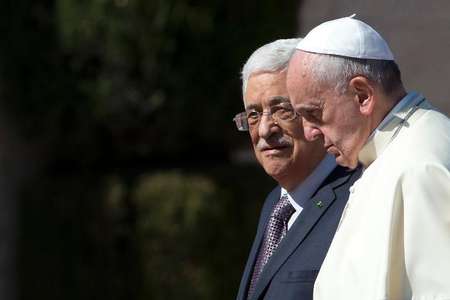 The Vatican said it hoped the initiative launched by Francis, which will include Christian, Jewish and Muslim prayers and music, would have an impact on public opinion but stressed it would be a purely spiritual event.
Israeli President Shimon Peres and Palestinian President Mahmoud Abbas will arrive separately to be greeted by Francis at the Vatican's St Martha Residence, where he lives.
They will be joined by the Ecumenical Patriarch of Constantinople Bartholomew I, a spiritual leader of the Orthodox Christian world who is close to Francis.
It will be a first meeting between Peres and Abbas in over a year, and the first time a meeting seeking to reinforce the Israeli-Palestinian peace process is held in the Vatican.
The ceremony will begin at 1700 GMT, the Vatican said on Friday, specifying that prayers will be delivered in the chronological order of the founding of world's three main monotheistic religions: first Judaism, then Christianity and Islam.
The prayers from each of the three delegations will focus on three themes: "creation," "invocation for forgiveness," and "invocation for peace," the Vatican said.
The Pope extended his invitation during his pilgrimage to the Middle East last week, where the pontiff met separately with both presidents and other senior figures from the region, both political and religious.
Tensions between Israel and the Palestinians have flared up recently over the formation of a Hamas-backed Palestinian unity government and Israel's plans for 1,500 new homes in Jewish settlements in East Jerusalem and the West Bank.
"This is a pause from politics," said Father Pierbattista Pizzaballa, who is organizing the event and heads up the Franciscan order in the Middle East.
"The pope wanted to look beyond, upwards. Nobody is fooling themselves that peace will break out in the Holy Land, that this will bring peace closer. But this time to stop and breathe has been absent for some time," he said.
"This will not be an inter-religious prayer. We are not holding a joint prayer, we are meeting to pray," he said.
(with AFP)