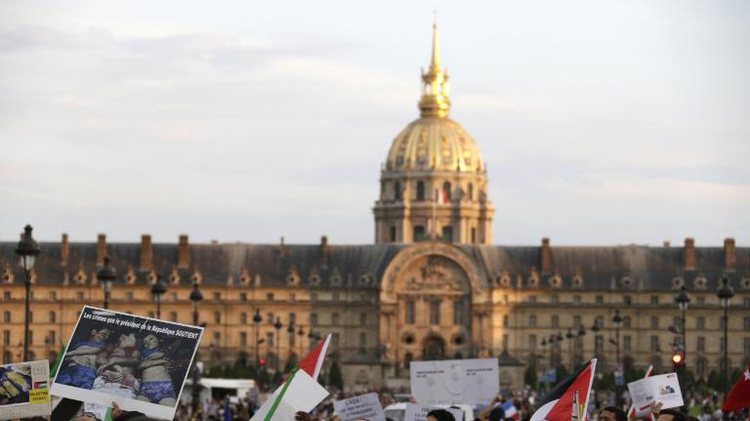 ☆
Anti-Israel and anti-Semitic backlash spreads in Europe and America
credits/photos : Kenzo Tribouillard (AFP/File)
People gather in front of the Invalides during a demonstration to denounce Israel's military campaign in Gaza on July 23, 2014 in Paris
British and French Jewish leaders describe marked rise in anti-Semitic incidents since July
There continues to be anti-Semitic and anti-Israel fallout in Britain, France and the United States as Operation Protective Edge marks its 45th day.
In Great Britain, MP George Galloway was questioned by British police this week after declaring the West Yorkshire city of Bradford an "Israel-free zone" on August 2.
"This is an absolute and despicable attempt to curb my freedom of speech by people who appear to be quite happy about the indiscriminate murder of Palestinians in Gaza," Sky News quoted Galloway as saying. "I won't be silenced. I will keep speaking out against horrendous injustice."
On August 2, Galloway had originally said, "We don't want any Israeli goods; we don't want any Israeli services; we don't want any Israeli academics coming to the university or the college. We don't even want any Israeli tourists to come to Bradford even if any of them had thought of doing so. We reject this illegal, barbarous, savage state that calls itself Israel - and you have to do the same."
Meanwhile, there was a was a firestorm in Israel when a photo emerged of the British Consul-General in Jerusalem, Dr Alastair McPhail wearing a scarf emblazoned with a map of Israel and the words "Free Palestine."
The photo was taken during a visit to Gaza earlier this year and published on the web site of Islamic Relief Palestine.
The Foreign and Commonwealth Office (FCO) had no comment on the scarf. Instead they reiterated their position on the Israeli-Palestinian conflict.
"The UK Government's position on the Israeli-Palestinian conflict has not changed. The UK's longstanding position is that we support a negotiated settlement leading to a safe and secure Israel living alongside a viable and sovereign Palestinian state, based on 1967 borders with agreed land swaps, Jerusalem as the shared capital of both states, and a just, fair and agreed settlement for refugees. The UK will continue to do all it can to support and advance efforts to resolve the conflict."
Meanwhile, the UK has not followed through with its threat last week to stop exporting weapons and weapons components to Israeli should hostilities resume. 
"We said we would suspend licenses if there was a significant resumption of hostilities," a UK government spokesperson said on Wednesday. "We are closely monitoring the situation. Our assessment so far is that the resumption of hostilities has been limited."
 Britain's Jews are also feeling a backlash as the  number of calls to an anti-Semitism hotline has increased fivefold since July. Many of the callers reported being verbally attacked, accused of being child killers or Nazis.
"The actual data is bad enough but cannot convey the mood of the Jewish community, with many people telling us that they have never felt so bad, have been under such pressure, nor worried so much about what the future may hold," said the communications director of the Community Security Trust, Britain's anti-Semitism watchdog group, speaking to the Independent.
Meanwhile, in France, Jewish leader Joel Mergul said that hate speech against Jews in France is spoken out in the open.
"We've reached a situation in which there are people who are not afraid or embarrassed to openly express their anti-Semitism," he said, adding that they are not afraid of the police or prison either.

"All those who oppose the values of the republic and of democracy are no longer doing it hiding but are doing so without fear.

"They say death to the Jews, and we are all Mohammed Merah. These are things we've heard in Paris," he said.
Meanwhile, in California, an Israeli ship finally unloaded its cargo on Wednesday, after days of being blocked by pro-Palestinian protestors. Workes had refused to unload the ship because they were afraid of attacks from the protesters.
In New York, pro-Palestinian protesters unfurled a giant Palestinian flag with the words "Boycott, Divest, Sanctions" from the Manhattan Bridge
At the same time that several hundred pro-Palestinian protesters marched across Brooklyn Bridge.