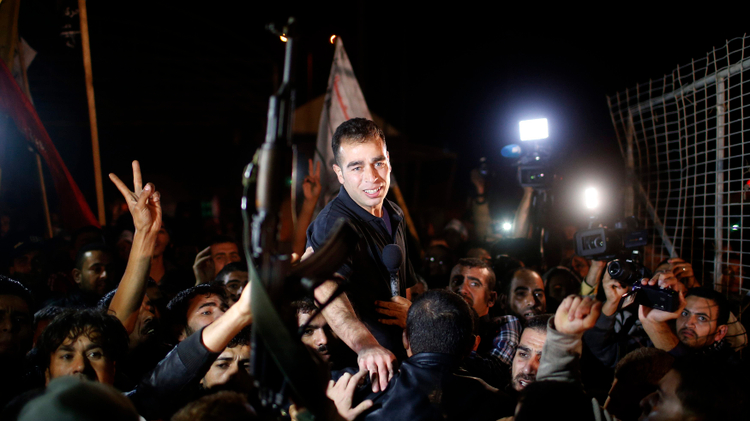 ☆
Israel transfers second group of Palestinian prisoners to West Bank, Gaza
credits/photos : REUTERS/Mohammed Salem
A released Palestinian prisoner reacts upon his arrival at the Erez crossing between Israel and the northern Gaza Strip October 30, 2013.
Palestinians will never sign peace accord with Israel 'without freeing all prisoners' says senior official
The second stage of the Palestinian prisoners' release was completed Tuesday night, as 26 prisoners left Israeli prisons as part of an Israeli gesture to the Palestinian Authority in light of the resumption of peace talks.
The release began with five of the 26 prisoners leaving for the Gaza Strip Tuesday evening where they were greeted by a cheering crowd carrying the released on their shoulders while celebratory gunfire was heard.
In Gaza, some 300 people amassed ahead of the release to welcome the prisoners at the Erez Crossing with Israel, where music blared and dozens of people brandished flags and signs reading "we will never forget our heroes."
Just minutes later, the other 21 prisoners who were released to the West Bank, were greeted at a welcoming ceremony by Palestinian Authority President Mahmoud Abbas at the Palestinian Authority's headquarters in Ramallah.
Some 1,500 people gathered in Ramallah's main square to celebrate the release, waving Palestinian and Fatah flags, Ynet news reported.
The prisoners are to be met by compensation packages of thousands of dollars, proportionate to their time spent in Israeli custody.
"Today is a day of joy for the family and for all of Palestine," said Tayser Shubair, whose brother Hazem was jailed in 1994 for the death of an Israeli, according to the Israeli Prison Service. "My brother is a freedom fighter and we are proud of him and we thank the president for his effort to get him out."
A senior Palestinian official vowed that the PLO would never sign a peace accord with Israel until it secured the freedom of every Palestinian inmate.
"An agreement will never be signed without freeing all prisoners," Palestinian news agency Ma'an quoted Palestinian Prisoner Affairs Minister Issa Qaraqe as saying.
"We congratulate and greet our brothers who arrived from behind bars to the world of freedom. We welcome them and congratulate ourselves for this great reunion. We affirm that we had said 'let them return to their homes and not anywhere else,'" Qaraqe said in a speech introducing Palestinian Authority President Mahmoud Abbas at a ceremony for the freed prisoners in Ramallah.
The Palestinian Cabinet issued a statement describing the releases as a precursor to a full eventual prisoner amnesty and statehood in the West Bank, including adjacent East Jerusalem, and Gaza. Palestinians, it said, would reject any attempt by Israel to "trade" prisoners for continued settlement-building.
Yet Abbas peace envoy Saeb Erekat said the Palestinians had shelved applications to UN institutions open to them since the international forum implicitly recognized their statehood claim last year. Those institutions include the International Criminal Court, where Palestinians might have sued Israel over the settlements, considered illegal by most world powers.
"A heavy price was paid, but a self-respecting country would go through war to return these symbols of Palestine, some of whom have spent 19, even as many as 30 years in prison," Erekat told Palestine TV.
All released inmates were convicted of murder in the killing of Israelis before or just after the Oslo accords were signed two decades ago.
Supreme Court petition rejected
The Israeli Supreme Court rejected Tuesday the petition filed by the Almagor Terror Victims Association against freeing the Palestinian prisoners. "We must follow through with our commitment," justices explained their final decision. The court's decision cleared the way for the reportedly midnight-release of the prisoners, to be then transferred to the West Bank and to Gaza.
The State representative claimed the appeal must be rejected since it has no cause for intervention in the government decisions. She said that the decision of the release was made as part of negotiations, and Palestinian commitments crucial to Israeli interests were made.
Family members of Israelis murdered in terrorist attacks petitioned the Court in a last ditch attempt to halt the release of 26 Palestinian prisoners as part of a government ordered goodwill gesture to the Palestinians.
"Freeing murderers, even if for national interests, is tainted by immorality and strikes a deadly blow to a society established on the values of morality and law," read the petition filed by Almagor, a group that represents families of terror victims.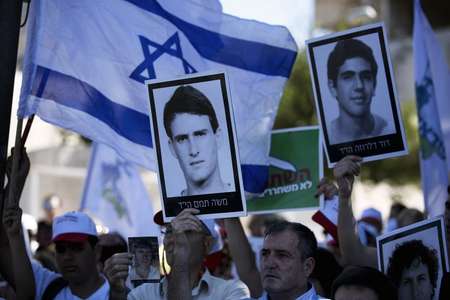 "The government is shutting its eyes to the ongoing terrorism," the group's lawyer told Walla! News. "The release of terrorists pours oil onto the bonfire of terror. I am optimistic that we can halt the wave of releases."
The petition also argued that contrary to a government commitment, two of the 26 Palestinians to be freed had committed their crimes after the signing of the Oslo accords and therefore should not be released.
The families have filed a similar petition before the first group of prisoners was released two months ago. The petition was also rejected by the court saying it considered the issue a diplomatic one and would not intervene.
"Jewish blood is not cheap"
On Monday, roughly 3,000 people took part in a protest against the planned release outside the Ofer prison, where many of the inmates are held. Demonstrators carried the victims' pictures, and many of them shouted, "Jewish blood is not cheap."
Cutting short the prisoners, all convicted murderers' life sentences has been particularly grating for many Israelis because prisoner releases were a Palestinian condition for reviving peace talks last August that few people on either side of the conflict believe will succeed.
In all, 104 long-serving prisoners will go free. A first group of 26 was let out two months ago in keeping with understandings reached during shuttle diplomacy by US Secretary of State John Kerry.
Construction Minister Uri Ariel (Habayit Hayehudi) also attended the protest, and called the release "immoral from a Jewish perspective."
Some of those opposed to the release may have taken their protest too far on Monday drawing widespread condemnation after they planted banners reading: "Your death was in vain," next to gravestones of fallen soldiers at a military cemetery in Jerusalem.
The activist told Ynet News that they aimed to stir debate and address the terror victims, who according to them "were forgotten by the government, which chose to release their murderers."
A police investigation into the matter was opened.
An "agonizing" decision
On Monday, Netanyahu called the decision to release the prisoners one of the most agonizing of his career.
"The decision to release prisoners is one of the toughest decisions that I've taken as prime minister," Netanyahu told a Likud-Beytenu faction meeting. "I am certain that all the prime ministers who made this decision before me agonized over it as well, due to the injustice of villains being released before they serve the full term of their sentences. My heart is with the bereaved families, and it pains me. This decision is a necessity, given the reality in which we live."
In a statement announcing their decision to let the prisoners go, a special committee made up of Netanyahu, Justice Minister Tzipi Livni, Internal Security Minster Yitzhak Aharonovich, Defense Minister Moshe Ya'alon and Minister of Science and Technology Ya'akov Peri, stressed that if any of those released returned to a life of terror, they would be put in custody again.
Ya'alon said Tuesday that the committee decided with a heavy heart on which of the prisoners would be released. "We don't enjoy doing it, but we as the government are responsible for navigating the country according to long-term strategic considerations." Ya'alon noted that all of the prisoners are old men and pledged that Israel would keep track of them.
Prisoners released Tuesday:
1. Mohamed Ibrahim Nasr, arrested in May 1985
2. Rafi Farhoud Karajeh, arrested in May 1985
3. Mohamed Ahmed al- Sabbagh, arrested in January 1991
4. Hazem Kassem Shbair, arrested in March 1994
5. Ahmed said al-Damuni, arrested in September 1990 for his involvement in the brutal lynching of IDF reservist Amnon Pomerantz in Gaza in 1990.
6. Yusef Awwad Masalha, arrested in May 1993
7. Sharif Hasan Abu Dhailah, arrested in May 1992 for the murder of his employer Avi Osher, in a Jordan valley date orchard where Abu Dhailah was working.
8. Mustafa Amer Ghanimat, arrested in July 1985 for the murder of Meir Ben Yair and Michal Cohen while they were sitting in their car in Mesua Forest near the town of Beit-Shemesh.
9. Rizek Ali Salah, arrested in June 1993
10. Afu Musbah Shkair, arrested in July 1986
11. Muayad Salim Hijja, arrested in May 1992
12. Najeh Mohamed Muqbel, arrested in July 1990
13. Hilmi Hamad al-Amawi, arrested in January 1994
14. Issa Nimer Abed Rabbo, arrested in October 1984 for the murder 23-year-old students Revital Seri and Ron Levy while they were hiking near the Cremisan monastery, south of Jerusalem.
15. Haza'a Mohamed Sa'di, arrested in July 1985 for the murder of 19-year-old Leah Almakais and 35-year-old teacher Yosef Eliyahu.
16. Najeh Mohamed Muqbel, arrested in July 1990
17. Abdel Rahman Yusef al- Haj, arrested in February 1992 for the murder of 42-year-old Genia Friedman as she was walking with her father in Kfar Saba. Her father and two bystanders were also stabbed in the attack.
18. Osama Zakariya Abu Hanani, arrested in October 1992
19. Mohamed Yusef Turkeman, arrested in October 1992
20. Ahmed Said Abdel Aziz, arrested in February 1993
21. Mohamed Musbah Ashour, arrested in February 1986 for the murder of Israeli taxi driver David Caspi.
22. Omar Issa Masoud, arrested in May 1993
23. Khaled Daoud Azraq, arrested in February 1991
24. Othman Abdallah Bani Hasan, arrested in July 1985 for the murder of 19-year-old Leah Almakais and 35-year-old teacher Yosef Eliyahu.
25. Israr Mustafa Samarin, arrested in August 1992
26. Musa Izzat Kura'n, arrested in August 1992