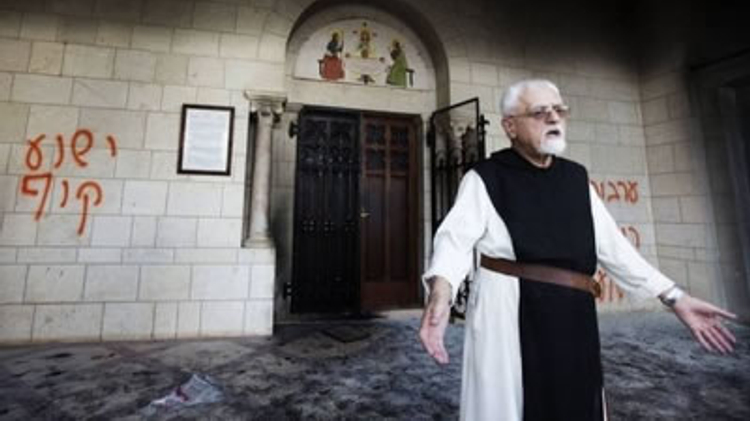 ☆
Israel ups security over fear of right-wing attack during Pope's visit
credits/photos : AFP
Monk at Latrun monastery in Israel after hate graffiti was painted on the walls (April 2014)
Police prep for potential hate crime targeting Israel's Christian community two weeks ahead of Papal visit
Israel police and Shin Bet security service are ramping up security efforts over fears that a hate crime against Israel's Christian community by right-wing extremists may take place during a visit by Pope Francis at the end of May, Haaretz newspaper reported on Thursday.
According to the report, security officials are focusing their efforts on Christian communities and holy sites during the May 24-26 visit, and extra security will be placed at all holy sites until the Pope's visit is over. In addition, district police have been instructed to increase their monitoring of right-wing extremists operating within their district.
The report comes a day after the Roman Catholic church demanded Israel take action following a hate-attack by suspected Jewish extremists who daubed hate graffiti on Vatican-owned offices in Arab east Jerusalem.
Hebrew-language graffiti reading "Death to Arabs and Christians and those who hate Israel" was daubed on offices of the Assembly of Bishops at the Notre Dame center, a Vatican-owned complex opposite the walls of Jerusalem's Old City, the Roman Catholic church said.
"The Notre Dame center is the property of the Holy See and this provocation comes two weeks before Pope Francis's visit to the Holy Land and Jerusalem," the Latin patriarchate said on its website.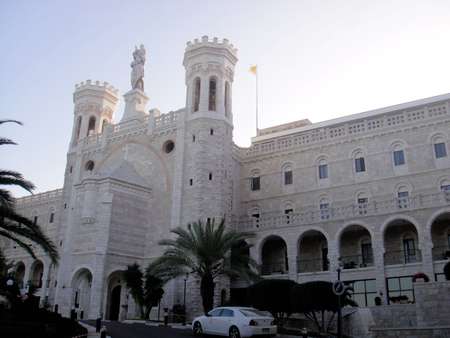 "Heads of the Churches in the Holy Land are preparing a series of actions aimed at informing local and international public opinion, and to make the authorities and law officials aware of their responsibilities."
Police confirmed there had also been fresh hate attacks on Muslim targets in northern Israel on Wednesday, the latest in a spate of such attacks mainly targeting Palestinian or Arab-Israeli property but also targeting churches and mosques.
Israeli security forces appear to be stepping up their activity against these attacks, especially since they spilled over from the West Bank to within Israel. There have been 19 incidents inside Israel this year, compared with seven for all of 2013, according to data published by Haaretz.
On Wednesday, police caught a man red-handed as he punctured the tires of Arab-owned vehicles in the town of Yokneam. Investigators were seeking to establish if he was also responsible for vandalizing a Druze dentist's practice in the town earlier in the day. "Death to Arabs" and "Price Tag" were sprayed on his clinic windows, media said. "Price tag" is a euphemism for hate attacks by Jewish extremists.
Security officials told Haaretz that they estimate that close to 100 people have been involved in the recent wave of hate crimes against Palestinians and Israeli Arabs. Most of the culprits are known as far-right activists from the settlement Yitzhar and West Bank hilltop outposts.
Although police have made scores of arrests, there have been no successful prosecutions for price tag attacks and the government has come up under mounting pressure to crack down on the perpetrators.
Internal Security Minister Yitzhak Aharonovitch said the government planned to use detention without trial against the suspected extremists as it comes under mounting pressure over its failure to secure a single prosecution in the intensifying wave of hate crime. The internal security minister said the government was preparing to allow the use of detention without charge against those suspected of such crimes, powers previously used almost exclusively against Palestinians suspected of security-related offenses.
Administrative detention allows for suspects to be held without trial for up to six months. Such orders can be renewed indefinitely by court decision.
Justice Minister Tzipi Livni said on Sunday she would back the idea of defining such crimes as "terrorism," after the US State Department for the first time included mention of price tag attacks in its global report on terror.
Referring to web posts from residents of Yitzhar that appear to justify killing Israeli soldiers, Livni told reporters that "these words [that appeared on the Internet chat forum] were not said in Hamas headquarters, but in a Jewish settlement – in Yitzhar. Those who were silent in the face of hate crimes against Arabs have now discovered that these same crimes have been directed against IDF soldiers, against law enforcement authorities and against the rule of law."
A Jerusalem Magistrate's Court on Wednesday night released to house arrest a 22-year-old settler who wrote on the Yitzhar forum: "I am in favor of throwing stones, even if it would cause the death of a soldier."
(With AFP)