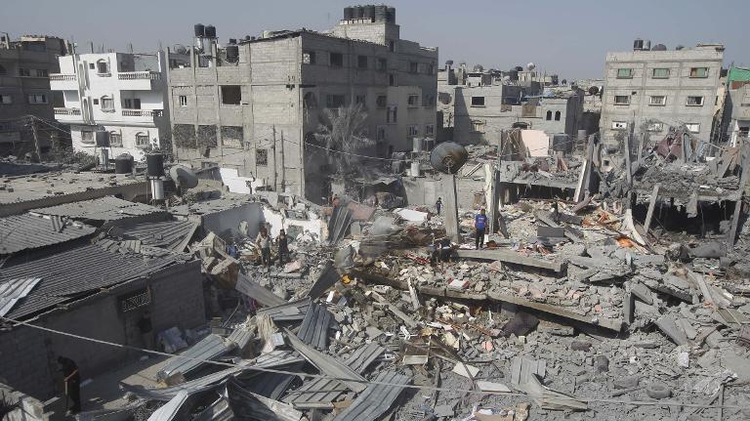 ☆
With Gaza operation scaling back, Israel prepares for tough legal battle
credits/photos : Said Khatib (AFP)
Palestinians inspect the wreckage of a building which was hit in an Israeli strike on the southern gaza town of Rafah, on August 2, 2014
Army puts together a team tasked with shifting blame for civilian deaths on to Hamas
Now that the military campaign in Gaza appears to be in decline, the Israeli government is preparing for its next battle -- warding off war crime accusations in international forums.
With a United Nations Human Rights Council probe already in the works to investigate the high civilian casualty rate during Israel's Operation Protective Edge, and fearing indictments for war crimes against senior Israelis at the International Criminal Court at The Hague, the Israel military has established a team to collect evidence on its fighting in Gaza.
Seeking to prevent a repeat of the scathing "Goldstone Report" that found the army guilty of carrying out war crimes in 2009's Operation Cast lead, the IDF has appointed the chief of its Planning Directorate, Maj.-Gen. Nimrod Sheffer, to head a team assigned to collect evidence of Hamas using Palestinian civilians as human shields.
His team, which includes officials from the Military Advocate General's Office, Southern Command, the Gaza Division and the air force as well as officials from the Foreign Ministry and the Defense Ministry, will try to shift the blame for the widespread devastation that has come about from the three and a half weeks of fighting in Gaza from Israel to Hamas.
According to a report in Hebrew daily Israel Hayom, the team is not only charged with preparing Israel's defense to the UNHRC investigative commission, which could potentially lead to formal charges in the ICC, but also with organizing a diplomatic and public relations offensive.
Israel will seek to convince the investigators that the party responsible for committing war crimes was Hamas, which used the residents of Gaza as human shields.
Israel's defense team has reportedly already started compiling proof and was apparently doing so throughout the operation. Using things like photos and videos of missile hits --stressing the army's efforts to spare innocent lives -- and copies and recordings of warnings Israel sent civilians ahead of attacks, the army hopes to show it did what it could to prevent collateral damage.
For incidents in which people died as a result of operational errors, a separate team has been appointed, which will investigate them and forward its findings to Sheffer's team.
The Gaza violence has claimed 1,720 Palestinian lives and displaced up to a quarter of the territory's population.
Sixty-four Israeli soldiers and three civilians have died since the start of hostilities on July 8.