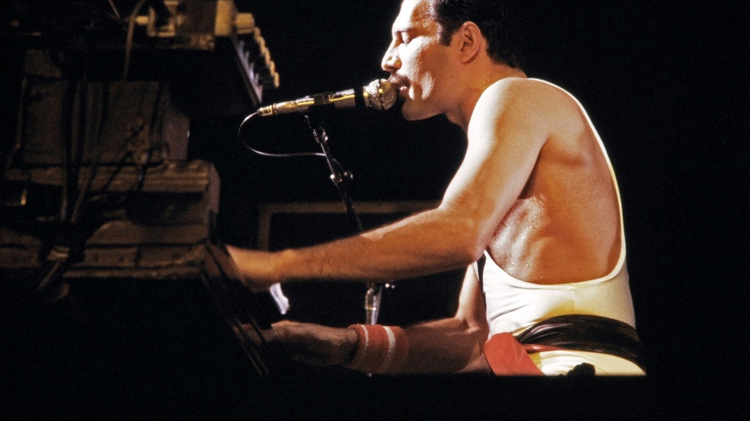 ☆
Asteroid named after Queen icon Freddie Mercury to mark 70th birthday
credits/photos : AFP/Jean-Claude Coutausse
The rockstar Freddie Mercury, lead singer of the rock group Queen, during a concert in Paris, France, in September 1984.
Asteroid 17473 was discovered in 1991 the same year that Mercury died
Lagendary Queen front man Freddie Mercury had an asteroid named after him on Monday, commemorating what would have been his 70th birthday, BBC News reports.
Asteroid 17473 was discovered in 1991 the same year that Mercury died.
Speaking to a crowd of 1,250 fans at Sweden's Montreux Casino, Queen guitarist Brian May said that asteroid would now on be called Asteroid 17473 Freddiemercury to commemorate "Freddie's outstanding influence in the world".
 "And so - for its first appearance in public - Asteroid Freddiemercury - happy birthday Freddie!" he added.
Joel Parker of the Southwest Research Institute, who issued the certificate re-designating the asteroid as Asteroid 17473 Freddiemercury, told the crown that "Freddie Mercury sang, 'I'm a shooting star leaping through the sky' - and now that is even more true than ever before".
"But even if you can't see Freddie Mercury leaping through the sky, you can be sure he's there - 'floating around in ecstasy', as he might sing - for millennia to come," he continued, according to the BBC.
Queen became a musical sensation in the early 1980s, with songs like "We are the Champions" and "Bohemian Rhapsody" that electrified audiences and challenged accepted norms of gender and rock stardom. 
Mercury, born in what is now Tanzania to an Indian family which was forced to flee to England when he was a teenager, has become a gay icon but was largely quiet about his sexuality in public.
After rising to the top of the music industry with his band and launching a solo career, Mercury died in 1991 due to AIDS-related complications.