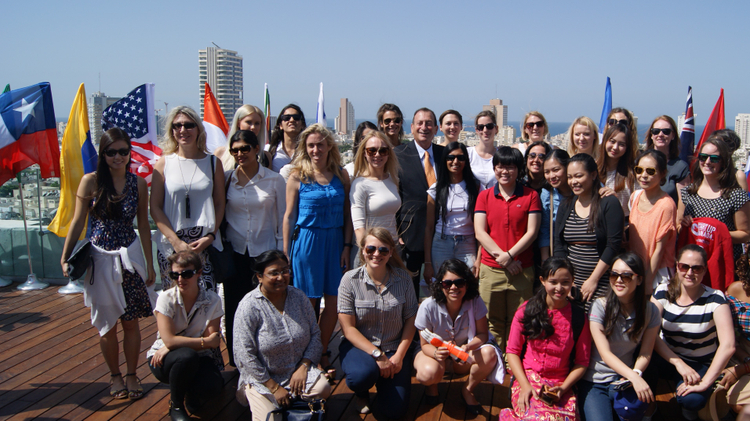 ☆
Girl Power: startup style
credits/photos : Yonathan Cohen/i24news
Tel Aviv Mayor Ron Huldai with the winners of the Start Tel Aviv Competition that this year sought to find the leading female entrepreneurs from around the world, September 25, 2016
Start Tel Aviv Competition aims to discover the leading female entrepreneurs from around the world
From down below it looked like any other startup gathering in Tel Aviv, of which there are many throughout the year due to the city's reputation as a global center for innovation and entrepreneurship. However Sunday morning's event held on the rooftop of the Tel Aviv Municipality building was unique in the sense that it was honoring women from around the globe who were specially chosen for being leading movers and shakers in the startup world.
The sun-drenched event was the culmination of "Start Tel Aviv," a global competition held by The Israeli Ministry of Foreign Affairs and Tel Aviv Global that brings together startups from 31 different countries around the world to compete for the opportunity to take part in an intense, five-day startup experience in Tel Aviv's startup ecosystem.
This year the competition, which is in its fifth year, is celebrating women entrepreneurship around the world, and the winners, who are all female founders of startups from around the world, all gathered on Sunday for the start of their visit during which they will participate in lectures, workshops and meetings with leading Israeli investors and professionals.
Tel Aviv Mayor Ron Huldai opened proceedings at the event and said that the city of Tel Aviv believes that "technology is the way to make the lives of our residents better."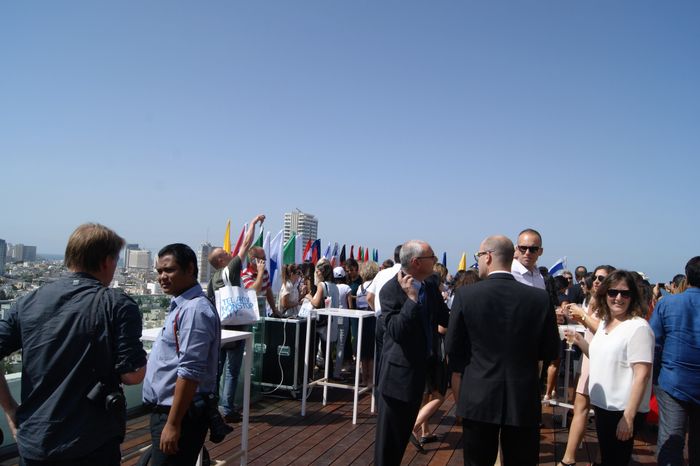 "This is what this week is all about - asking questions, exchanging ideas, seeking knowledge and new opportunities," he said. "I hope this week produces new partnerships and friendships."
Software programmer turned tech food entrepreneur Shama Sukul Lee from New Zealand couldn't contain her excitement at being in Tel Aviv for the first time after winning the competition in her country. "The energy is great, especially the start up energy. When you're an entrepreneur and you've been grinding away you need a place to come and get rejuvenated and this is the best place to come do that, she told i24news.
Lee won her country's competition for her role in founding Sunfed Meats, an innovative company that creates meat-free protein options from plants rather than animals. The company, which aims to create a more sustainable global food option, has received widespread acclaim and attracted a global team of UK, US and New Zealand investors raising $1.5 million.
Lee said that her company is helping to solve a global clean energy problem and wants to expand. "Tel Aviv is the vegan capital of the world so it's the best place to find an investor who wants to back a forward thinking high-impact high tech company," she said.
Lee said that one the key reasons that attracted her to Tel Aviv was the city's concept of commercialization. "It's one thing to have a great idea, but it's another thing to commercialize it."
Mira Marcus from the Tel Aviv Municipality told i24news that this year Start Tel Aviv decided to focus on female entrepreneurship "because this is something that we want to encourage around the world in general and in Tel Aviv in particular."
"We felt that if we draw the attention to the female entrepreneurs of the world it will be a chance to put a spotlight on that issue," she continued.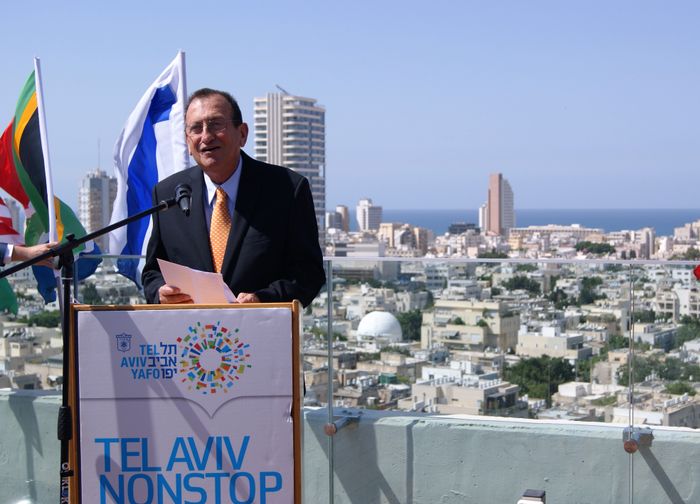 While proudly stating that Tel Aviv was ranked as the number one Startup Ecosystem outside the United States by Compass Report, Marcus highlighted that Tel Aviv's startup scene is also a leader in gender equality. "Tel Aviv has 20% women founders in startups, while the European average is 17%."
Marcus noted that Tel Aviv has a growing number of programs and accelerators that were created by women for women, such as WMN and Campus for Moms at Google, which encourages women on maternity leave to make changes in their careers.
Marcus attributes some of Tel Aviv's success as a startup hub to Israel's mandatory conscription. "We have many people that go to the army and get a skill set that later on helps them become developers but also gives them faith in themselves and gives them the courage to believe that anything is possible. I was on the bomb squad in the army and when I was 18 I taught soldiers how to dismantle bombs. After I did that I felt invincible. I could do anything."
Ran Natanzon, Head of Innovation and Country branding at Israel's Ministry of Foreign Affairs told i24news that this year the Start Tel Aviv Competition wanted to take a different direction. "We wanted to shake up the system a bit."
"Women entrepreneurship is a very important issue not only israel but also around the world," he said. "In Israel we still have a long way to go in terms, but we can still teach others what we know.
He said that in Israel the startup scene is very good at integrating females, and that the country is always happy to help others because "we feel it is part of our mission as Israelis to help make the world a better place."
The Start Tel Aviv's delegation is visiting the city during the DLD Tel Aviv Innovation Festival, a global gathering of innovators and entrepreneurs that includes events, conferences, meet-ups, mingles and gatherings, all focusing on different sides of digital, technological, social, and urban innovation.