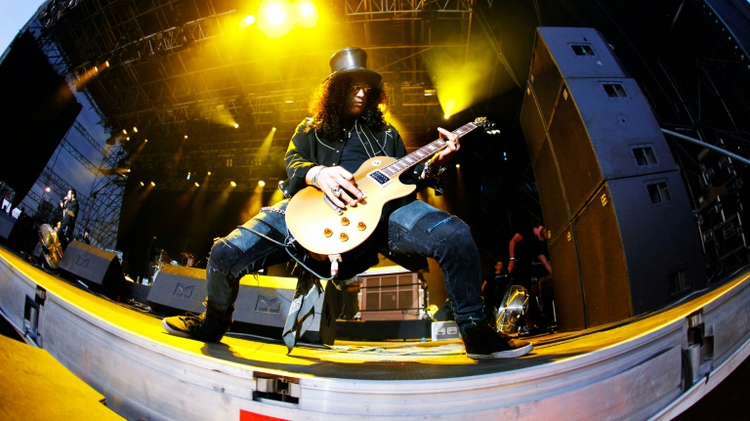 ☆
Rock fans in Paradise City as Guns N' Roses reunite in Israel
credits/photos : Tor Erik Schroder (Scanpix/AFP/File)
Guitarist and former lead guitarist of US band Guns N' Roses, known as 'Slash', performs during the Quart music festival in Kristiansand, Norway, in 2009
It's official, one of the greatest rock bands of all time are coming back to Israel next summer.
Guns N' Roses have announced they will play Tel Aviv's Hayarkon Park on July 15, as part of their Not In This Lifetime…..tour.
It's the first time in 23 years that members from the original lineup, Vocalist Axl Rose, guitarist Slash and bassist Duff McKagan, will be back together following the infamous break up that shook rock fans.
In his first interview since the Guns N' Roses' reunion, Slash, real name Saul Hudson, discussed the band's experience of getting back together. "Everyone's playing great," he said, "and playing nice – yeah. Everybody's getting along. We were all pretty positive that that would never happen so it's still sort of blowing our minds," he told Boston Radio Station WZLX.
The American rockers were inducted into the Rock and Roll Hall of Fame in April 14, 2012 and have sold more than 100 million albums making them one of the world's best-selling bands of all time.
In 1993, the original band put on a show in Tel Aviv as part of its Use Your Illusion tour. Axl Rose last performed in Israel in 2012 with different bandmates.
Rock fans are hoping things go smoothly when the band perform in Tel Aviv. Axl Rose broke his foot ahead of the band's comeback shows and had to use a 'throne' for the band's Coachella shows.