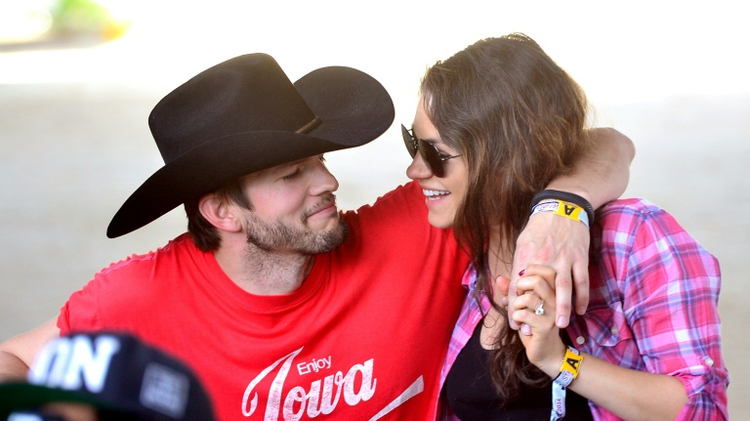 ☆
Mila Kunis and Ashton Kutcher welcome second child
credits/photos : Frazer Harrison (Getty/AFP/File)
Ashton Kutcher (L) and Mila Kunis became engaged in February 2014 after a two-year relationship and married in July 2015
Famous Hollywood couple welcomes healthy baby boy
Actors Mila Kunis and Ashton Kutcher announced the birth of their second child together, a spokeswoman for Kunis confirmed.
The Jewish actress and her husband of "That '70s show" fame, have yet to name the baby boy born on Wednesday, the website E! News reported.
The actors and producers have a two-year-old daughter, Wyatt. They became engaged in February 2014 after a two-year relationship and secretly married away from the public eye in July 2015.
In 2012, Kunis opened up for the first time about her Jewish history and Kutcher has been said to be dabbling in Kabbalah.
Kutcher is unlikely to fully convert to Judaism, but a source close to the couple has previously stated that they want to raise their children in the Jewish faith.
As per Jewish law, the faith is passed down via the mother, meaning Kutcher and Kunis' children will be Jewish, regardless of whether Kutcher converts.
Kutcher, 38, and Kunis, 33, met as co-stars on the set of "That '70s show," a television series aired in the United States between 1998 and 2006 in which their characters were also in a relationship.
Kutcher, who also starred in the television series "Two and a Half Men," among his other roles, shot to international fame when he began dating actress Demi Moore, to whom he was married from 2005 to 2013.
Kunis previously had a long-term relationship with actor Macaulay Culkin.