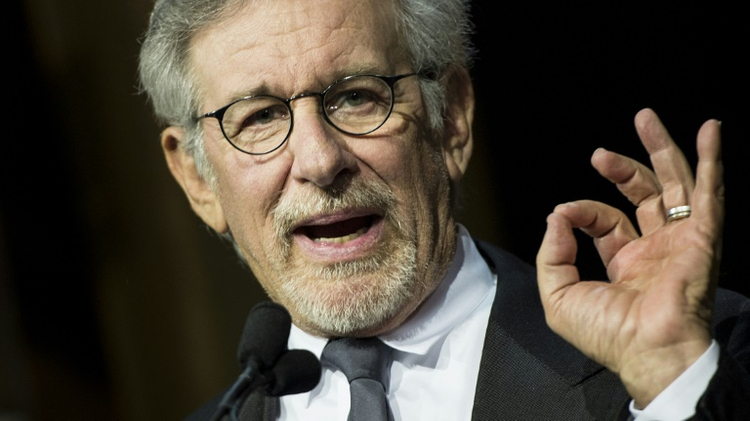 ☆
Hollywood heavyweights raise $3.5 million for Spielberg's Shoah Foundation
credits/photos : Brendan Smialowski (AFP/File)
Director Steven Spielberg speaks during the University of Southern California Shoah Foundation Ambassadors for Humanity 20th anniversary dinner on May 7, 2014 in Los Angeles, California
Pointing to bloodshed in Syria, Shoah Foundation founder Spielberg says 'we have not come far enough'
A star-studded Hollywood gala on Thursday raised some $3.5 million in support of the University of Southern California Shoah Foundation, founded in 1994 by legendary director Steven Spielberg.
Spielberg established the USC Shoah Foundation after meeting Holocaust survivors while making seven-time Oscar winner "Schindler's List," which tells the tale of a German businessman who rescued 1,200 Jews during the Holocaust.
Some 700 guests joined Spielberg at the Ambassadors for Humanity gala at the Dolby Ballroom in Hollywood, including such Hollywood heavyweights as actor Harrison Ford, British comedian James Corden, and the event's honorees filmmaker and entrepreneur George Lucas and his wife Mellody Hobson.
Hobson, a Chicago-based finance and education guru, praised the Shoah Foundation for "giving a face to the faceless," the Jewish Telegraphic Agency reports.
One of the Foundation's most notable accomplishments is its collection of testimonies from survivors of the Holocaust, which has so far gathered 51,413 eyewitness testimonies in 34 languages from 58 countries.
In spring 2013, the archive expanded to include testimonies from eyewitnesses of genocides in Rwanda, and interviews with survivors of conflicts in Cambodia and Armenia have also been recorded.
But founder Spielberg said that despite the Foundation's accomplishments "we have not come far enough," pointing to ongoing bloodshed in Syria. "There can be no more bystanders," he said.
(Staff with agencies)