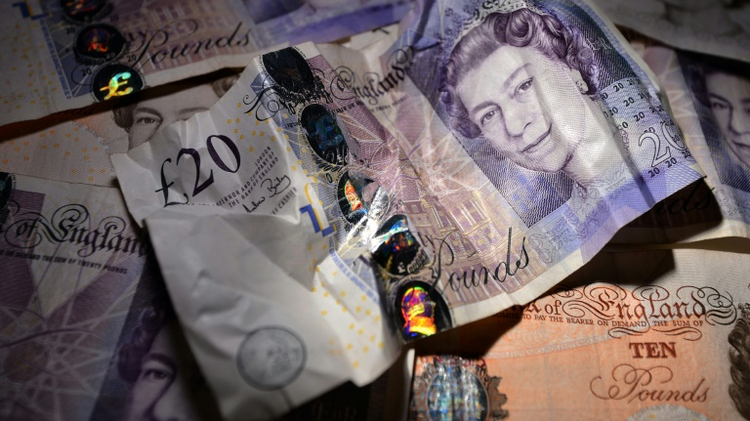 ☆
Pound, global markets collapse in Brexit 'bloodbath'
credits/photos : Ben Stansall (AFP/File)
The pound tumbled to $1.3466, its weakest level in three decades, according to Bloomberg data, as results in the EU membership referendum showed the "Leave" camp posting big wins
The pound collapsed to a 31-year low and currency, equity and oil markets went into freefall
The pound collapsed and world stock markets descended into pandemonium Friday after Britain voted to leave the European Union, fueling a wave of global uncertainty.
In the United States the Dow Jones Industrial Average dropped 400 points in the first minute of trading.
Sterling hit a 31-year low, crashing 10 percent to $1.3229 at one point, and the euro also plummeted against the US currency as the Brexit result caught markets by surprise.
European stock markets went into free fall at the opening, mirroring a rout in Asian markets, which were still open as the referendum results trickled in.
Banking stocks led the way down, with Royal Bank of Scotland, Barclays and Lloyds all losing close to a quarter of their market value at the opening.
London's benchmark FTSE-100 index plummeted 7.5 percent after opening but recovered some of the losses as the dust settled and British Prime Minister David Cameron said he would step down, closing down 3.2 percent.
The Frankfurt stock exchange suffered a 6.2 percent blow, while Paris slumped 8.0 percent, with Milan losing 12.5 percent and Madrid 12.4 percent.
After rallying above $1.50 at the time voting ended, the pound steadily crumbled to its lowest level since 1985, at $1.3229 at one point, before unwinding some losses.
"The British people have voted against the economic warnings of the overwhelming majority of expert economic opinion. Not surprisingly, this morning the referendum result has sent shock waves through global financial markets," said Daniel Vernazza, economist at UniCredit Research.
In midafternoon trading, London stocks were more than four percent down. But its eurozone's counterparts, Frankfurt and Paris, both fell much more as financial stocks took the biggest hit.
In the weeks leading up to Thursday's historic vote, there had been widespread warnings that a "Brexit" would cause a rout across global markets that would wipe trillions off valuations.
"It's a madhouse in here. It has been a bloodbath. Carnage," said David Papier, head of sales trading at foreign exchange house ETX Capital in London.
In the wake of the economic shocks, US investment bank JPMorgan Chase on Friday warned that it could relocate UK jobs abroad following Britain's vote to leave the European Union.
"In the months ahead... we may need to make changes to our European legal entity structure and the location of some roles," said a staff memo obtained by AFP.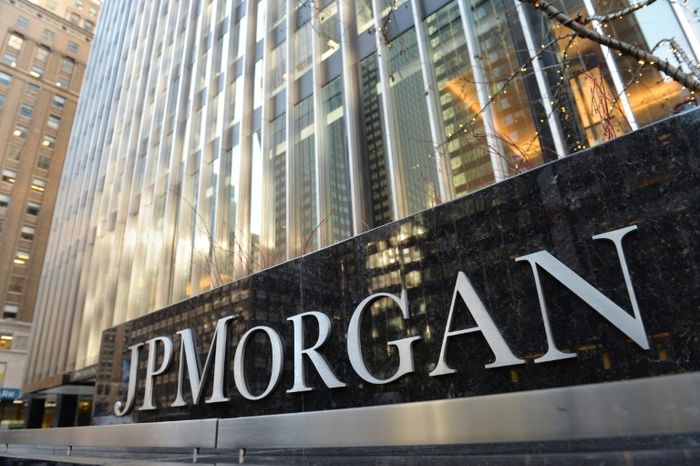 JPMorgan employs 16,000 people in Britain, while chairman and chief executive Jamie Dimon previously said up to 4,000 jobs could move out of the UK.
Markets wrong-footed
But investors were still clearly wrong-footed by the vote outcome. European stock markets and the pound had gained steadily in the run-up to the referendum on the basis of polls and bookmakers' predictions.
"It's scary, and I've never seen anything like it," James Butterfill, head of research and investments at ETF Securities, said in London. "A lot of people were caught out, and many investors will lose a lot of money," he told Bloomberg News.
Fears are also growing that other EU members will push for referendums, posing the biggest threat to the future of the grouping since its inception almost 60 years ago.
That worry pushed stock markets in the eurozone's weaker southern economies even lower than those at the core, with Milan stocks falling 10 percent in early business, Madrid 12 percent and Athens by 15 percent.
"Leave's victory has delivered one of the biggest market shocks of all time," said Joe Rundle, head of trading at ETX Capital.
The dollar slumped briefly to 99.02 yen, the first time it has gone below 100 yen since November 2013, before edging back up above 102 yen. The Japanese unit is considered a safe bet in times of uncertainty and turmoil.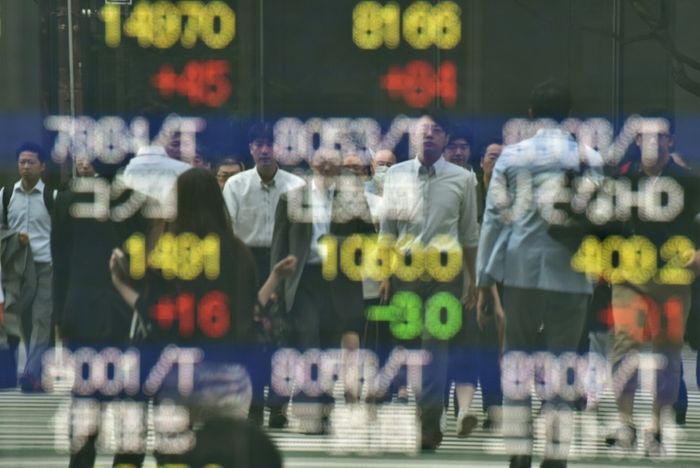 The Bank of Japan said Friday it was ready to work with other central banks to pump cash into financial markets to combat wild swings, while the Bank of England said it would take "all necessary steps" to avert a full-blown crisis, including pumping more than 250 billion pounds ($370 billion, 326 billion euros) into the financial system if needed.
European stocks headed for 7% fall: brokers
Brokers said Friday that Europe's main stock markets are headed for a steep fall of at least seven percent at the opening after Britain's decision to leave the EU.
London stocks, in the frontline of the fall-out from the vote to leave, are likely to plunge around seven percent when trading gets underway at 07:00 GMT, analysts at both CMC Markets and ETX Capital predicted.
Inside the eurozone, the Paris stock market is expected to see a similar drop, while Frankfurt shares are likely to fare only slightly better, with expectations for a six-percent fall of the German DAX index.
"European markets are now expected to open considerably lower, with FTSE futures pointing seven percent lower and this could extend further," said Craig Erlam, senior market analyst at Oanda.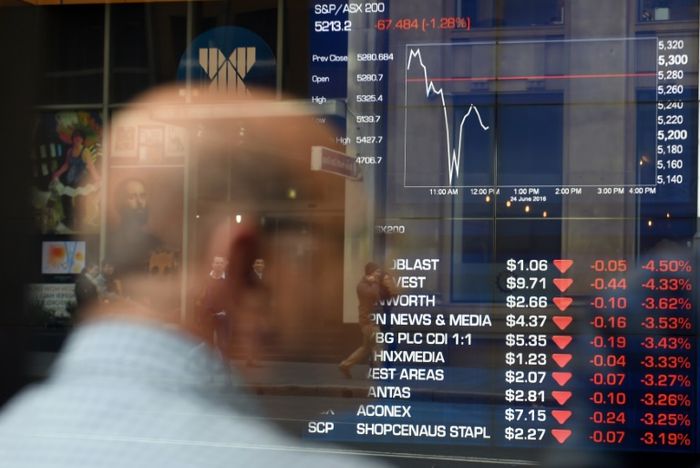 Seeking safety
The Swiss central bank intervened in the foreign exchanges to stem the rise of the Swiss franc which surged on safe-haven buying.
Investors also sought the relative safety of government bonds. The price on the German benchmark 10-year sovereign bond rose sharply, pushing its yield into negative territory for only the second time in its history.
UK government bonds also rose, taking their 10-year yield to a historic low.
Gold, a traditional refuge asset, struck a two-year high.
But elsewhere, billions of dollars were wiped off investment portfolios.
India's rupee, the Canadian dollar and the Singapore dollar all suffered heavy losses, while the South African rand lost six percent on the day as emerging markets were hurt by sudden risk-aversion.
The prospect of a severe hit to the global economy also hammered oil prices, with both main contracts slumping more than six percent.
Key figures around 1530 GMT
London - FTSE 100: DOWN 3.2 percent at 6,138.69 (close)
Frankfurt - DAX 30: DOWN 6.8 percent at 9,557.16 (close)
Paris - CAC 40: DOWN 8.0 percent at 4,106.73 (close)
EuroStoxx 50: DOWN 8.5 percent at 2,779.67
New York - DOW: DOWN 2.6 percent at 17,536.31
New York - S&P 500: DOWN 2.7 percent at 2,055.62
New York - Nasdaq: DOWN 3.1 percent at 4,759.02
Tokyo - Nikkei 225: DOWN 7.92 percent at 14,952.02 (close)
Shanghai - Composite: DOWN 1.3 percent at 2,854.29 (close)
Hong Kong - Hang Seng: DOWN 2.9 percent at 20,259.13 (close)
Pound/dollar: DOWN at $1.3635 from $1.4974 late Thursday
Euro/dollar: DOWN at $1.1112 from $1.1422
Dollar/yen: DOWN at 102.29 yen from 106.53 yen