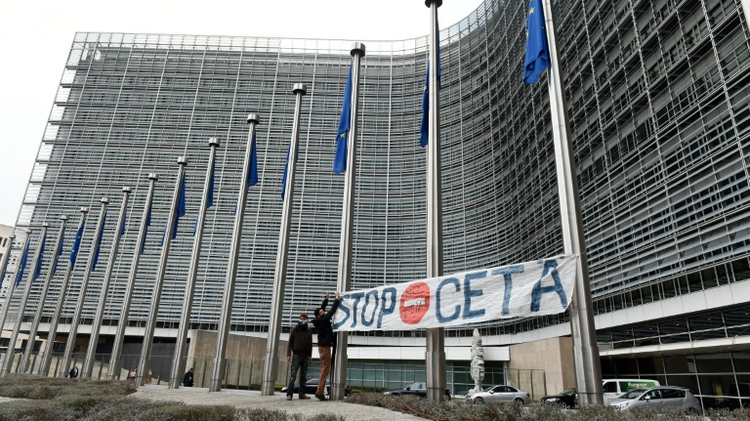 ☆
Canada hails Belgian breakthrough on trade deal
credits/photos : John Thys (AFP)
Resistance from Belgium's French-speaking Wallonia region had threatened to derail the pact between the 28-member bloc and Canada, the world's 10th biggest economy
Belgian politicians succeed to break resistance from French-speaking Wallonia region
Belgium announced a breakthrough Thursday to save a landmark EU-Canada free trade deal by winning over domestic holdouts who threatened to torpedo the agreement and further damage Europe's international credibility.
News of the intra-Belgian agreement came too late for EU leaders and Canadian Prime Minister Justin Trudeau to go ahead with a signing ceremony in Brussels on Thursday.
"This is an important agreement that is on the table," Prime Minister Charles Michel told a press conference after marathon talks to win over Belgium's fractious French-speaking communities.
Under complex constitutional arrangements, Michel needed all of Belgium's regional governments to back the deal before he could sign up.
In turn, the accord requires all 28 EU members for approval.
Confirmation of the agreement came swiftly from Paul Magnette, head of the southern French-speaking Wallonia region who has led objections to the Comprehensive Economic Trade Agreement (CETA).
Canada's Foreign Minister Stephane Dion hailed the move to break the logjam.
- 'Cautiously optimistic' -
"If it materialises, it's excellent news," he said during a visit to Paris, adding he was "cautiously optimistic".
Donald Tusk, president of the European Council, hailed the "good news" as he tweeted that he would contact Trudeau "once all procedures are finalised for EU signing CETA." 
Tusk had hoped until Wednesday morning for a signing summit but it proved impossible as the talks dragged on.
A European source told AFP there was no new date set yet.
The accord must meanwhile be vetted by the remaining 27 EU member states and institutions, as well as by the Wallon and other regional governments who, Michel said, have pledged to give their answer before midnight (2200 GMT) Friday.
EU ambassadors reached an informal agreement on the Belgian documents and have asked their capitals to confirm by midnight Friday, according to Belgian, French and Luxembourg officials.
A European source told AFP on condition of anonymity that the summit deadline had been more a "tool" to apply pressure for an agreement than a must-have event.
The stakes have been high as Belgium had become a lighting rod for warnings that the EU's international standing, already battered by Britain's shock June Brexit vote, would suffer further if seven years of trade negotiations were to go to waste.
After hitting deadlock in talks with Walloon leaders last week, an emotional Chrystia Freeland, Canada's trade minister, dismissed Brussels as "incapable" of achieving an international agreement.
Tusk later warned that Europe risked undermining its global standing if it failed to strike a trade deal with as close an ally as Canada. 
Hinging on CETA's outcome are complex EU trade negotiations with other countries, including an even bigger and more controversial deal with the United States. 
Around 100 demonstrators banging pots protested on Thursday outside the headquarters of the European Commission, the EU executive.
Similar protests are held regularly by opponents of the EU-US talks known as TTIP.
- 'Extremely happy' -
The CETA pact would link the EU's single market of 500 million people -- the world's biggest -- with Canada's 10th largest global economy in what would be the most ambitious tie-up of its kind so far.
In almost a week of drawn-out talks, leaders of Wallonia, a 3.5 million-strong region south of Brussels, had demanded guarantees that CETA would not harm local farming and other interests.
Magnette particularly opposed terms of the deal intended to protect international investors which critics say could allow them to force governments to change laws against the wishes of the people.
"We have finally found an agreement among the Belgians that will now be submitted to European institutions and our European partners," Magnette said.
"Wallonia is extremely happy that our demands were heard," he added.
With the remaining political hurdles hopefully cleared, Tusk may be free to phone Trudeau on Saturday to discuss the next steps, including possibly a signing ceremony, an EU source told AFP.
Once the treaty is signed, it will be applied provisionally pending ratification by all EU member state parliaments, a process that could take years.
(staff with agencies)