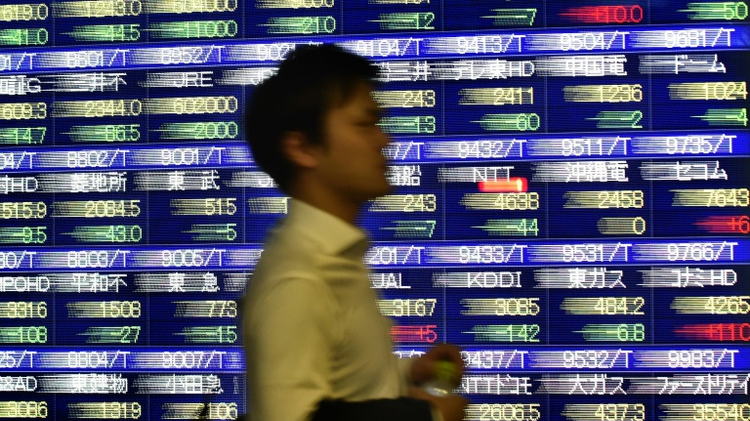 ☆
Uncertainty of US elections sends global stock markets tumbling
credits/photos : Kazuhiro Nogi (AFP/File)
As the results of the November 8 US presidential election remained uncertain, stocks from New York to Tokyo swooned, wiping billions off investments and pensions
S&P pointing to its longest losing streak since the 2008 financial crisis
The uncertainty of the US elections is sending global stock markets tumbling.
The S&P is pointing to its longest losing streak since the 2008 financial crisis, and other major markets are down across the board. Investors say that the instability in and of itself is hurting markets.
"Certainly the primary issue is how much uncertainty this election creates and in the economic sphere," Nick Colas, chief market strategist at Convergex said. They are not so much worried about who wins or loses, but if it puts any kind of calm or even chill on the economy as people are really focused on the uncertainty the election would there be on the business side or the consumer side. It's too early to tell that."
The phenomenon is clearly exemplified by examining the effect of polls on currency markets, and the US dollar. On October 28, FBI Director James Comey alerted Congress that he was restarting the inquiry into whether Democratic presidential candidate Hillary Clinton mishandled classified material during her tenure as secretary of state.
The move sent shockwaves through the polls, and the race narrowed considerably. In the immediate aftermath, global stocks plummeted, and the US dollar fell sharply against a basket of other currencies. Analysts explain that the political uncertainty weighs down on the financial markets like an anchor, and must now correct for a closer-than expected election.
"Markets are now going to have to recalibrate for a coin toss outcome versus what they thought was a sure thing. That will happen headline by headline and tick by tick until [the election]," Colas said.
The financial system clearly pushes back against uncertainty at the political level. But the markets aren't blind; analysts suggest that stocks have a clear preference for Hillary Clinton - who is perceived as the more steady candidate, over Donald Trump, who is considered more unpredictable, and who has potentially problematic policies vis a vis corporate taxation and free trade. Research by the Brookings Institute suggests that the S&P could drop 12% should Trump win the presidential race.
"When Trump becomes less likely to be president, the US markets rally — and they rally strongly... Markets prefer President Clinton to President Trump and actually by a lot," said Justin Wolfers, Professor of public policy, University of Michigan.
Just days away from the November 8 elections, investors will be watching with bated breath, eager for the sideshow to come to a close, one way or the other.