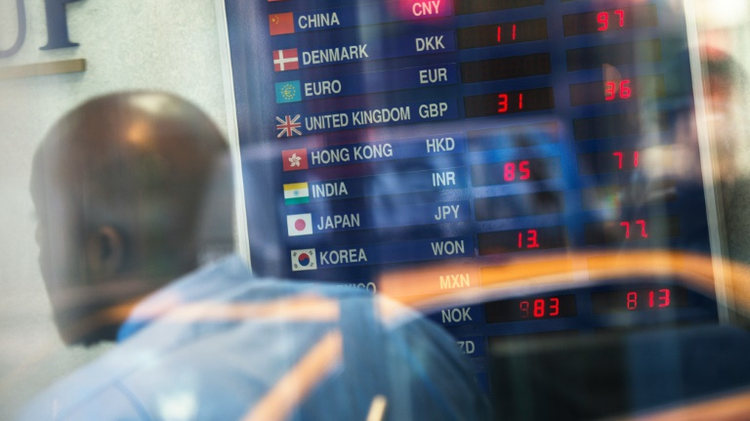 ☆
Bankers trade without currency controls as Egypt addresses economic crisis
credits/photos : Don Emmert (AFP)
A man looks at global rates at a currency exchange shop in Times Square on June 24, 2016 in New York
After Central Bank floats pound, banks moving into unprecedented territory, trading without restrictions
Egyptian bankers traded without currency controls on Sunday, a first for the Middle-East country as it aims to address its economic crisis.
In a span of three short hours, lenders registered a total volume of $15.8 million dollars in inter-bank market trades.
Last week the Egyptian Central bank stated it expected short-term volatility after it announced its new flexible exchange rate policy.
"We consider this to be historic, it is the first time that this happens in the Egyptian economy, and it aims to correct way we manage our economic and financial situation," said Tarek Amer, governor of Egypt's central bank.
A day after the statement, Egypt's petroleum ministry raised energy prices. The price of gasoline jumped over 45 percent in one night, marking the second time Egypt has been forced to raise fuel prices in the past two years.
"This happened all of a sudden," said Atef, a local taxi driver. "I drove into the gas station to fill up my tank, I didn't expect this or prepare for it. Things are going to get more expensive. I bet you anything that from this increase in prices of gas, the price of everything else will increase 200 or even 300 percent."
This set of fiscal policy changes are part of austerity measures that the government is hoping will secure the $12 billion dollar IMF loan.
Political instability has all but scared off most investors and the Egyptian economy is in dire need of the cash injection.
Floating the pound is a bold move but may be necessary to keep the country from falling even further into financial crisis.