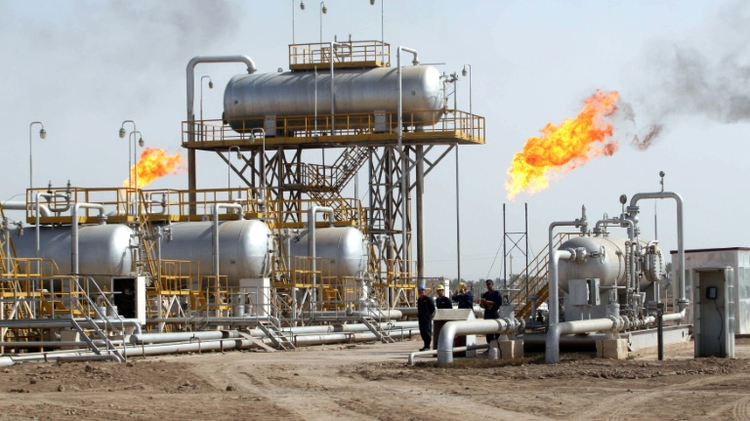 ☆
Analysis: Peak supply, peak demand and OPEC
credits/photos : Essam al-Sudani (AFP/File)
Last month, OPEC agreed a deal to trim production by up to 750,000 barrels per day to between 32.5 and 33 millions per day
As OPEC prepares to meet, macro-economic factors weigh down on prospects of production freeze
In 1956, M. King Hubbert published a theory that oil extraction would decline eventually as global oil reserves fell. The theory, which became known as Peak Oil, dominated discourse on the petroleum industry for decades. But years went by, and oil supply never peaked, and this industry has now taken up a new theory: instead of peak supply, the oil producers are now worried about peak demand.
Eventually, the world will move towards cleaner forms of energy, and producers will become obsolete. It is under this shadow that the Organization of Petroleum Ministers are set to meet over the weekend in a bid to cut production and raise prices.
"You cannot talk about price until you have a balanced market. The efforts now is by everybody both from OPEC and members outside of OPEC is to bring this market to balance," says Mohammed Barkindo, Secretary General of OPEC.
The changing worldview of oil - from appreciating to depreciating assets - has forced many OPEC countries to hesitate when considering production cuts. With non-OPEC members ramping up supply, including in the United States, Saudi Arabia is concerned that if it doesn't get the value out of its resources now, it will get less value out of them in the future. And so, for years, the Saudis have blocked a production freeze deal among OPEC members.
"Saudi Arabia, or OPEC, has achieved a lot of what it set out to do in 2014 -- they have forced quite a lot of US production off the market and they've increased their own market share," says Spencer Welch, director in the IHS Oil Markets team.
But the Saudis are now willing to forego their macro-economic fears of peak oil demand in a bid to cut production - if OPEC meets their conditions. Namely, that all members - including geopolitical rival Iran - share in the pain and cut production. Meanwhile, Iran has thus far refused to reduce output until it reaches pre-sanctions levels, while Venezuela and Iraq are insisting that they make cuts from baselines 200,000 barrels per day higher than OPEC estimates. If these countries fail to reach an equitable solution, Saudi Arabia could scupper the freeze talks, as it did in June, when Kuwait's oil minister desperately tried to convince member states to cut production.
"Actually we are not against anybody, we are not against Iran, we are not against Iraq of course, but even Iran and Iraq they're looking for better prices…" saysAli Saleh Al-Omair, Minister of Oil, Kuwait.
Ahead of the upcoming meeting, OPEC members will be forced to share in the economic pain of production cuts. And if they do not, Saudi Arabia could very well scrap a freeze altogether, despite their fears of a quickly approaching post-oil future.
Yoni Dayan is i24news' Economy Editor