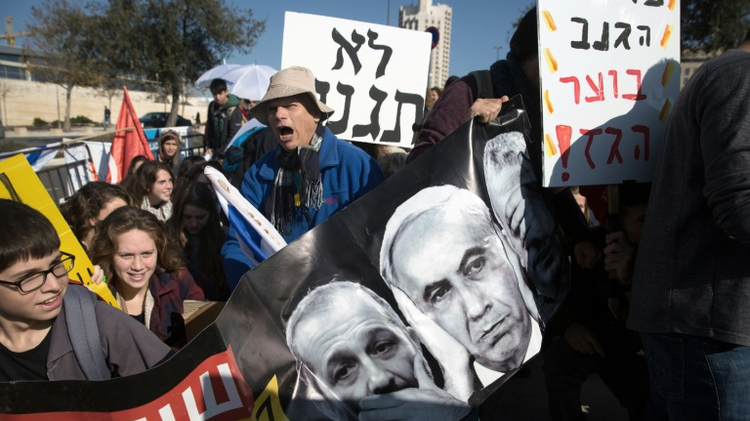 ☆
Israeli economic growth sputters thanks to political strife: Moody's
credits/photos : Menahem Kahana (AFP/File)
Israeli protesters in front of the Supreme Courtduring a hearing on natural gas deal in 2016
Growth in Q1 of 2016 was well below forecasts, with political divisions taking a toll, says agency
Israel's disappointing first-quarter economic growth suggests that it may fall short of central targets for 2016, international ratings agency Moody's said last week, according to the Financial Times.
Moody's analyst Kristin Lindow was quoted in Israeli business publication Globes as saying that the country's political divisions are hurting growth.
Israeli gross domestic product expanded at an annualized rate of 0.8 percent during the first quarter of 2016, well below the 3.1 percent growth seen in 2015's fourth quarter. The International Monetary Fund had estimated a potential growth rate of 3 percent, the Financial Times noted.
Moody's refrained from downgrading its A1 credit rating for Israeli government bonds, however.
One problem is that Israel has experienced weak export growth as the shekel remains strong. The Bank of Israel's Monetary Committee report for June 2016 released on Monday stated that exports (excluding diamonds and startups) shrank by a significant 12.9 percent, with the three main manufacturing export industries – chemicals, pharmaceuticals, and electronic components – dropping 15 percent.  
Moody's report also examined the political factors affecting the economy, including an eleven-month stretch last year in which the government worked without a budget.
Other politically-charged factors cited by Moody's were the failure to implement a measure requiring ultra-Orthodox men to enter the labor force, and the delay in developing offshore natural gas fields.
Despite the underwhelming performance in the first quarter, however, Moody's noted that the government debt-to-GDP ratio is improving, and the economy's fiscal position remains strong.