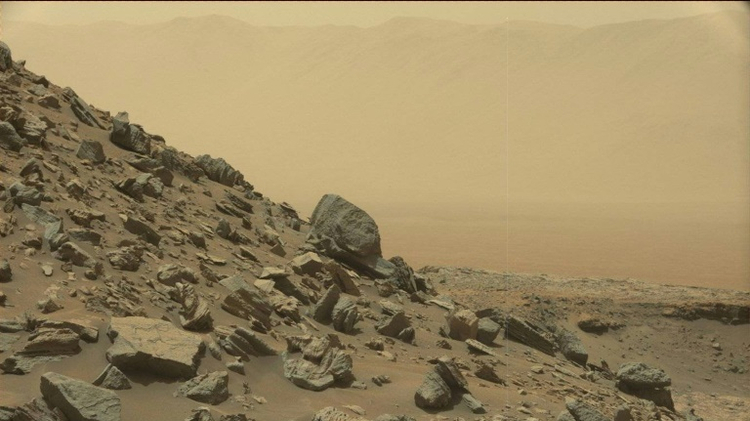 ☆
European probe lands on Mars yet no signal detected
credits/photos : HO (NASA/JPL-Caltech/MSSS/AFP/File)
Mars has become a graveyard for many a mission seeking to explore a planet that has captured the human imagination for millennia
Lander complets its seven-month, 496-million-kilometer trek from Earth
The European Space Agency on Wednesday said its Schiaparelli probe has landed on Mars as part of an ambitious quest with Russia to find evidence of life on the Red Planet.
The 600-kilogram (1,300-pound) "Schiaparelli" lander thus completed its seven-month, 496-million-kilometer (308 million-mile) trek from Earth through the Martian atmosphere.
However there was no signal detected from lander.
The agency said that "The ExoMars rover will travel across the Martian surface to search for signs of life. It will collect samples with a drill and analyse them with next-generation instruments. ExoMars will be the first mission to combine the capability to move across the surface and to study Mars at depth."
"The next step is the rover mission to explore over the surface of mars and go below the surface for the first time and bring something back," Britain's David Parker, Director of Human Spaceflight, was quoted by the Daily Telegraph as saying.
"We're doing our best to take our science instruments to the planet now but we need full scale laboratories, so bringing materials back and understanding these materials is really important. "
And he is keen to see humans landing on Mars before too long.
According to the scientist, the next item on the agenda is seeing humans land on Mars. To achieve that, however, it is paramount "to protect the astronauts, and feed and water and keep them healthy so one of the ideas that space agencies are considering is an idea of space cruiser which can move around and do exploration voyages live and work 1,000 time further out that we are today."