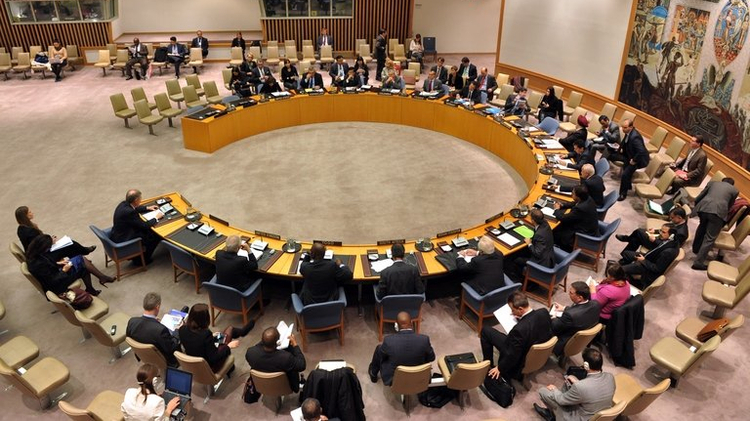 ☆
US agrees to UN talks on Syrian chemical weapons proposal
credits/photos : Stan Honda (AFP/File)
The United Nations Security Council meets on November 27, 2012 at UN headquarters in New York
Hagel says US must present credible military threat to force Assad to surrender arms to international control
US President Barack Obama is going to Congress on Tuesday with fresh hopes of a diplomatic breakthrough that would allow Syria's government to avoid US missile strikes if it surrenders its chemical weapons arsenal. He addresses the nation from the White House on Tuesday night.
A White House official said Tuesday that Obama has agreed to discussions at the UN Security Council on the proposal from Russia, Syria's closest ally, to secure that country's chemical weapons stockpiles.
The official said Obama discussed the proposal Tuesday with French President Francois Hollande and British Prime Minister David Cameron. The official requested anonymity because the official was not authorized to discuss the private conversations by name.
Earlier Tuesday the French foreign minister said Paris will float a resolution in the UN Security Council aimed at forcing Syria to make public its chemical weapons program, place it under international control and dismantle it.
Laurent Fabius said France, a permanent member of the 15-nation UN body, will start the resolution process on Tuesday.
Fabius also said the proposal will be under Chapter 7 of the UN charter — which would back up the resolution with a threat of force if not applied — and will "condemn" a chemical weapons attack in Syria on Aug. 21.
Obama has said the proposal marks a potential breakthrough that could halt plans for a US military strike, though he said the details remain unclear.
Obama had planned to use his meetings with lawmakers to lobby for targeted strikes against Syrian President Bashar Assad's forces in retaliation for last month's deadly chemical weapons attack outside Damascus. Instead, he signaled in several interviews Monday evening that surprising new diplomacy could eliminate the risks of another chemical attack without US intervention.
US Secretary of State John Kerry told Congress on Tuesday that the US was still awaiting a proposal from the Russians about how the plan would work.
Kerry told a House panel that the Obama administration will give any proposal "a hard look," but that it must not be used as a delaying tactic and that it has to be verifiable, real and include tangible conditions for Syrian President Bashar Assad to forfeit his chemical weapons.
Defense Secretary Chuck Hagel said that in order for Syria to feel enough pressure to turn its chemical weapons over to international controls the US must present a credible threat of military action.
Hagel told a congressional committee Tuesday that lawmakers must endorse military action in order to give the diplomatic effort more urgency and energy.
But White House spokesman Jay Carney acknowledged potential progress. "Before this morning, the Syrian government had never even acknowledged they possessed chemical weapons. Now they have," Carney said on MSNBC.
The leader of the US House of Representatives said that although he is skeptical of Syria's offer, Obama has not yet sold the American people on the need for military action.
Speaking to reporters Tuesday, Republican Speaker John Boehner said he is skeptical of Syria's offer because of "the actors that are involved." Russia, a longtime Syria ally, is trying to broker an agreement, though Boehner did not mention Russia by name.
Boehner has supported Obama's call to use force against Syria as punishment for allegedly using chemical weapons against civilians, including children.
Syria's foreign minister on Tuesday said the country has accepted Russia's proposal to place its chemical weapons under international control for dismantling. The proposal emerged Monday after a comment by Kerry was taken up by Russia, and the United Nations expressed support.​
Syrian Foreign Minister Walid al-Moallem said, after meeting with Russian parliament speaker, that his government quickly agreed to the Russian initiative to "derail the US aggression."
"We held a very fruitful round of talks with Foreign Minister Sergei Lavrov yesterday, and he proposed an initiative relating to chemical weapons. In the evening we agreed to the Russian initiative, " added al-Moallem.
He said Syria had agreed because this would "remove the grounds for American aggression," the report said.
Moscow is currently in talks with Damascus to develop a "concrete plan" for the Syrian regime to hand over its chemical weapons arsenal, Lavrov said Tuesday, adding that a detailed plan of action will be presented shortly.
According to Lavrov, Russia will then be ready to finalize the plan together with UN Secretary General Ban Ki-moon and the Organization for the Prohibition of Chemical Weapons. "We (Russia) are currently working on preparing a workable, precise and concrete plan and for this there are literally right now, in these minutes, contacts with the Syrian side," Lavrov said.
"And we expect to present this plan soon and we will be ready to work on it with the UN secretary general, the Organization for the Prohibition of Chemical Weapons, with the participation of members of the UN Security Council," he added.