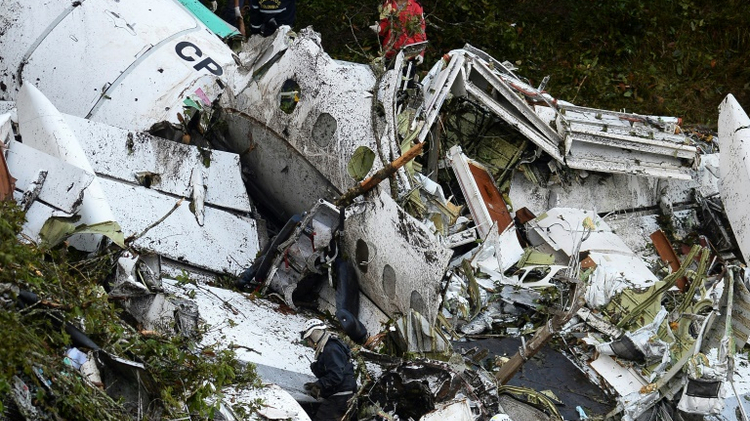 ☆
In final recording, pilot says crashed football team's plane ran out of fuel
credits/photos : Raul Arboleda (STR/AFP/File)
Rescue teams work to recover the bodies of victims of the LAMIA airlines charter that crashed in the mountains of Cerro Gordo, municipality of La Union, Colombia, on November 29, 2016 carrying members of the Brazilian football team Chapecoense Real
Six survivors of the crash, including three Brazilian footballers, are recovering from their injuries
The charter plane that crashed Tuesday killing 71 people, including members of Brazilian soccer team Chapecoense, had ran out of fuel and lost electrical power prior to smashing into a mountain.
"Miss, LAMIA 933 is in total failure, total electrical failure, without fuel," Bolivian pilot Miguel Quiroga told the control tower operator at Medellin's airport. 
"Fuel emergency, Miss," the pilot added, requesting permission to make an urgent landing, according to audio played by Colombia media.
Colombian broadcaster W Radio aired a recording of what it said was the captain of another aircraft who said he had heard the pilot of the doomed plane over the radio reporting fuel problems followed by an electrical failure.
"Mayday mayday ... Help us get to the runway ... Help, help," Juan Sebastian Upegui described the pilot as saying.
"Then it ended ... We all started to cry."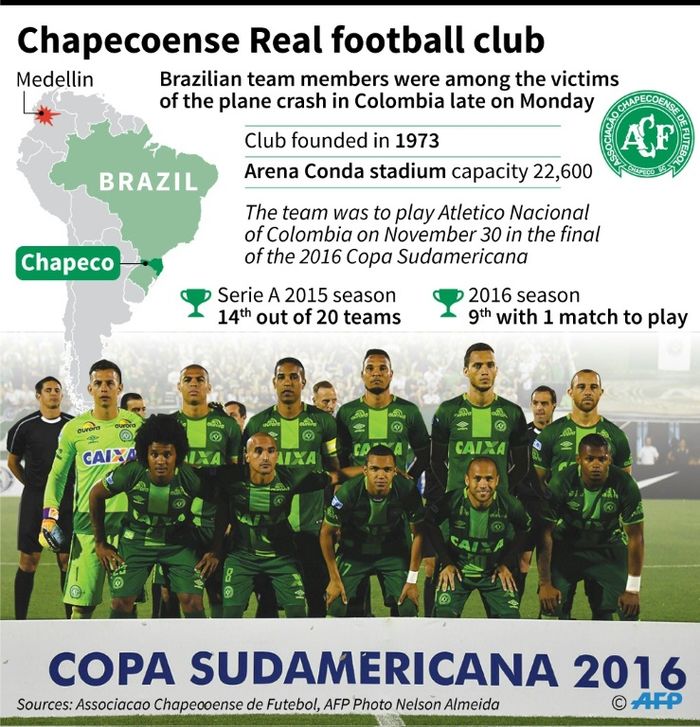 The LAMIA aircraft was flying from Bolivia to Medellin when it crashed in an area called Cerro Gordo about 50 kilometers from the city, Colombia's second largest.
The plane was carrying 72 passengers and nine crew members, according to local media. Seventy-five people were killed in the crash but six people including three Chapecoense players miraculously survived.
Goalkeeper Jackson Follmann was recovering after the amputation of his right leg, doctors said, while defender Alan Ruschel was recovering after spinal surgery.
Another player, Helio Neto, remained in intensive care suffering severe trauma to his skull, thorax, and lungs, Reuters reported.
The other survivors included a Bolivian flight technition and Bolivian flight attendant, both in non-critical condition, and journalist Rafael Valmorbida, who remains in intensive care with a partially collapsed lung and multiple rib fractures.
The South American Cup final has been suspended because of the crash.
(Staff with agencies)