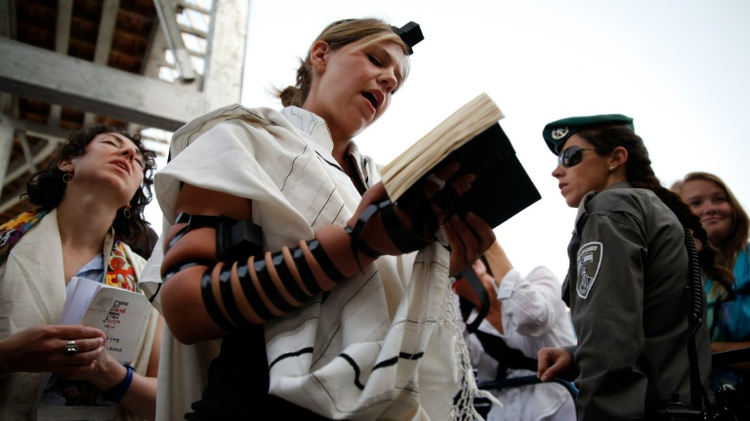 ☆
Women of the Wall hail 'courageous' ruling for prayer rights at Western Wall
credits/photos : Gali Tibbon (AFP/File)
An Israeli police woman stands guard near members of the liberal Jewish religious group Women of the Wall wearing traditional Jewish prayer apparel for men, as they pray at the Western Wall in Jerusalem
Court gives gov. 30 days to 'explain why the petitioners should not be allowed to pray' at Western Wall
The Women of the Wall on Wednesday hailed the "courageous" ruling by Israel's High Court that women will no longer be subjected to body searches when entering the Western Wall plaza in Jerusalem under suspicion of bringing in items such as torah scrolls and prayer shawls.
In it's ruling, the court of justice said that "It is the responsibility of the rabbi in charge of the Kotel [Western Wall] to prevent searches on the women who have petitioned and on others like them beyond the regular security checks conducted on all those who come to the Kotel."
Additionally, the government has 30 days to "explain why the petitioners should not be allowed to pray in accordance with their custom at the traditional plaza, or alternatively allow them to pray in accordance with their custom at a place which has access to the Western Wall similar to [the access] at the traditional site."
"Just when it seemed the rabbinate's power was overwhelming, the Court's verdict regarding our demand to read Torah at women's section of the Western Wall reflects both courage and wisdom," Anat Hoffman, chair of Women of the Wall told i24NEWS.
"Today, we have come much closer toward implementation of the Western Wall agreement on gender equality and religious freedom at the Wall," Hoffman continued, adding that she is "elated because when I was looking for justice, and then courage, they were missing and now the highest court in the land has shown me both."
The government approved in January the expansion of a mixed-gender, non-Orthodox prayer section at Jerusalem's Western Wall, but have yet to take any action to implement it, with many Orthodox factions opposing the move.
The new prayer section would not be under the control of the ultra-Orthodox establishment. Orthodox groups believe that creating such a space defies ancient Jewish law and tradition.
Women of the Wall, who fight for women's rights to pray and read from the Torah at the Western Wall, have run afoul of the Orthodox establishment in recent years by wearing prayer shawls and donning other ritual garb at the Wall. Some have been arrested under charges of disturbing the public order.