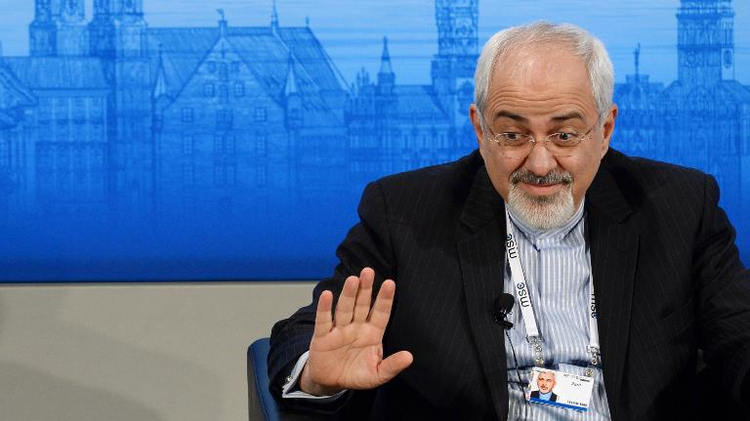 ☆
'Recognition of Israel after Palestinian solution'
credits/photos : Christoph Stache (AFP)
Iranian Foreign Minister Mohammad Javad Zarif attends a panel discussion at the Munich Security Conference on February 2, 2014 in the south German city
Iran's FM also says extermination of Jews by Nazi regime was 'tragically cruel and should not happen again'
"Once the Palestinian problem is solved the conditions for an Iranian recognition of Israel will be possible," the Iranian Foreign Minister Mohammad Javad Zarif said on Monday in an interview with the German TV station Phoenix.
"We have to put on the table a solution that will be acceptable by the Palestinians but until now we have not seen such a proposal," Zarif noted. "Crimes have been committed against the Palestinian people and we just cannot do that [recognize Israel] until they will be recognize. Only then it will be possible to discuss other solutions," he added.
However, as part of the Iranian regime's newfound desire to normalize relations with the international community, Zarif told the international conference in Munich on Sunday that that the extermination of Jews by the Nazi regime was "tragically cruel and should not happen again,"
Last September, in an interview to Georgre Stephanopoulos, Zarif said: "The Holocaust is not a myth. Nobody's talking about a myth."
"We condemn the killing of innocent people," he told Stephanopoulos, adding that the "Holocaust was a heinous crime, it was a genocide, it must never be allowed to be repeated, but that crime cannot be and should not be a justification to trample the rights of the Palestinian people for 60 years."
Iran's nuclear program
The Iranian diplomat also addressed his country's negotiations with the West regarding the Islamic Republic's nuclear program, saying that a final agreement can be reached within six months.
He stressed that the American threat of new sanctions against Iran is not worrying him. "The American president has promised to veto such an attempt" by his Congress, Zarif explained.
On Sunday US Secretary of State John Kerry held a rare meeting with his Iranian counterpart to discuss the next steps in resolving Western fears over Iran's contested nuclear program.
World powers are due to hold another round of talks with Iran on February 18 after reaching an initial accord in November to curb the nuclear activities and open up them up so as to allay Western concerns Tehran is seeking nuclear weapons.
Kerry and Zarif "discussed the upcoming negotiations with the P5+1 and the EU on a comprehensive agreement that will begin in Vienna next month," a senior US State Department official said.
"Kerry reiterated the importance of both sides negotiating in good faith and Iran abiding by its commitments under the Joint Plan of Action (agreed in November)," said the official.
"He also made clear that the United States will continue to enforce existing sanctions," he added.
Zarif said that Iran has no intention of giving up on the centrifuges that are used for producing Uranium, even as part of a final deal with the West.