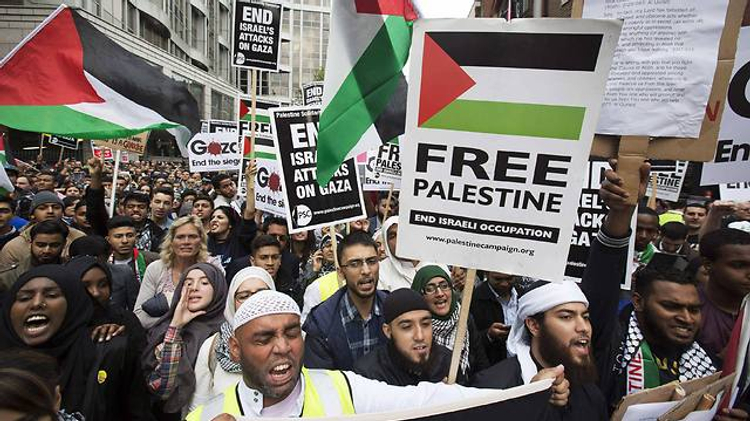 ☆
Protests worldwide condemn Israeli action in Gaza
credits/photos : Ynet
protest after Israeli strikes on Gaza
Slogans are heard in London, Paris, Tunis, and elsewhere for an end to the 'siege' and 'freedom for Palestine'
Thousands of people around the world are turning out to protest the Israeli strikes on Gaza.
Several thousands of people filled the streets outside the Israeli Embassy in London, displaying signs that read "Gaza: End the Siege" and "Freedom for Palestine" according to Ynet News.
A spokeswoman for Prime Minister David Cameron said that he supported Israel in the face of attacks by Hamas on indiscriminate Israeli targets.
In Paris on Friday 100 people demonstrated outside the French Foreign Ministry, Haaretz reported. Stephane Frappreau, who identified himself as Jewish, said that he had turned out to "defend humanity" and "stop the massacre."
"I think that people tend to forget that Palestinians are people who are suffering, kids and women, who are dying every day," Frappreau said, according to Ynet News. "And I think that people shouldn't confuse things or come to quick conclusions, because being against Israel as we are today is not about being anti-Semitic."
French President Francois Hollande issued a statement earlier this week condemning rocket fire from Gaza but failing to mention those killed in the Gaza Strip.
In Oslo 3,000 people took to the streets to protest Israeli air strikes, Haaretz reported.
Hundreds also gathered in downtown Caracas, Venezuela to protest the Israeli operation, Venezuelanalysis reported. Many speakers called on Venezuela and MERCOSUR to cut ties with Israel. Venezuela cut diplomatic relations with Israel after the 2008-2009 war with Gaza, but maintains economic ties.
Around 2,000 people protested in Tunis on Friday against Israel's offensive in Gaza. Most of the participants were of Tunisia's main Islamist party.
The protesters shouted "The people want the liberation of Palestine" and "Forward, you fight for our honor," Al-Arabiya news reported.
Some others shouted slogans against Egypt's newly elected president Abdel Fattah al-Sisi, who has been avowedly anti-Islamist and who some accuse of not acting proactively on the crisis in Gaza.
"The world, with all its organizations and institutions, watches this odious crime without demanding whether it is more than just a cry of terror," said Nabil Boulifi, a civil servant attending the rally.
Since the beginning of Israel's operation "Protective Edge" over 100 have been killed in Gaza and the Israeli Air Force has struck over 1,000 targets according to media sources. Over 500 rockets have been fired into Israel from the coastal territory, wounding. Israel has not yet suffered casualties.