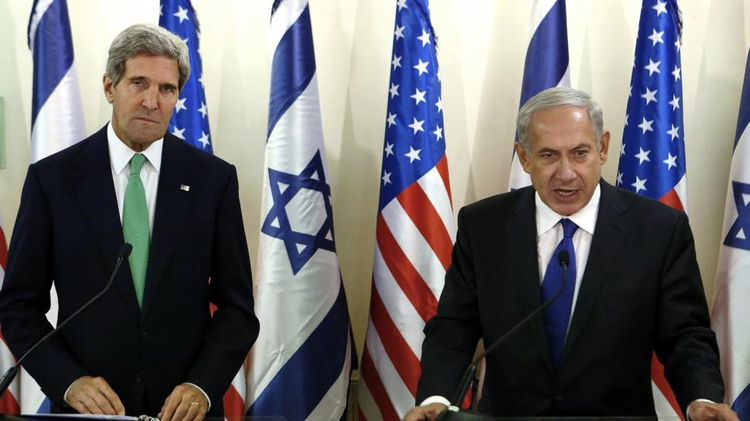 ☆
Kerry on Netanyahu: 'He's a stubborn head'
credits/photos : LARRY DOWNING/AFP/Getty Image
US Secretary of State John Kerry attends a press conference with Israeli Prime Minister Benjamin Netanyahu, July 23, 2014
El Salvador, Brazil, Chile, Ecuador and Peru recall ambassadors; Bolivia declares Israel a terrorist state
US Secretary of State John Kerry has had to put up with the Israeli government's continued criticism of every decision and move he tried to make during the nine months of peace negotiations between Israel and the Palestinian Authority. During the current crisis in Gaza and the endless efforts to mediate a ceasefire between Israel and Hamas, Kerry was again subjected to harsh remarks from Israeli ministers regarding the US and the diplomat's own conduct. Kerry reportedly was deeply offended and taken aback by the backlash, and now evidence of his true feelings towards Israel's Prime Minister Benjamin Netanyahu and the growing rift between the US and Israel are seeing the light of day.
According to a report in the French weekly Le Canard Enchaine, Kerry called Netnayahu "a stubborn head who refuses to understand anything" in a private meeting on Saturday between the US diplomat and the French Foreign Minister Laurent Fabius. The weekly, citing a French diplomat who attended the meeting, reported Kerry also said Netanyahu might hurt the American efforts in dealing with nuclear Iran and Sunni terrorism, spreading recently across the world.
On Wednesday a senior US diplomat said the Israeli attacks against Kerry accusing him being of a supporter of Hamas are "offensive and absurd."
In a sharp exchange with reporters, deputy State Department spokeswoman Marie Harf hit out against a torrent of abuse from "respected voices in Israel talking about the secretary of state, claiming that he supports Hamas, which is offensive and absurd."
The United States had been given Israel "a level of support which has been quite frankly unprecedented in our history, even when we stood alone," she added.
The relationship between the US and Israel has been deteriorating over the last few years, especially in light of the fact that there is no love lost between President Barack Obama and Netanyahu.
In November 2011, French President Nicolas Sarkozy branded the Israeli Prime Minister "a liar" in a private conversation with Obama that was accidentally broadcast to journalists during G20 summit in Cannes.
"I cannot bear Netanyahu, he's a liar," Sarkozy told Obama, unaware that the microphones in their meeting room had been switched on, enabling reporters in a separate location to listen in to a simultaneous translation.
"You're fed up with him, but I have to deal with him even more often than you," Obama replied, according to the French interpreter.
US Senate supports Israel
The United States Senate passed on Tuesday a resolution that reinforces the Senate's support of Israel's right to defend itself from attacks initiated by Hamas and the Islamic Jihad and condemning a United Nations Human Rights Council report it described as "biased."
This resolution joins two previous, similar resolutions, one passed late Thursday in the Senate by unanimous consent, which did not include the condemnation of the UN report, and an earlier resolution passed in the House of Representatives on July 11.
"I've always been a supporter of the UN," said Senate Major Leader Harry Reid (D-Nev) of the report, "but what I saw last week disgusted me. It was so one-sided."
Democrats and Republicans joined ranks as they rallied in support of Israel, with Senate Minority Leader Mitch McConnell stressing his and his party's opposition to "any efforts to force a ceasefire on Israel that does not further its security objectives."
Elsewhere, the Israeli Foreign Ministry advised Prime Minister Benjamin Netanyahu to seek a United Nations Security Council resolution to end the ongoing crisis, Israeli media reported, citing a senior Israeli official.
According to Israeli daily Haaretz, the official said that such a move would "minimize Hamas' international legitimacy and advocate Israeli interests," with the thorniest issue being Israel's demand for the Gaza Strip to be demilitarized and disarmed.
Such a proposed resolution would be similar to 2006' UN Security Council resolution 1701, which ended the Second Lebanon War by demilitarizing southern Lebanon, defining the Lebanese army as the only legal military force in the area and expanding the presence of the UN peacekeeping force in the area.
Latin America against operation in Gaza
Bolivia on Wednesday renounced a visa exemption agreement with Israel in protest over its offensive in Gaza, and declared it a terrorist state.
President Evo Morales announced the move during a talk with a group of educators in the city of Cochabamba. It "means, in other words, we are declaring (Israel) a terrorist state," he said.
The treaty has allowed Israelis to travel freely to Bolivia without a visa since 1972.
Morales said the Gaza offensive shows "that Israel is not a guarantor of the principles of respect for life and the elementary precepts of rights that govern the peaceful and harmonious coexistence of our international community."
Bolivia broke off diplomatic relations with Israel in 2009 over a previous military operation in Gaza.
In mid-July, Morales filed a request with the UN High Commissioner for Human Rights to prosecute Israel for "crimes against humanity."
El Salvador recalled its ambassador from Tel Aviv on Wednesday to protest the military operation in Gaza. Brazil, Chile, Ecuador and Peru have already recalled their ambassadors.
Yigal Palmor, the spokesman for Israel's Foreign Ministry, said recalling ambassadors encourages Hamas.
"Israel expresses its deep disappointment with the hasty decision of the governments of El Salvador, Peru and Chile to recall their ambassadors for consultations," said Palmor. "This step constitutes encouragement for Hamas, a group recognized as a terror organization by many countries around the world."
Such countries are handing are handing terrorists a prize, Palmor added.
"Israel expects countries that oppose terrorism to act responsibly and not to hand terrorists a prize," he said. "So far, every time Israel accepted plans for establishing a ceasefire and restoring calm, it was countered by Hamas's sustained rocket fire. El Salvador, Chile and Peru would have been much better advised to promote the international move intended to assist Israel in its efforts to defend innocent civilians and instate a durable cease-fire with the demilitarization of Gaza."
The Chilean foreign ministry in Santiago said it was calling back its ambassador, Jorge Montero, because of "the escalation of Israeli military operations in Gaza."
"Chile notes with great concern and dismay that such military operations, which at this stage of development are subject to a collective punishment against the Palestinian civilian population in Gaza, do not respect fundamental rules of international humanitarian law." The statement also called "for an immediate end of hostilities" in Gaza.
In Lima, the Peruvian foreign ministry published a similar statement condemning Israel's operation in Gaza.
(with AFP)