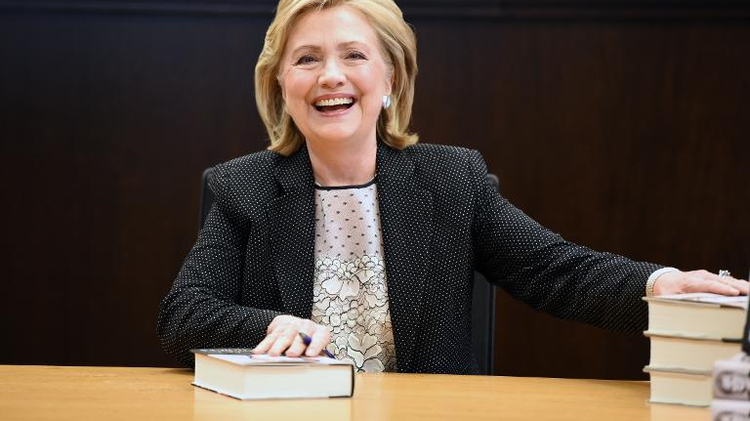 ☆
Clinton backs Israel against criticism over Gaza
credits/photos : Robyn Beck (AFP/File)
Former US secretary of state Hillary Clinton poses with her book "Hard Choices" at a book signing event in Los Angeles, California June 19, 2014
Says non-intervention in Syria led to rise of IS, slams Obama's foreign policy of 'don't do stupid s***'
Former US Secretary of State Hillary Clinton denounced President Barack Obama's foreign policy, describing its guiding principle as the directive to "don't do stupid s***." Clinton told the Atlantic magazine that fear of error does not represent "an organizing principle" worthy of a global leader such as the United States.
On the Gaza crisis, Clinton offered a position continuous with Obama's, saying she supports Israel's right to defend itself against Hamas rocket attacks.
"Just as we try to do in the United States and be as careful as possible in going after targets to avoid civilians, mistakes are made," the official said in an interview published Sunday. "We've made them. I don't know a nation, no matter what its values are—and I think that democratic nations have demonstrably better values in a conflict position—that hasn't made errors, but ultimately the responsibility rests with Hamas."
Regarding the widely criticized strikes at Gazan UNRWA shelters during the warfare, Clinton said "It's impossible to know what happens in the fog of war. Some reports say, maybe it wasn't the exact UN school that was bombed, but it was the annex to the school next door where they were firing the rockets. And I do think oftentimes that the anguish you are privy to because of the coverage, and the women and the children and all the rest of that, makes it very difficult to sort through to get to the truth."
Obama defined his second-term foreign policy as "interventionist and internationalist, but not isolationist or unilateral," an approach that spells no direct military intervention in such "hot spots" as Ukraine, Iraq and Syria in a fashion comparable to the American invasion of Iraq in 2003.
A potential 2016 presidential candidate, Clinton singled out for criticism Obama's refusal to take military action against Syrian President Bashar Assad following Assad's use of nerve gas against civilian population in the summer of 2013.
"The failure to help build up a credible fighting force of the people who were the originators of the protests against Assad—there were Islamists, there were secularists, there was everything in the middle—the failure to do that left a big vacuum, which the jihadists have now filled," Clinton said.
She said the United States must develop an "overarching" strategy to confront Islamist extremism, likening it to the long US struggle against Soviet-led communism.
"One of the reasons why I worry about what's happening in the Middle East right now is because of the breakout capacity of jihadist groups that can affect Europe, can affect the United States," she said.
"Jihadist groups are governing territory. They will never stay there, though. They are driven to expand. Their raison d'etre is to be against the West, against the Crusaders, against the fill-in-the-blank - and we all fit into one of these categories."
"How do we try to contain that? I'm thinking a lot about containment, deterrence, and defeat," she said.
Her arguments, seen as an attempt to distance herself from Obama, echoed those of Republican critics who accuse Obama of allowing a power vacuum to develop by failing to bring US leadership to bear in conflicts from Syria to Iraq to Ukraine.
Also on Sunday, Jordanian monarch blasted Israel's military operation in the Hamas-controlled enclave.
"The pain and suffering which we have seen throughout this aggression, indiscriminately claiming the lives of innocents, go against Israel's claims that the war is justified," Abdullah told the Jordanian daily Al-Ghad. "Above all, Israel is guilty of the aggression against the Palestinian enclave."