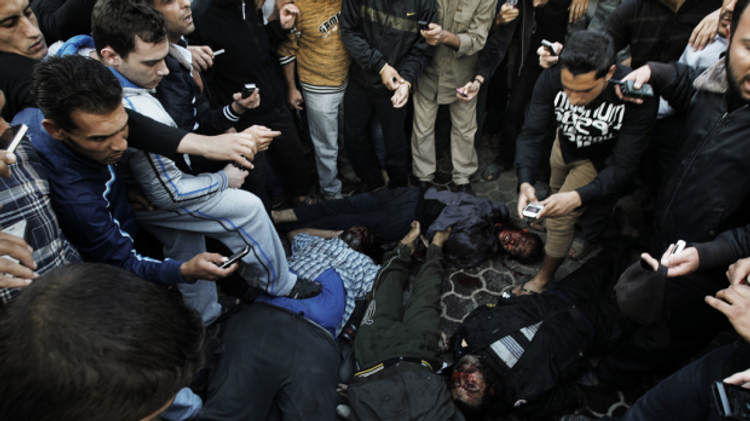 ☆
Israeli NGO files suit in ICC against Hamas chief
credits/photos : AFP
Executions de "traîtres" à Gaza
Shurat HaDin request to investigate Meshal on war crimes charges for executing suspected collaborators
The Israeli civil rights NGO "Shurat HaDin – Israel Law Center" filed a request before the International Criminal Court to open an investigation against Hamas' political bureau chief Khaled Meshal, in relation to the execution of 38 Palestinians in Gaza who were accused of being spies and collaborators working for Israel.
Though neither Israel nor the Palestinians are members of the ICC treaty, Meshal has a Jordanian citizenship, which makes it legally possible to indict him in the court.
"The murder of citizens without trial is a war crime," Shurat HaDin wrote in the request.
Hamas executed 18 citizens for allegedly helping Israel in its six-week assault on the territory on August 22nd, HamasTV reported then.
Six of those executed were shot dead in front of a mosque by men in Hamas military uniforms, witnesses told AFP. They were pulled out of the crowd of worshippers leaving the mosque, their heads were covered and their hands tied.
One of the masked men shouted: "This is the final moment of the Zionist enemy collaborators," then the gunmen sprayed them with bullets.
Earlier, another witness saw 11 people shot dead in a square near the remains of Gaza police headquarters, bombed by Israeli warplanes. An 18th person was shot in front of bystanders in a separate incident nearby. The Hamas-linked website Majd, said the 11 were killed after they "gave information to the Zionist enemy."
Majd also reported then that three men had been put to death and seven arrested by Hamas's military wing for allegedly reconnoitering targets for Israeli strikes, adding that "the resistance" - a term used to cover militant groups including Hamas, the de facto ruling power in Gaza - was reinforcing "the struggle on the ground against the enemy which practices assassinations."The same website reported on August 6 that "a number" of alleged Palestinian collaborators had been killed, again without giving a date.
The executions were condemned by Amnesty International, among others.
(AFP)