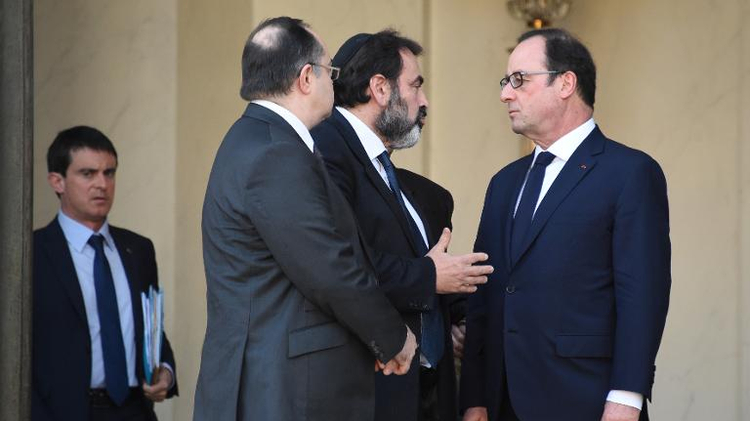 ☆
Israel calls on Jews to leave, France urges them to stay
credits/photos : Dominique Faget (AFP)
Manuel Valls, Roger Cukierman, Joel Mergui et François Hollande le 11 janvier 2015 sur le perron de l'Elysée à Paris
Jewish Agency fair providing information on immigration to Israel takes place under tight security
Hundreds of French Jews on Sunday attended a Jewish Agency fair providing information regarding immigration to Israel, taking place under tight security in Paris. The fair had been planned in advance of the past week's tragic events.
Chairman of the Executive of The Jewish Agency for Israel Natan Sharansky, who accompanied Israel Prime Minister Benjamin Netanyahu to Paris, attended the information fair and said:"The Jewish Agency embraces the French Jewish community at this difficult time and is extending its full support by helping provide for the physical security of Jewish communities across France, increasing our assistance to any individual who wishes to immigrate to Israel, and working to ease immigrants' integration into the Israeli workforce and Israeli society."
Netanyahu traveled to Paris to participate in the unity rally announced in the wake of the jihadist killing spree that culminated in the attack on the officies of a satirical publication and a hostage standoff at a Jewish grocery.
The terror attacks in France in recent days have reawakened tensions over the future of the largest Jewish community in Europe – some half million French Jews.
On Saturday, Netanyahu called on French Jews to move to Israel. "To all the Jews of France, all the Jews of Europe, I would like to say that Israel is not just the place in whose direction you pray, the state of Israel is your home," Netanyahu said.
Israeli Defense Minister Moshe Ya'alon, former finance minister Yair Lapid and Foreign Minister Avigdor Lieberman issued similar calls.
But French Prime Minister Manuel Vals expressed different sentiments altogether.
"If 100,000 French people of Spanish origin were to leave, I would never say that France is not France anymore. But if 100,000 Jews leave, France will no longer be France. The French Republic will be judged a failure," Valls said ahead of a memorial rally in honor of those killed in France in recent days.
Similar differences of opinion have arisen in the past after anti-Semitic attacks.
Netanyahu's call angers some Jewish leaders
Rabbi Menachem Margolin, the director of the European Jewish Association (EJA), expressed his concern at Israel's tendency to portray immigration to Israel (Aliyah in Hebrew) as the only solution.
"Aliyah is one's personal yearning and should definitely be a goal for the State of Israel. However, anyone who is familiar with the European reality knows that a call to make Aliyah is not the solution for anti-Semitic terror," Rabbi Margolin said.
The rabbi emphasized that the "Israeli government must increase security for the European Jewish community Rather than just repeat Pavlovian calls for Aliyah after every terror attack"
According to Rabbi Margolin, Jews who wish to make aliyah do not need these kind of calls and continue to immigrate to Israel, and in light of the horrific events in Paris, aliyah to Israel has increased anyway.
The head of the umbrella organization of French Jewry, Roger Cukierman, also urged French authorities to increase protection for Jews. After meeting Sunday with French President Francois Hollande, Cukierman said he had been promised that all schools and synagogues would be protected, even by the army if necessary.
"While I respect the decision of Jews who leave for Israel, one must also fight in France against the enemies of Judaism," he said when asked about Netanyahu's call. "This position," he added, "corresponds to the that of the Zionism found by Theodor Herzl – Israel is a refuge for all who feel in danger".
The difference of opinion was evident among Israeli politicians, as well. Former Justice Minister Tzipi Livni, running in the March 17 elections against Netanyahu, said she disagreed with the PM.
Speaking Sunday to highschool students, Livni said Jews should come to Israel because they are Zionists, "not because it is a safe haven." Livni added that calling on Jews to move to Israel will not increase the safety of European Jewry.
"The events in Paris are not a Jewish problem," she said. "They are part of an international fight against radical Islamism and the whole world must be harnessed".
Netanyahu did the same in 2012
The Israeli prime minister has tried to lure France's Jews to his country on a previous occasion, following attacks by Islamist Mohamed Merah in and around Toulouse in southwest France in March 2012.
Merah killed three soldiers and four Jewish civilians, including three children at a school.
During a visit to France for a commemoration service the following October, Netanyahu declared: "I always say to Jews wherever they are -- come to Israel and make it your home."
That triggered a war of words with Hollande, who slammed Netanyahu for turning the visit into a campaigning opportunity ahead of elections a few months later.
"Netanyahu came to France to campaign," Hollande said in private remarks leaked by a French newspaper.
"Since I was there, he toned down his speech but it wasn't good to transform this ceremony into an electoral meeting. It wasn't appropriate," Hollande said.