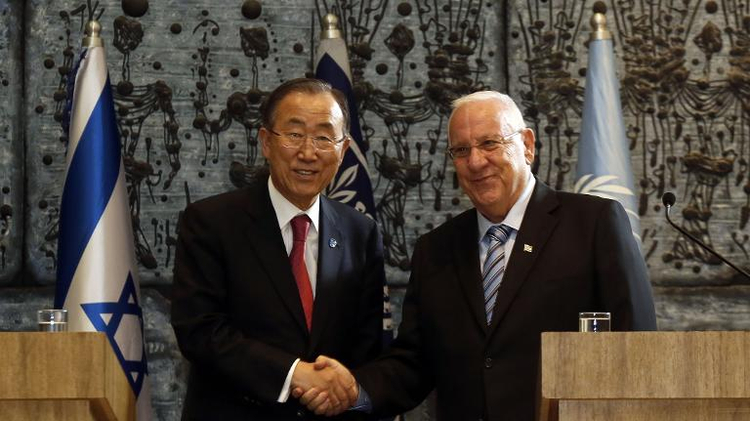 ☆
Israeli president urges UN to set 'red lines' for genocide
credits/photos : Gali Tibbon (AFP)
Le secrétaire général des Nations unies Ban Ki-moon pose aux côtés du président israélien Reuven Rivlin au palais présidentiel de Jérusalem, le 13 octobre 2014
West has no war with Islam, says Rivlin; Hollande urges Turkey to 'break taboos' on Armenia WWI killings
Israeli President Reuven Rivlin called on the United Nations Wednesday to define red lines beyond which an intervention would be necessary to stop acts of genocide. 
"Cynical" accusations of genocide and war crimes against Israel harm the UN's ability to fight the real thing, he said at the assembly's annual ceremony marking International Holocaust Remembrance Day.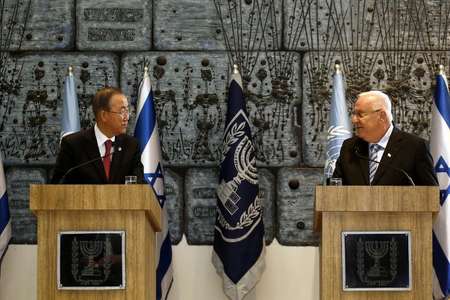 He then added "at the same time we must remember that the setting of red lines requires us to stop diluting and cynically exploiting them in the name of pseudo objectivity, as is done in the rhetoric of human rights with the use of terms such as 'genocide' for political purposes."
Rivlin opened his speech with words about the 1915 Armenian genocide, the killing of more than one million Armenian nationals by Turkey which is not officially recognized as such by Israel.
Rivlin used the massacre as a reference point before quoting Avshalom Feinberg, a leading member of the Jewish pre-State underground organization Nili. 
"When I walked on the blessed and holy ground on my way up to Jerusalem, I asked myself if we are living in our modern era, in 1915...," Rivlin quoted.
He also referred to memories of his parents who "saw the Armenian refugees arriving by the thousands – starving, piteous survivors of calamity."
Citing the "shameful" UN resolution 3379, that equated Zionism with "its greatest enemy" racism, Rivlin said that "nonetheless, absurd comparisons such as this one, which we as Israelis are exposed to constantly... not only confuse the ally with the enemy, but they undermine this house's ability to effectively fight the phenomenon of genocide."
"I stand before you at a time of great tension in our region. My heart and my thoughts are with my people in Israel. Terrorism does not distinguish between blood. In this war, all of us, all the nations united, countries of the free world, must form a united front," Rivlin said.
'No war with Islam'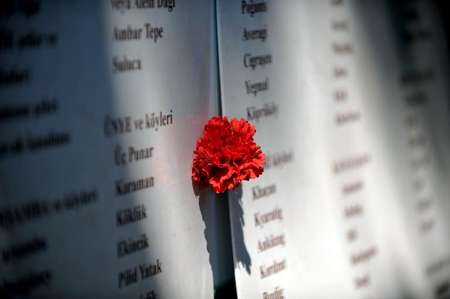 Rivlin furthermore said that "the West, Christians or Jews have no war with Islam" and that "the brutal barbarism and villainous terror has nothing to do with religion or the prophet's sayings."
"Islam contains under its great wings the victims of persecution and terror, as it serves as the banner of the attackers," he added, stressing that "evil is not the domain of one religion or another, as it does not characterize a state or an ethnic group."
'Break taboos' on Armenia killings
Also on Wednesday French President Francois Hollande called on Turkey to take new steps towards the "truth" behind the mass killings of Armenians a century ago, saying "it is time to break the taboos".
"The effort towards the truth must continue and I am convinced that this centenary year will see new gestures, new steps on the road to recognition," Hollande said at a dinner with Armenian groups in Paris.
Armenia says an estimated 1.5 million people were killed by Ottoman forces during World War I in what it calls a genocide.
But modern Turkey has always rejected the term "genocide", putting the toll at 
500,000 and blaming their deaths on war and starvation.
Turkey's President Recep Tayyip Erdogan this month said he would "actively" challenge a campaign to pressure Turkey to recognize the massacres as genocide, though a year ago he offered an unprecedented expression of condolences for the 1915-1916 killings.
Recalling Erdogan's stance last year, Hollande told members of France's Armenian community, the biggest in the European Union, that Ankara's position "cannot stop there".
"It is time to break the taboos and for the two nations, Armenia and Turkey, to create a new beginning," he said.
(with AFP)