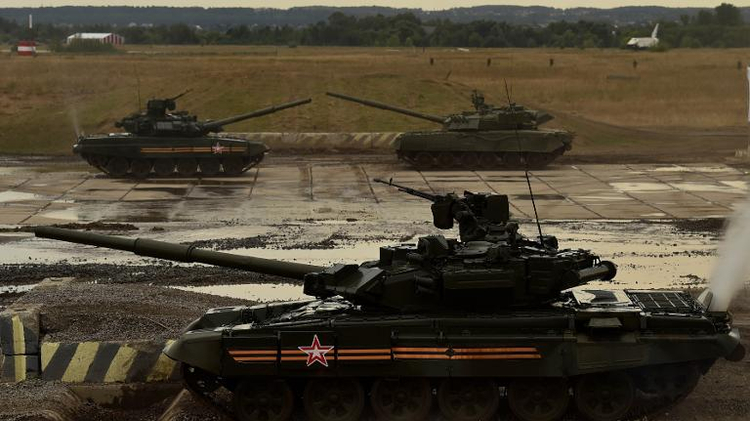 ☆
Russia positioning tanks at airfield in Syria's Latakia province: US officials
credits/photos : Kirill Kudryavtsev (AFP/File)
Russian tanks take part a military show during the military exhibition "Oboronexpo-2014" in Zhukovsky outside Moscow, on August 14, 2014
Tanks reported to be positioned where Russia is also said to be building an airstrip
Russia has sent artillery and seven tanks to a Syrian air base as part of Moscow's continued military buildup in the war-ravaged nation, a US official said Monday.
The increase of Russian hardware in Syria has caused concerns in the West about the implications of Moscow militarily helping its old ally, President Bashar al-Assad.
Speaking on condition of anonymity, the US official told AFP the seven T-90 tanks arrived in recent days but had not been sent outside the airbase near Latakia, on Syria's Mediterranean coast.
And the artillery, which arrived last week, appears to have been sent there to protect the facility. There was no indication Russia had sent fighter jets or helicopter gunships to Syria.
"It appears, and all the indications are pointing, that (the artillery is) for airfield defense," the official said. 
Russian help for Assad could seriously complicate the US-led coalition's air strikes against Islamic State jihadists in Syria and defense officials are worried about the possibility of accidents if coalition and Russian planes operate in the same airspace.
At a news briefing, Pentagon spokesman Captain Jeff Davis said Russia apparently was establishing a forward air operations base in Latakia.
"It's been a continued steady flow (of equipment) for the last week and a half or so," he said.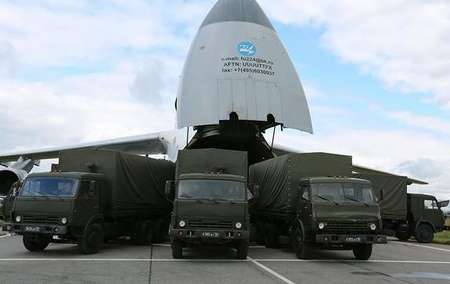 -Russia building airstrip in Syria-
The officials, speaking on condition of anonymity, said that Russia had positioned the tanks where the country is also said to be building an airstrip and has brought hundreds of technicians and military advisers to the site.
"Russian forces are building a long runway capable of accommodating large aircraft near the Hmaymeen military airport in Latakia province," the Britain-based Syrian Observatory for Human Rights said.
The monitor, which relies on a network of civilian, military and medical sources inside Syria, said "the Russians are preventing Syrians, whether military or civilian, from entering the area where they are building the runway".
"In recent weeks, military airplanes arrived in Hmaymeen carrying military equipment and hundreds of Russian military advisers and technicians," the group said.
Observatory director Rami Abdel Rahman said sources also reported that Russia was enlarging the Hamadiyeh airport in Tartus province, another regime stronghold that is south of Latakia.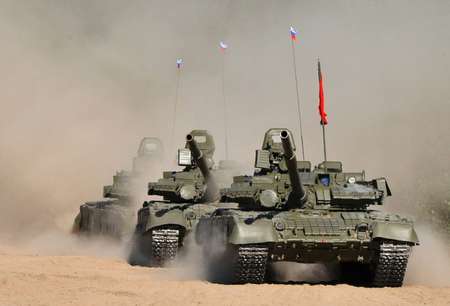 -'Designed for countering terrorist threat'-
While Moscow had excluded Russian boots on the ground or help in air strikes, the reported positioning of tanks comes as Washington accuses Moscow of a military build-up in Syria, where Russia has backed President Bashar al-Assad's regime against an uprising of more than four years.
Moscow argues it has sent military equipment to Syria according to commercial contracts and that its specialists merely help train the Syrian army.
An official statement by the Russian Foreign Ministry said that "the arms transferred to the Syrian army are designed for countering the terrorist threat."
"Terrorists have challenged the entire international community, including Russia. We have said more than once that about two thousand Russian citizens are fighting on the side of extremist formations in Syria and Iraq. Today the Syrian and Iraqi regular armies bear the brunt of fighting the Islamic State on the ground," the statement continued.
"We believe that coordinated actions with the Syrian armed forces should be a major element in consolidating efforts to counter terrorism by a broad coalition," it concluded.
But recent reports suggest the Kremlin has more at stake as it pushes for a broader grouping to fight the Islamic State group.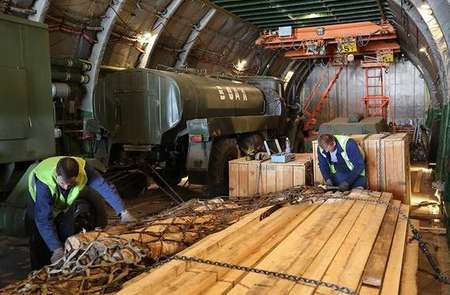 -'Staunch ally'-
Russia is a staunch ally of the regime in Damascus and it has made no secret of its support for Assad's government, including continuing weapons supplies, but has rejected claims of a recent military build-up inside Syria.
Photos allegedly showing Russian soldiers, reports of military deliveries and overflight requests are swelling fears among the United States and its allies that Russia is covertly bolstering the Syrian regime.
Moscow, an ally of Syria's President Bashar al-Assad, has had a military presence in the country since the Soviet era.
Housing units have been set up that can accommodate "hundreds of soldiers" as well as a portable air traffic control station near the Syrian port city of Latakia, US officials told AFP on condition of anonymity.
Aerial imagery showed Russia was focusing on Bassel al-Assad International Airport, south of Latakia on Syria's Mediterranean coast, and on the Russian naval facility in Tartus.
Two tank-landing ships have recently arrived at Tartus and about a dozen Russian armored personnel carriers are now at the airport, one US official told AFP.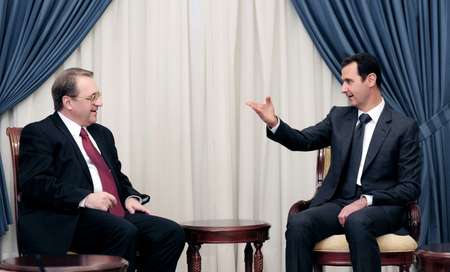 On Friday, Cypriot officials said Russia had issued an alert for Cyprus to divert aircraft next week because it is planning military exercises off the Syrian coast.
And on Saturday, Syrian state media reported the arrival of two Russian planes at the airport in Latakia, saying they were carrying humanitarian aid.
Syrian state media sporadically reported the arrival of Russian humanitarian aid, but the flights were the first mentioned by official news organisations since the claims of a military build-up.
The New York Times reported that in addition to following the Russian movements at the airfield, American intelligence analysts are also watching Russian ports in an effort to determine what additional supplies may be headed to Syria. A supplementary 2,000 to 3,000 personnel could also be deployed in the future one official predicted.
US State Department spokesman John Kirby said "We have regularly and repeatedly expressed our concern about Russian military support for the Assad regime…But we're also watching their actions very carefully. If these reports are borne out, it would represent a very serious shift in the trajectory of the Syria conflict and call into question any Russian commitment to a peaceful settlement."
More than 240,000 people have been killed in Syria since the conflict began with anti-government protests in March 2011.
The government has lost large swathes of territory to rebels and jihadists such as IS.
(staff with AFP)