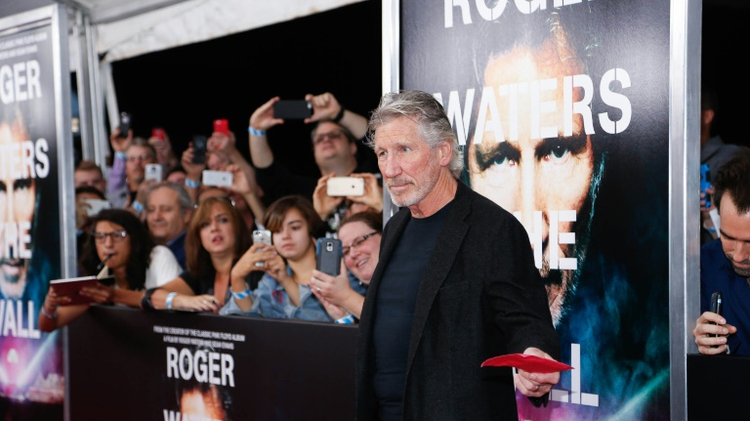 ☆
Attempt to boycott Roger Waters show falls flat
credits/photos : Rob Kim (Getty/AFP)
Roger Waters attends the New York Premiere of "Roger Waters The Wall" at Ziegfeld Theater on September 28, 2015 in New York City
Theater offers to refund tickets over musician's anti-Israel stance but performance still sold out
A theater in New York's offer to refund tickets to a sold-out performance by Roger Waters over his anti-Israel activism has been met with indifference as the theater has not yet received any refund requests. 
Waters is a longtime vocal critic of Israeli policies, and a proponent of the BDS (Boycott, Divestment and Sanctions) movement and has openly called on fellow musicians to boycott Israel.
The Simon Wiesenthal Center in a statement issued on Tuesday called on New Yorkers "to give Roger Waters the reception he deserves: an empty hall. We urge people who may have been unaware of his hate-filled boycott campaign and bought tickets for his performance, to vote with their feet and instead stand in solidarity — outside of the theater — with the innocent victims of terrorism in The Holy Land."
Despite calls to boycott the show, the theater's executive director said on Wednesday that there had not been any requests for refunds.  
Tracy Mitchell told local news website 27East.com that, in fact, the theater has people "begging for tickets."
Earlier this month, Waters penned an open letter to Bon Jovi criticizing the band for their decision to perform in Tel Aviv. 
Waters did not call for the concert to be cancelled, admitting that the band was "determined to proceed", so instead he accused the musicians of standing "shoulder to shoulder with the settler who burned the baby, with the bulldozer driver who crushed Rachel Corrie," referring to the death of the American pro-Palestinian activist who was killed by an Israeli military bulldozer in Gaza in 2003.
Waters made headlines in 2013 after a visitor to a concert in Belgium took issue with Water's use of a giant pig-shaped balloon that had the Star of David displayed on it alongside other symbols.
Waters then published an open letter on Facebook aimed at refuting what he called "wild and bigoted" allegations of anti-Semitism.