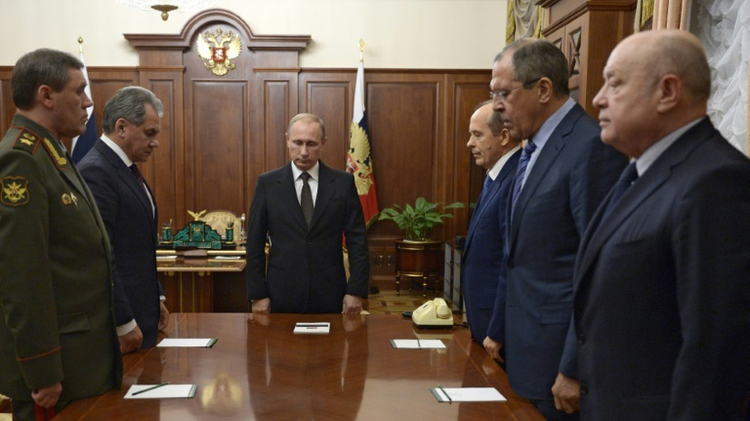 ☆
Russian envoy visited Israel for secret Syria talks
credits/photos : Alexei Nikolsky (Sputnik/AFP)
President Vladimir Putin (C), Defence Minister Sergei Shoigu (2ndL), Army chief of staff Valery Gerasimov (L), head of the FSB Alexander Bortnikov (3rdR), Foreign Minister Sergei Lavrov (2ndR) and Foreign Intelligence Chief Mikhail Fradkov (R)
Alexander Lavrentiev met with officials to discuss diplomatic agreement to end war
Russia's special envoy on Syria, Alexander Lavrentiev, visited Israel secretly last Thursday for talks with Israeli officials regarding Syria, Israeli daily Haaretz reports.
The newspaper reports that he met with officials from the Foreign Ministry and Prime Minister's Office for talks over a potential diplomatic agreement to end the war in Syria, in a trip that was shrouded in great secrecy.
According to the report, the delegation was hosted by National Security Adviser and head of Mossad appointee, Yossi Cohen.
A senior Israeli official told Haaretz that the Israeli officials told the Russians they need to be able to continue thwarting terror attacks staged from Syria and to prevent the movement of weapons from Syria to the Hezbollah militant group in Lebanon. Israeli also apparently clarified that any settlement regarding Syria brokered by the world powers must include the provision that Syria must stop allowing direct and indirect attacks on Israel from being launched from its territory.
According to Haaretz, Lavrentiev arrived in Israel with a delegation which included Sergey Vershinin, the head of the Middle East desk in the Russian Foreign Ministry, and representatives from Russian intelligence services.
Lavrentiev visited five capitals on his tour of the region: he began in Baghdad, before continuing to Amman, Jerusalem, Cairo and then Abu Dhabi.
Haaretz reports that Western diplomats said Lavrentiev had originally planned to also visit Saudi Arabia, but may have canceled the visit after the assassination of Syrian rebel leader Zahran Alloush in an alleged Russian airstrike. Alloush and his Jaish al-Islam organization receive huge amounts of support from Riyadh.
In November, Israel's Prime Minister Benjamin Netanyahu met Russian President Vladimir Putin on the sidelines of the Paris climate talks, where they agreed to deepen and strengthen military cooperation between their two countries.
Netanyahu went to Moscow in September and later told reporters that an unprecedented and crucial mechanism had been established to prevent misunderstandings and accidental clashes due to Russian operations in Syria.
A top Israeli official revealed in November that Russia had penetrated Israeli airspace in the course of its Syrian operations. Amos Gilad, director of the political-security division in the Defense Ministry, said that close coordination between Israel and Russia meant that these situations did not escalate.
For more, see:
Netanyahu and Putin speak on phone, agree to coordinate on fight against terror