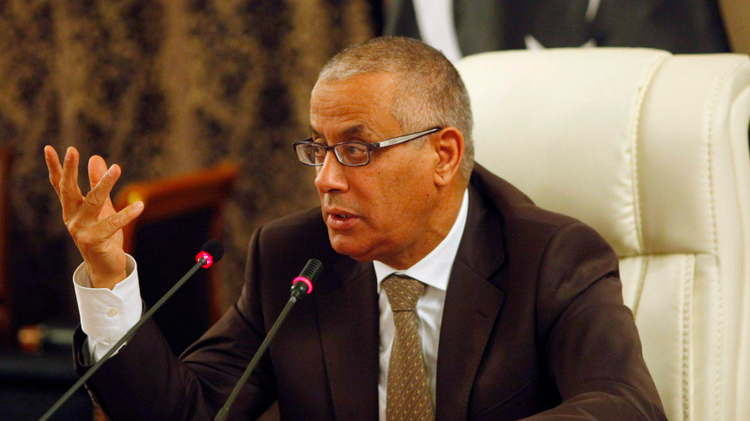 ☆
Libyan militias seize oil fields, start new firm
credits/photos : REUTERS/Ismail Zitouny
Libya's Prime Minister Ali Zeidan speaks during a joint news conference at the headquarters of the Prime Minister's Office in Tripoli, November 10
President says groups have 10 days to clear the region, threatens 'measures'<br>
Libya's government may find it difficult to cover its budget expenditure from next month and could lose Italy as a gas and oil business partner unless strikes blocking oil ports and fields end, Prime Minister Ali Zeidan said on Sunday.
A mix of militias, tribes and civil servants seeking political rights or higher pay have seized oil ports and fields across the OPEC producer, knocking down output to a fraction of its capacity of 1.25 million barrels a day.
Zeidan said the government had given the protesters a week to 10 days to clear the blocked oil fields and ports. "Otherwise we will take measures," he said, declining to be more specific.
An autonomy movement in eastern Libya, which has seized several oil ports, said on Sunday it had formed a regional oil firm in a challenge to the central government in Tripoli. The firm would be temporarily based in Tobruk in the far east, where protesters have seized an oil port and on Friday blocked a government-chartered tanker from loading oil, leaders of the group told a televised news conference in the eastern town of Ajdabiya.
Zeidan's government is struggling to rein in dozens of militias who helped topple Muammar Gaddafi two years ago but have kept their weapons.
"The budget is based on the assumption that oil revenues flow for the (full) year," Zeidan told reporters. "From next or the following month, there could be a problem covering expenditure. Due to the oil (export) delays the state is ... facing a deficit."
He said the blockage of the Mellitah terminal, owned by Italy's ENI and Libya's state-owned National Oil Corp (NOC), might force Italy to buy gas and oil elsewhere.
Protesters have stopped oil exports from Mellitah, 100 km (60 miles) west of Tripoli, and have threatened to halt gas exports from there too.
"Italy is now (Libya's) biggest partner. It would be a grave matter if gas exports got blocked because they import between 23 and 25 percent of their oil needs and also import gas. If now gas gets stopped, they might look for other sources and leave us," he said.
On Thursday, Italy's Foreign Minister Emma Bonino told Repubblica TV that ENI was "weighing closing wells". ENI declined to comment when contacted by Reuters.
Zeidan also said the government would give militias until Dec. 31 to join the regular army or police forces or face an end to their government payments.
The government has tried to rein in the militias by putting them on the payroll of the interior or defense ministries but in practice they still report to their commanders.
Last week, Tripoli saw heavy street battles between rival groups, raising fears violence and assassinations common in the eastern city of Benghazi will spread to the capital.
Such conflicts are often about control of local areas, personal arguments or smuggling of drugs, weapons and alcohol, banned in Libya.
Finance Minister Kailani Abdulkarim al-Jazi said there was a delay in preparing the 2014 budget because the government was struggling to gather information from a rising number of authorities with separate budgets.
The government has added new entities since the 2011 NATO-backed uprising, some of them were mainly created to win loyalty from militias, tribes or important political players.