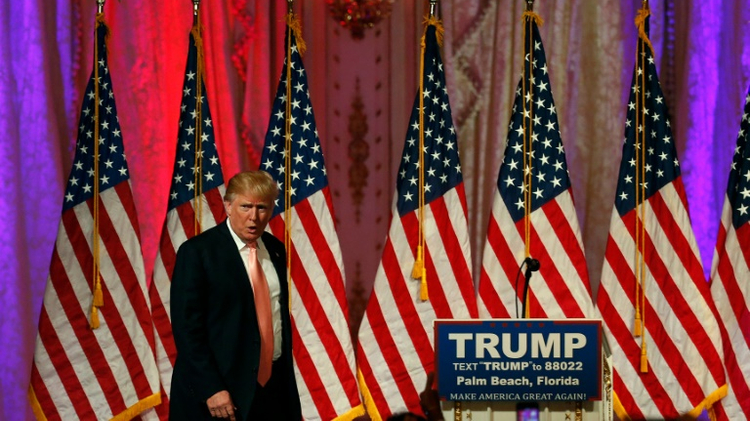 ☆
Trump: Halt oil purchases from Saudi if it won't reimburse US for defense
credits/photos : Rhona Wise (AFP/File)
Republican presidential candidate Donald Trump, pictured on March 15, 2016 in West Palm Beach, Florida, has been eyeing the White House for nearly 30 years
Trump says Gulf States need to contribute more to Middle East defense, in cash or troop commitments
Republican presidential front-runner Donald Trump on Friday said that, if elected, he would consider freezing oil purchases from Saudi Arabia and other Arab allies unless they "substantially reimburse" the US for its role in combating the Islamic State, either financially or by committing ground troops of their own.
"If Saudi Arabia was without the cloak of American protection I don't think it would be around," he said.
According to a report by the New York Times, Trump's comments were made as part of a 100-minute phone interview on his foreign policy.
The New York Times coined Trump's foreign policies as "America First," to which Mr. Trump agreed.
"We will not be ripped off anymore," Trump said, adding that he would be willing to reconsider traditional US alliances if its allies were not willing to reimburse the US for its defense support around the world.
Trump's complaint that America's Arab allies often turn to the US to support stability in the region without committing their own troops are shared even among some in the Obama administration, the Times reports.
"We defend everybody," Trump said. "When in doubt, come to the United States. We'll defend you. In some cases free of charge."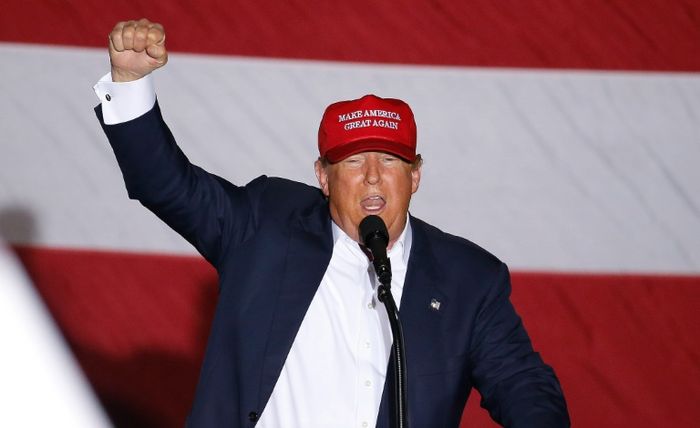 Trump said economic bargaining is the key to re-establishing the United States' positioning as a central world power. 
"The reason we're in the Middle East is for oil, and all of a sudden we're finding out that there's less reason to be there now," Trump said, arguing that under his leadership the US could withdrawal from the region if not reimbursed for its defense activities.
Asked about his "Take the Oil" campaign slogan, referencing Islamic State-controlled oil fields, Trump said the US should have seized the oil during its occupation of Iraq between 2003 to 2011.
"We should've taken it, and we would've had it," Trump said, "Now we have to destroy the oil."
Trump, the New York Times says, made no mention of the possible consequences of a US withdrawal from the Middle East, including the impact on Israel's defense, American intelligence gathering, or potential for Iranian domination of the region.
With regards to Israel, Trump initially hesitated to put forth a position on whether he supported a one- or two-state solution to the Israeli-Palestinian conflict, before later re-asserting the position he outlined at last week's AIPAC Conference.
"Basically, I support a two-state solution on Israel," he said. "But the Palestinian Authority has to recognize Israel's right to exist as a Jewish state."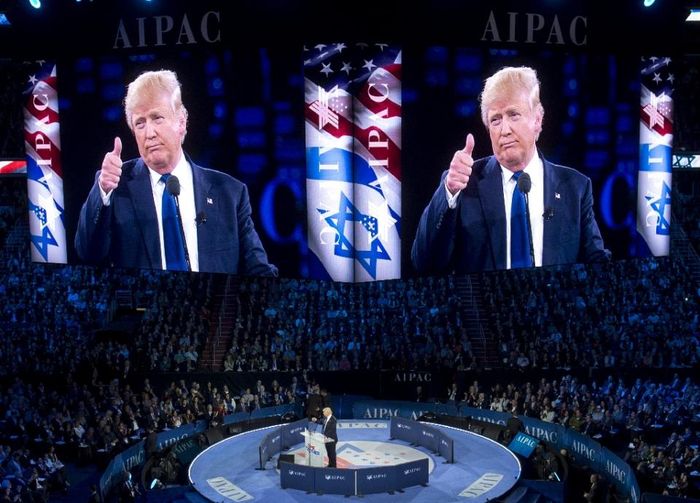 With homeland security a top concern on the campaign trail in the wake of deadly terror attacks in Paris, Istanbul, and most recently in Brussels, Trump said his diplomatic approach with foreign nations would in part depend on "how friendly they've been toward us."
Trump criticized German Chancellor Angela Merkel's handling of the migrant crisis, saying "Germany is being destroyed by Merkel's naïveté, or worse." If elected, he suggested constructing "safe zones" in Syria for refugees, the expense of which would be absorbed by Germany and Gulf nations.
Trump also criticized the Obama administration's negotiations of the Iran nuclear accord, saying "it would have been so much better if they had walked away a few times."
He was particularly critical of $150 billion released by the US to Iran, which he points out is not being spent on American markets, although sanctions still prevent most American businesses from commerce with Iran.
"Did you notice they're buying from everybody but the United States?" he said. "So, how stupid is that? We give them the money and we now say, 'Go buy Airbus instead of Boeing,' right?"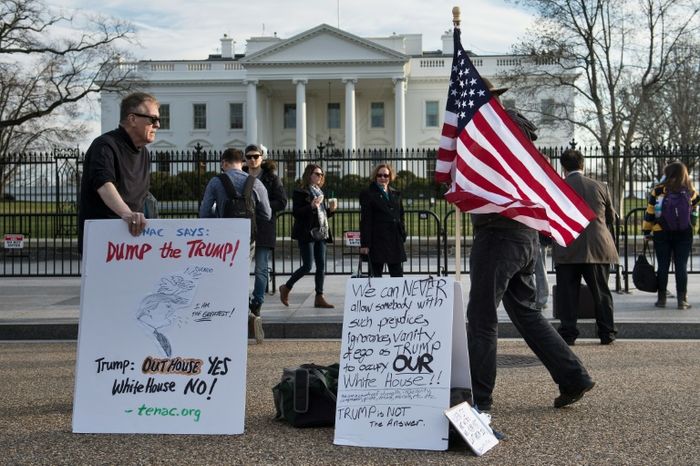 Turning to the Pacific, Trump said that he would be open to allowing Japan and South Korea to develop their own nuclear arsenals in order to reduce reliance on US protection from North Korea and China.
He added that he would also consider withdrawing US troops from the countries if they did not step up their support towards their housing and food expenses, like he is demanding of America's Arab allies.
Trump said that if elected to office he would possibly seek to renegotiate fundamental treaties with US allies.
He described a 56-year-old security pact with Japan as one-sided, the New York Times says, while calling the NATO agreement economically "unfair" to the US.
Trump rebuked reports that he was having trouble recruiting advisers to a future foreign policy establishment, and sought to reassure voters who have doubts about his understanding of international affairs.
"I do know my subject," Trump said.
(Staff with agencies)