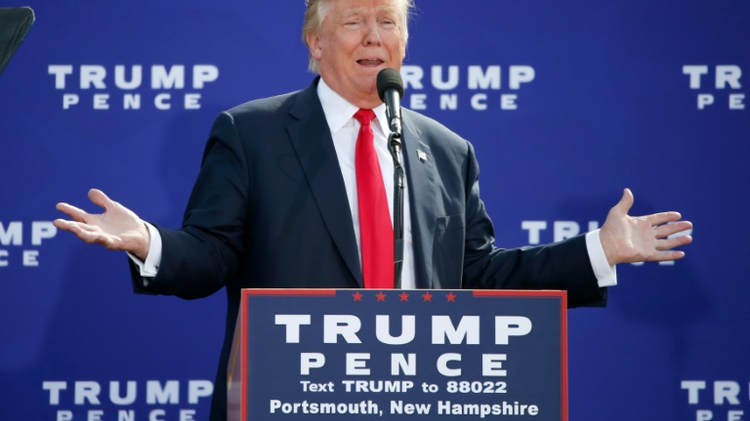 ☆
Vandals torch N.Carolina GOP office, warn 'Nazi Republicans get out'
credits/photos : Mary Schwalm (AFP/File)
Republican nominee Donald Trump, in a burst of tweets, said repeatedly that US media are rigging the election by hammering away at what he calls fabricated accounts that he made unwanted sexual advances against women
Trump blames Democratic rival Clinton for incident, while she calls it 'horrific and unacceptable'
The local Republican Party headquarters in Orange County, North Carolina have been firebombed and the words "Nazi Republicans get out of town or else" were spray painted on a nearby building, officials reported on Sunday.
No injuries were reported, however substantial damage was caused to the building, local Republican officials said, according to local media. 
A news release from the town of Hillsborough said someone threw a bottle filled with flammable liquid through the window of the Orange County Republican Party headquarters overnight. The substance ignited and damaged furniture and the interior before burning out.
"The office itself is a total loss," Dallas Woodhouse, executive director of state party, told the Charlotte Observer. "The only thing important to us is that nobody was killed, and they very well could have been."
Republican presidential candidate Donald Trump blamed Democratic rival Hillary Clinton's supporters for the incident, writing on Twitter that "Animals representing Hillary Clinton and Dems in North Carolina just firebombed our office in Orange County because we are winning."
Tom Stevens, the mayor of Hillsborough said "this highly disturbing act goes far beyond vandalizing property; it wilfully threatens our community's safety via fire, and its hateful message undermines decency, respect and integrity in civic participation."
Hillary Clinton tweeted, 'The attack on the Orange County HQ @NCGOP office is horrific and unacceptable. Very grateful that everyone is safe'.