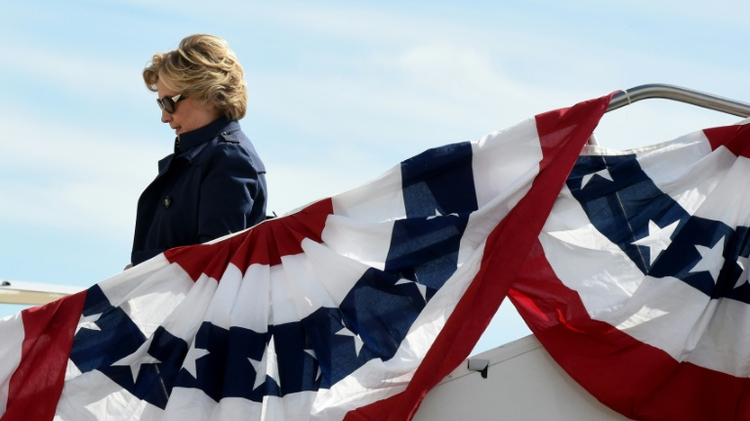 ☆
Top US official 'pressured' FBI in Clinton email scandal
credits/photos : Timothy A. Clary (AFP)
US Democrat presidential nominee Hillary Clinton arrives October 9, 2016 at Lambert-St. Louis International Airport in St. Louis, Missouri
Newly released summaries of FBI interviews include allegation that State Dept. official offered 'quid pro quo'
A Federal Bureau of Investigation (FBI) official told investigators probing Hillary Clinton's use of a private email server while secretary of state that the State Department had on several occasions "pressured" the FBI to declassify content in one of the emails, Reuters reports, citing summaries of FBI interviews released to the public on Monday.
Patrick Kennedy, the State Department's most senior manager, reportedly pushed the FBI to stop saying an email on the server contained classified information.
The official said that Kennedy had called an FBI colleague and "asked his assistance in altering the email's classification in exchange for a 'quid pro quo.'"
A different interview saw another FBI official reporting that he told Kennedy he would examine the email if the State Department considered permitting additional FBI agents to be posted overseas.
The State Department denied the allegations against Kennedy on Monday.
The US Justice Department announced in July that no charges would be filed against Clinton, following recommendations made by the FBI, and revealed by FBI Director James Comey in an unusual press conference.
The FBI found that while Clinton's conduct was not criminal, she had been "extremely careless" in sending classified information via her personal email account.
Clinton's use of a private email account and homebrew server during her time as secretary of state from 2009 to 2013 has weighed heavily on her bid over the past year to become America's first female commander-in-chief..
Of some 30,000 emails Clinton turned over to the FBI, Comey has said 110 contained classified information. Clinton had said none was classified at the time they were sent.
Another 2,000 emails were later "up-classified" to confidential.
Meanwhile, the State Department has been ordered to review for possible release nearly 15,000 additional emails and documents uncovered during the FBI investigation that had not been disclosed by her lawyers.
Read more: FBI releases bombshell notes from Clinton email investigation
Judge orders review of 15,000 new Clinton emails
Comey defends decision on Clinton emails
FBI recommends no criminal charges over Clinton emails: director