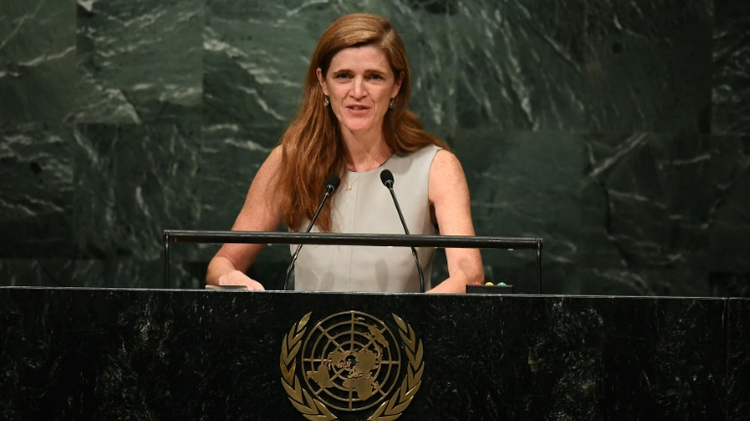 ☆
Cutting US funding to the UN would be 'extremely detrimental': Power
credits/photos : Jewel Samad (AFP/File)
US Ambassador to the UN Samantha Power, pictured on October 13, 2016, told the General Assembly that the US would abstain from a vote calling for the end of the US embargo against Cuba
Power spoke after bill was introduced to slash UN funding over resolution demanding end to Israeli settlements
US Ambassador Samantha Power on Friday warned that cutting US funding to the United Nations would be "extremely detrimental" to US interests, one week before Donald Trump's administration takes office.
Power told reporters in her final news conference that "countries like Russia and China" would benefit from Washington's reduced standing at the United Nations if funding were withdrawn.
"We lead the world in part by leading at the UN," said Power, who is stepping down next week after four years as President Barack Obama's ambassador to the United Nations.
"If we were to tie our hands behind our back or strip this organization of programming" to support peace mediation or humanitarian work, "this would be extremely detrimental to US interests", she said.
Power spoke after a bill was introduced in the US Senate that would slash all US funding to the United Nations until a Security Council resolution demanding an end to Israeli settlements is repealed.
The Republican-led US House of Representatives voted overwhelmingly last week to condemn the resolution, noting in a non-binding measure that the Obama administration's refusal to use its veto power "undermined" Washington's decades-long position of opposing anti-Israel action at the United Nations.
The Safeguard Israel Act of 2017 -- introduced by Senate Republicans Ted Cruz and Lindsey Graham -- aims to push back against the UN by threatening to pull billions of dollars in funding.
"Congress must hold the UN accountable and use our leverage as its largest contributor to push for the repeal of this resolution," Cruz said in a statement Thursday.
"The UN has made it impossible for us to continue with business as usual," Republican Senator Lindsey Graham told the Washington Post after the UNSC vote. "Almost every Republican will feel like this is a betrayal of Israel and the only response that we have is the power of purse."
It was not immediately clear Friday whether the bill would garner major support, including from Democrats, some of which would be needed to overcome any blocking tactics laid out by opponents.
Power warned that "the United States needs the UN."
"The UN goes to places that the US will not go," she argued, pointing to peace missions in Africa.
The United States is by far the UN's biggest financial contributor, providing 22 percent of the its operating budget and funding 28 percent of peacekeeping missions which currently cost $8 billion annually.
Trump, who will be inaugurated next Friday, has dismissed the United Nations as "just a club for people to get together and have a good time."
After the council voted to demand an end to Israeli settlements in Palestinian territories, Trump warned "as to the UN, things will be different after Jan. 20th".
(Staff with AFP)