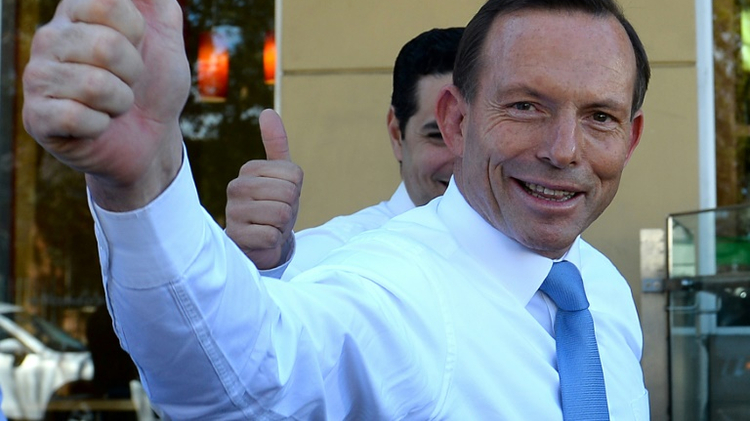 ☆
Australia's ex-PM suggests cutting Palestinian aid, moving embassy to Jerusalem
credits/photos : Saeed Khan (AFP/File)
Australian ex PM Tony Abbott
Abbott's support for 'the region's only liberal, pluralist democracy' reflects the current government's stance
Former Australian Prime Minister Tony Abbott on Sunday called on the current government to cut its $40 million-a-year aid budget to the Palestinian Authority and to relocate its embassy to Jerusalem.
Abbott, who recently returned from a visit to Israel and the Palestinian territories where he met separately with Israeli Prime Minister Benjamin Netanyahu and Palestinian Authority Prime Minister Rami Hamdallah, wrote in an article published in The Spectator that Australia "keeps paying pensions to terrorists and their families."
Abbott also urged for following in the footsteps of the future Trump administration's intentions to move its embassy from Tel Aviv, which is not Israel's declared capital, to Jerusalem.
The status of Jerusalem is a contentious issue in final status peace talks between Israel and the Palestinians, both of which claim the city as their capital.
Many states formally adhere to the United Nations proposal that Jerusalem should have an international status and do not recognize Jerusalem as the capital of Israel. As such, most foreign embassies are stationed in Tel Aviv.
Abbott's support for Israel as "the region's only liberal, pluralist democracy" reflects a prevalent feeling amongst many Liberal Party members, The Australian newpaper said, and the current government led by Malcolm Turnbull has already taken tough action to restrict and examine Australian aid to the Palestinian Authority.
Following allegations against World Vision that some of the money it was distributing in Palestinian territories was being funneled to the Islamist militant group Hamas, Foreign Minister Julie Bishop suspended all state-funding to the humanitarian organization.
World Vision denies these alle­gations, which are now before the courts in Israel.
Bishop has also said that her country would not have joined ranks with its neighbor New Zealand in voting in favor of UN Security Council Resolution 2334, which passed unanimously recently with a US abstention.
"Australia is not currently a member of the UN Security Council and therefore not ­eligible to vote on UNSC resolutions," Bishop noted in a statement according to the Sydney Morning Herald. "In voting at the UN, the Coalition government has consistently not supported one-sided resolutions targeting Israel."
Despite unequivocally opposing one-sided anti-Israel resolutions in the UN Security Council, Australia's Foreign Minister stressed that her country still staunchly supports a two-state solution between Israel and the Palestinian Authority.
She called for both parties to "resume direct negotiations for a two-state solution as soon as possible."
(Staff with agencies)