Four Israelis stranded on Everest rescued; Three babies of surrogate Nepalese mothers arrive in Israel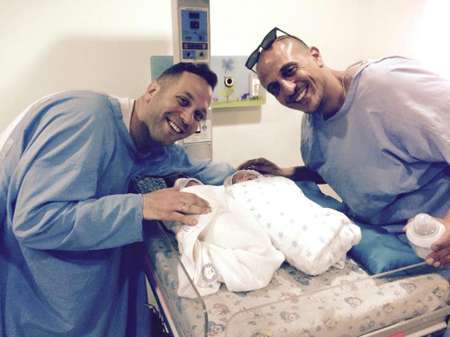 The first Israeli Air Force (IAF) transport plane aimed at rescuing Israelis from the devastation wreaked by an earthquake in Nepal arrived at a military base in Israel Monday morning.
The plane brought with it several wounded Israelis and premature babies of Israeli parents born to surrogate Nepalese mothers. A separate plane carrying more babies and their parents is slated to arrive later in the day.
Omri Lanzet, one of the many new parents who landed in Israel with his newborn son Sunday night told Ynet news that "We had a baby just days old with us, and had no heat. The food and the diapers ran out."
"The babies are the most vulnerable, and some of them were born prematurely. It's neither the place nor the proper environment for a baby only a few days old."
Four Israelis, stranded on the slopes of Mount Everest following the earthquake were also rescued by Harel, an Israeli insurance company. All four are said to be in good health reported Army Radio.
On Sunday, Israel began airlifting 26 infants from quake-hit Nepal born to surrogate mothers, along with their Israeli parents, most of them homosexual couples.
Three of the babies along with eight family members have already arrived.
Officials said Israel was also sending a military delegation to offer aid and help repatriate its citizens from Nepal following the quake that has claimed more than 2,500 lives.
Foreign ministry officials said there were 600-700 Israelis in Nepal, as well as the 26 babies recently born in Kathmandu -- four of them prematurely -- to surrogate mothers from India.
Nepal has become a destination for couples seeking to have children through surrogate mothers, though the practice is controversial, with critics saying it exploits the poverty of women.
Priority for repatriation would be given to the infants and their Israeli families, interior ministry spokeswoman Sabine Hadad said, saying they would be "the first on the plane."
Foreign ministry spokesman Paul Hirschson said officials were doing "everything to bring the babies to Israel", while stressing that the timing of their return was subject to health considerations and legal issues.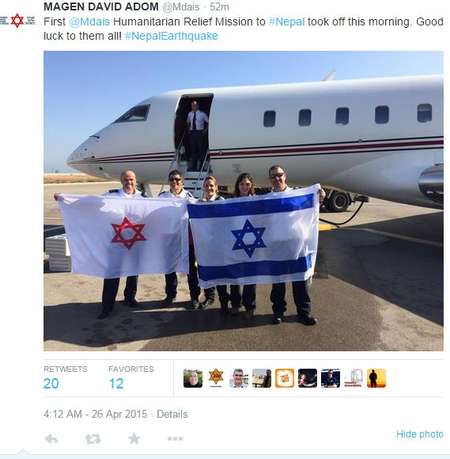 The Justice Ministry ruled on Sunday that four Nepalese surrogate mothers carrying babies for Israeli couples will be allowed to fly to Israel in order to have the babies in the Jewish state.
The Israeli couples had earlier put in a special request that the women be allowed to seek refuge in Israel due to the deteriorating medical conditions in Nepal.
Under Israeli law, only heterosexual couples can legally have children through surrogate mothers, meaning homosexual couples and single people often seek help overseas, said Roy Youldous of Tammuz, an Israeli firm offering surrogacy services.
Fifteen of the babies, four of them premature, were born to surrogate mothers working for Tammuz, he said, adding that he hoped the infants would be "brought to Israel without delay."
Interior Minister Gilad Erdan pledged to help all the babies to reach Israel, where they would undergo DNA testing to confirm their parentage.
Such a procedure would normally take place in Nepal.
Israeli Tamar Rotem said her sister Noa Roth -- whose baby girl was born prematurely via an Indian surrogate three days ago -- was among the Israelis waiting to be airlifted.
She said Roth and her baby had spent the night in a makeshift tent outside the Kathmandu hospital.
"We don't know how the premature babies are being fed. We're very worried," she said.
Israeli delegation, to help with search and rescue efforts, delayed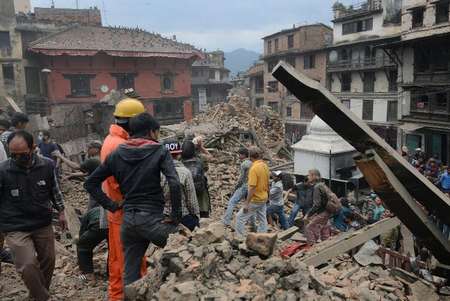 Meanwhile, a 260 member mission was set to leave for Nepal Sunday night in order to provide immediate search, rescue and medical services following the devastating earthquake that struck the district of Kathmandu, an army statement said.
An advanced multi-department medical facility, equipped with approximately 95 tons of humanitarian and medical supplies from Israel and a medical staff of 122 doctors, nurses and paramedics, will be rapidly established in the city of Kathmandu to provide medical care for disaster casualties, the IDF said.
"The facility will include pediatric, surgical, internal medicine, neonatal, and radiology departments as well as a maternity ward and emergency and operating rooms," the statement continued. "The hospital has the equipment, capacity and manpower to treat approximately 200 patients each day."
The mission will consist of a search and rescue team from the IDF National Search and Rescue Unit.
Head of mission to Nepal, Commander of the Search and Rescue Corps, Colonel Yarom Laredo said ahead of the mission that the team will be making two main efforts - search and rescue. "We will be finding people trapped under the rubble, and twelve hours later we will begin operating a field hospital… This is a large, high-end delegation with a considerable staff, including the 40 doctors and nurses of the field hospital… The delegation will be flying in two aircrafts, and transporting about 90 tons of equipment," he said, according to the IDF statement.
Besides offering aid to Nepal, the delegation will also provide Israelis "the means necessary to return to Israel", a previous statement said.
Laredo told Prime Minister Benjamin Netanyahu in a telephone conversation that the Israeli team will set up a field hospital to treat those wounded in the earthquake, as well as work to locate Israelis.
"You are being sent on an important mission," Netanyahu said. "This is the real face of Israel — a state that comes to assist those far away at moments like these. Good luck, we are counting on you."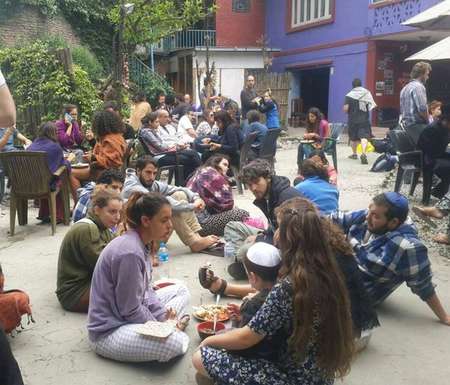 "The IDF will work in Nepal to help the country in light of the devastating earthquake that hit it, and will of course help Israelis in the area in need," Israeli Defense Minister Moshe Ya'alon said.
"As we did in the past, we willingly share the experience of the IDF and the Home Front Command to help Nepal, through evacuation, rescue and medical aid and equipment."
"This is a human task," he added. "We cannot stand idle by in light of the tragedy. This is a moral and ethical duty. I hope that the Home Front Command will provide residents of Nepal assistance that will benefit them and enable them to cope with the tragedy that befell them."
Israel's emergency medical service also announced it would be sending a delegation of paramedics and doctors to Nepal to provide care for both locals and Israelis there.
A statement from Magen David Adom said an aircraft from Israel with equipment and professionals would depart early Sunday to provide immediate help and set up base for further delegations.
President Reuven Rivlin said that "Our thoughts and hearts go out to the people of Nepal dealing with this awful disaster, and with our loved ones who are in distress. The State of Israel is reaching out to help the search and rescue of the many victims."
(With AFP)