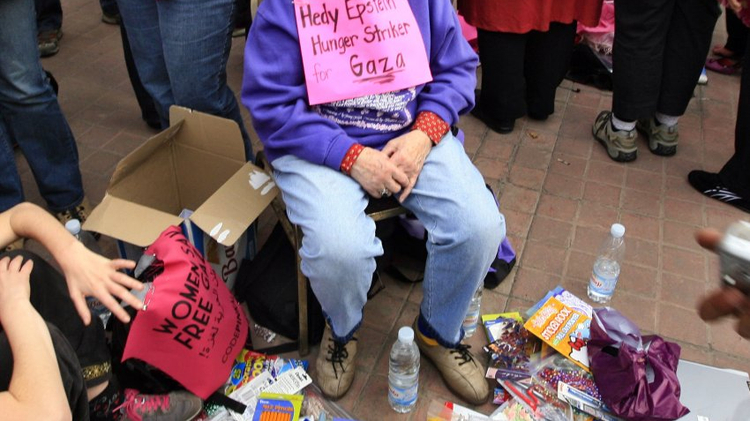 ☆
Austria cancels WW2 event over backlash against Jewish BDS activist invitation
credits/photos : AFP
Hedy Epstein: Hunger-Striker for Gaza
Pro-Palestinian activist Hedy Epstein invited by Austrian parliament to talk on women during World War II
Austria's parliament has canceled a panel discussion about women during World War II after the announcement that a prominent Jewish pro-Palestinian, pro-Hamas activist had been chosen to represent the experience of Holocaust survivors.
"In consideration for the concerns against some of the participants, the Austrian Parliament has cancelled the event 'In Grandmother's Words…The Fate of Women in the Second World War,'" Austrian parliament spokeswoman Marianne Lackner told the Jerusalem Post.
Hedy Epstein, who was born in Germany in 1924, was the only Jewish guest slated to speak at the event, scheduled to take place March 8, JTA reported.
"It had showed already that it is difficult to find witnesses for the project whose physical and health condition allows participation in the event. A short-term replacement of the podium is therefore not possible," Lackner said.
The office of the president of the Austrian parliament described Epstein as a peace and human rights activist in an invitation that was sent for the event, according to JTA.
Efraim Zuroff, head of the Simon's Wisenthal Center's Jerusalem office, welcomed the Austrian parliament's move, saying that there were 'far more appropriate speakers for this event' than Epseitn.
"[Hedy Epstein] is not a survivor in the classical sense," Zuroff told the Jerusalem Post on Saturday.
"She is a notorious anti-Zionist who doesn't miss an opportunity to exploit her biography to attack Israel. If they [Austria's parliament] want to talk about the Holocaust, they chose the wrong person. If they want to bash Israel, they chose the right person," Zuroff said.
In a telephone interview with the Jerusalem Post on Saturday, Epstein, a self-described "anti-Zionist", said that 'similarities' exist between Israel and Nazi Germany, but she insisted that she has not made a direct comparison between the two.
"There are similarities between Israel and the Nazis but they are separate entities," Epsetin said.
Epstein told the Post she believes in a one-state solution, and does not agree with the US and EU's designation of Hamas as a terror organization, which, she said, was "democratically elected."
"I wish Israel didn't come about but it is reality," she said.
Epstein gave a lecture in 2004 at Stanford University in which she compared the Nazi treatment of Jews to Israeli treatment of Palestinians, leading to widespread condemnation from Jewish groups such as the Anti-Defamation League.
Epstein is a keen activist and has signed numerous petitions by the Boycott, Divestment and Sanctions (BDS) movement against Israel. She has also participated in several actions to break Israel's blockade of the Gaza Strip.
The BDS (Boycott Divestment and Sanctions) campaign is a coalition of organizations inspired by the anti-apartheid movement who say they are using nonviolent means to promote the Palestinian struggle for independence.
(Staff with agencies)