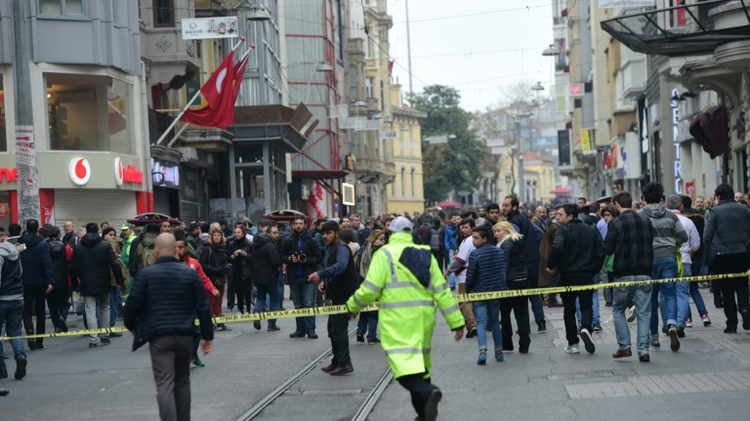 ☆
Israelis wounded in deadly Istanbul blast flown home
credits/photos : Bulent Kilic (AFP)
Turkish police push people away after an explosion on the pedestrian Istiklal avenue in Istanbul on March 19, 2016
Three of the four killed in the suicide bombing are Israeli nationals
Three Israeli nationals lightly wounded in the deadly blast in Istanbul were flown to Israel, where they will continue their treatment, local media reported early Sunday, adding two more Israelis were on their way to the Ben Gurion airport near Tel Aviv.
A suicide bombing ripped through a famous shopping street in central Istanbul on Saturday, killing four people, including two dual US-Israeli citizens, and injuring at least 35 others.
The White House announced the deaths of two American citizens in the blast, with Israel's foreign ministry confirming the deceased held dual US-Israeli citizenship.
Turkish media said three Israelis and one Iranian were killed.
Israeli Prime Minister Benjamin Netanyahu said that there was no confirmation that the attack was directed against Israelis, but that Israel was "in touch with Turkish authorities". He added that on Sunday Israel would update its travel advice for Turkey.
A total of eleven Israelis were injured in the attack, the Israeli foreign ministry said, with two reported to be in serious condition, two in moderate condition, and six with minor injuries.
Six Israelis, with whom the foreign ministry earlier reported it had been unable to make contact, do not appear to have been a part of the event, Netanyahu said.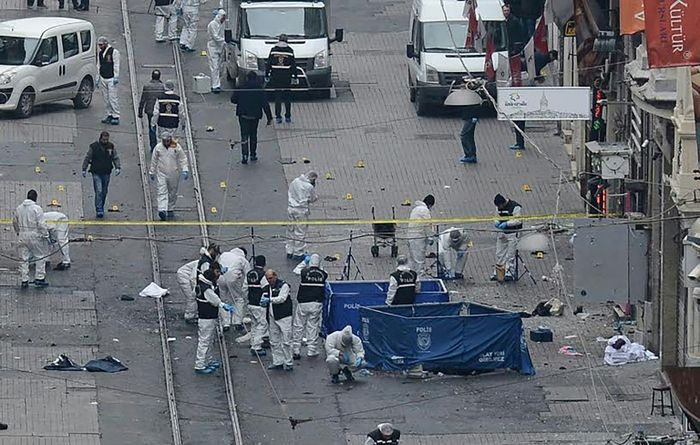 Turkish Prime Minister Ahmet Davutoglu sent a letter to Netanyahu on Saturday, expressing his condolences to the families of the Israelis killed in the attack.
"I would like to convey my condolences to the families of the Israeli citizens who lost their lives in the heinous attack which happened in Istanbul and to the people of Israel, and I wish a speedy recovery to the wounded," Davutoglu wrote.
"Today's attack in Istanbul has shown us once again that the international community as a whole must act in a resolute manner against the ignoble objectives of terrorist organizations," he added.
Israel dispatched two planes with a delegation of Magen David Adom medical responders and foreign ministry personnel to evacuate injured Israelis from Istanbul.
"The aim of the operation is to repatriate wounded Israelis as fast as possible," a Magen David Adom spokesperson said.
Many of the wounded are reportedly foreigners, including two people from Ireland and one each from Germany, Iceland, Iran and Dubai.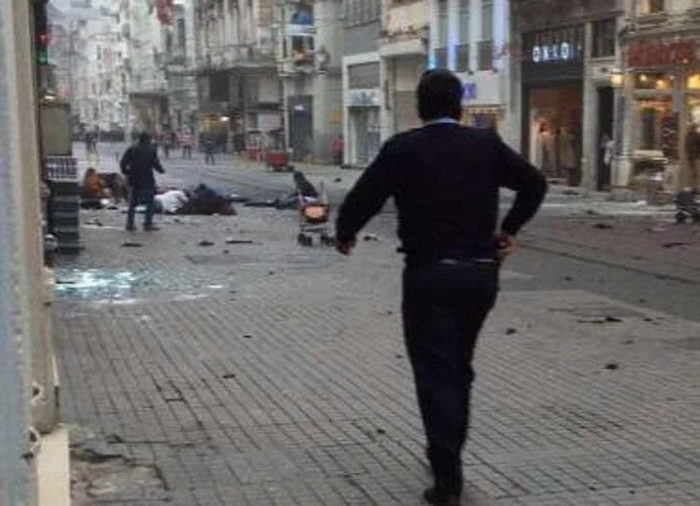 - AKP official fired over tweet wishing for death of injured Israelis -
A member of President Erdogan's AKP party was fired from her position on Saturday after tweeting that she hoped for the death of the Israelis injured in the explosion.
Irem Aktas, who acts as the party's Women's Media & Publicity Chair, tweeted "I wish that the wounded #Israeli tourists were dead."
In another tweet she added "when Israel was attacking your Muslim brothers, why didn't you say anything."
Whereas Israeli Joint Arab List MK Ayman Odeh said that four of the wounded were Arab-Israelis.
The Turkish health minister separately wrote that "even though they are foreigners, they are human beings as well"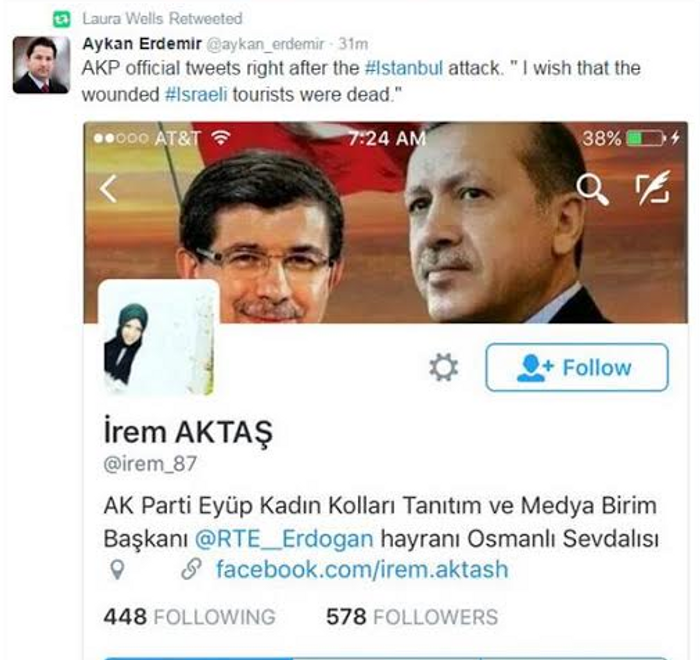 Israeli polticians reacted angrily to the tweet, including transportation and intelligence minister Yisrael Katz, who called for an official apology over the incident.
"How much evil, hatred, and inhumaneness does one need in order to express oneself in such a manner?" the Jerusalem Post quotes Katz.
"Where are the leaders of her party and why aren't they denouncing her and officially apologizing to the State of Israel?"
"This is not the way to advance reconciliation," he added.
- Not the intended target -
Davutoglu vowed that an investigation would quickly identify those responsible.
"We will fight with determination and perseverance until all forms of terrorism are eradicated," Davutoglu said.
Turkey's Dogan news agency named the alleged bomber as Savas Yildiz, 33, reporting that he is suspected to have been affiliated with the Islamic State group and was reportedly on a government watchlist for suspected involvement in previous attacks in Mersin and Adana.
According to Turkey's Hurriyet Daily News, Turkish authorities have taken DNA samples from Yildiz's father in order to confirm his identity.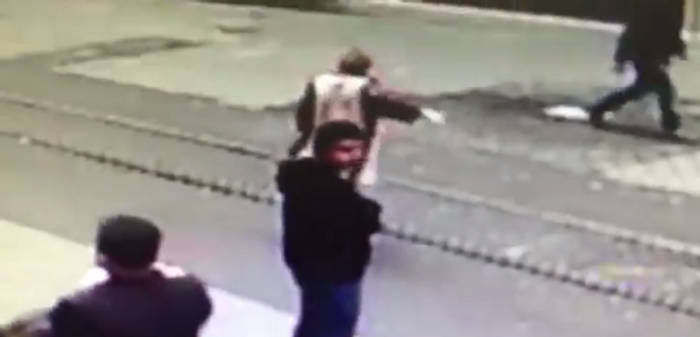 The blast took place near a shopping mall, but Istanbul governor Vasip Sahin said the intended target was a local authority building.
The street, which adjoins Taksim Square in the European part of the city, was evacuated after the attack, an AFP journalist at the scene said. Armed police sealed off the area while a police helicopter hovered overhead.
CCTV footage published online by Dogan news agency appeared to show the moment of the blast with a fireball erupting near a handful of passersby, sending them rushing for cover.
Television images showed several ambulances ferrying the injured to hospital.
The Turkish government placed a broadcast ban in the country on details related to the bombing.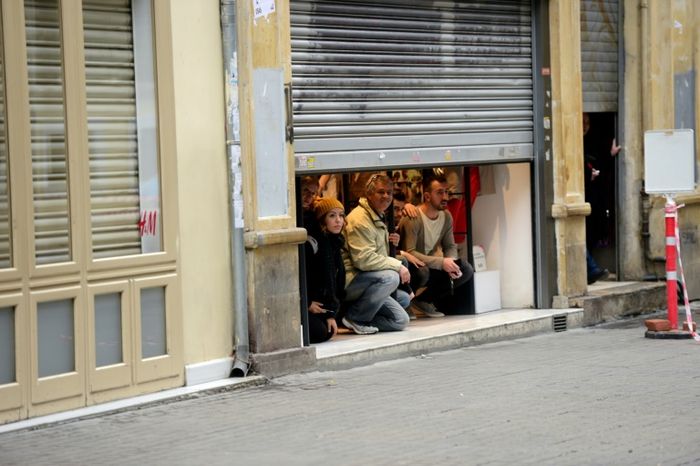 Turkey is on a knife-edge after five major bombings since July that have killed over 200 people. Three have been blamed on the Islamic State group.
The Kurdistan Freedom Falcons (TAK), a radical Kurdish group with ties to the PKK, has claimed responsibility for two others, including last Sunday's suicide car bombing in a busy transport hub in Ankara that killed 35 people.
The German embassy in Ankara, German consulate in Istanbul, and German schools in both cities remained closed for a second day Friday following what Berlin called "very serious" indications of planned attacks, two months after 12 German tourists were killed in a suicide attack in Istanbul.
The German embassy urged its citizens in the country to stay indoors following Saturday's bombing.
The United States strongly condemned the attack, vowing to stand by Turkey.
"The United States stands in solidarity with our NATO ally Turkey in combating the common threat of terrorism," State Department spokesman John Kirby said in a statement.
"This vicious attack is the latest in a series of indefensible violence targeting innocent people throughout Turkey -- Turkish citizens and international visitors alike."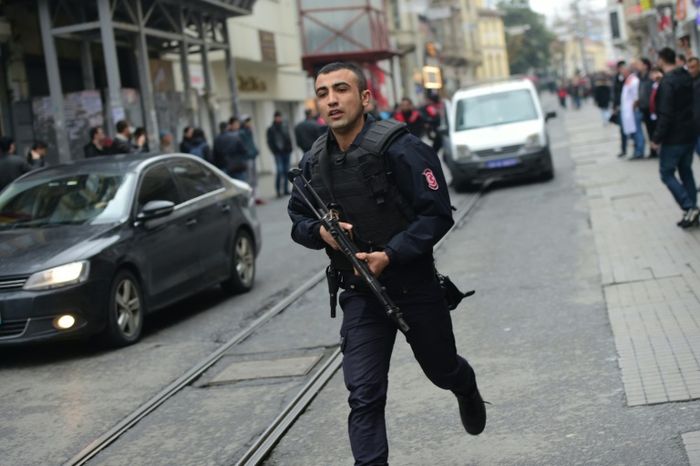 The US embassy in Ankara issued a warning to its citizens in Turkey to exercise caution ahead of Kurdish New Year celebrations at the weekend that have been a flashpoint for demonstrations in the past.
Public gatherings have been banned in some cities during the holidays.
(Staff with AFP)