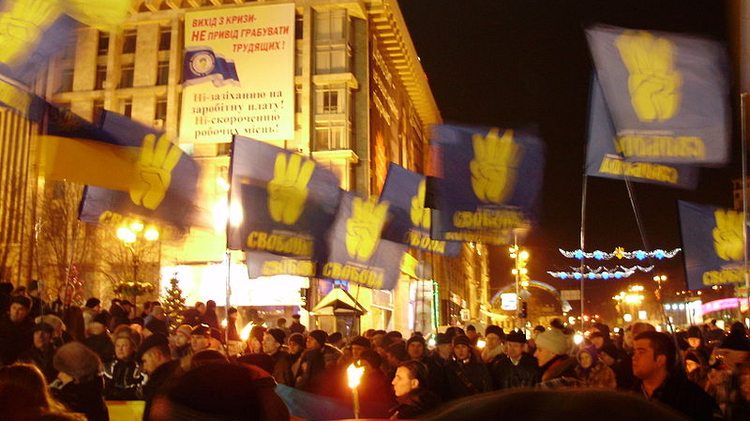 ☆
i24news exclusive: 61 MKs sign letter blasting 'Nazi' Ukrainian party
credits/photos : Wikimedia Commons
Svoboda supporters rally in Veresnya
'We cannot stand idle while facing ther rising tide of neo-Nazism,' write legislators from all parties
In a rare display of political camaraderie, 61 members of Knesset last week signed a joint letter slamming Ukraine's far right Svoboda party for making anti-Semitic comments and threatening Jews. i24 news has obtained a copy of the letter, which was sent to European Parliament President Martin Schultz, and warned of the party's rising popularity and legitimacy.
The letter refers to the Svoboda (Freedom) party as a neo-Nazi organization, whose members "draw their inspiration from the Nazis and openly glorify the mass murderers of the SS Ukrainian Divisions​."
"To our astonishment we find that this party is not isolated and, on the contrary, enjoys fruitful cooperation from Ukraine's two opposition parties," read the letter, adding that in publicly working alongside the "Nazi criminals," the other parties were equally guilty of their crimes.
"We cannot stand idle while facing the rising tide of neo-Nazism in the world. It is our duty to raise our voices and urge our colleagues around the world to help eradicate the trend that back to humanity's darkest hours," read the letter.
An earlier version of the letter was sent in June, but Svoboda officials dismissed it, claiming it was meaningless as only 30 members of Israel's parliament -- less than half -- had signed it. In response, the letter's backers led by David Aidelman, a political consultant who immigrated to Israel from the Former Soviet Union, garnered the support of 31 additional MKs and resubmitted it.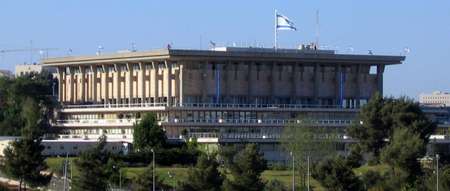 The letter gained the support of legislators from all parties and all walks of life, from the far-right's Orit Strok (Habayit Hayehudi) to the far left Hanin Zoabi (Balad). Among the signatories are Muslim and Christian MKs and some that can even be described as anti-Zionists.
The letter thanked Shultz for banning Svoboda's leader Oleh Tyahnybok from a recent European Parliament meeting, saying it sent a firm message to Nazi sympathisers everywhere. Tyahybok himself issued a statement after the event, accusing "socialist Europeans" of having him banned.
Svoboda was founded in 1991 as the Social-National Party of Ukraine. It's major break out came in 2012 parliamentary elections when it garnered 10.44% of the popular vote and 37 seats in the 450-seat legislator, making it the country's fourth largest party.
On Tuesday, the Jewish Telegraphic Agency reported that Svoboda was organizing a march in Uman against the presence of Jewish pilgrims there. Some 25,000 pilgrims, many of them from the Breslov movement, converge in Uman each year ahead of the Jewish new year to pray near the burial place of Rabbi Nachman, the founder of the Breslov hasidic movement.
Tyahnybok has denied his party's "extremists" characterization, saying people often confused nationalism with facism.