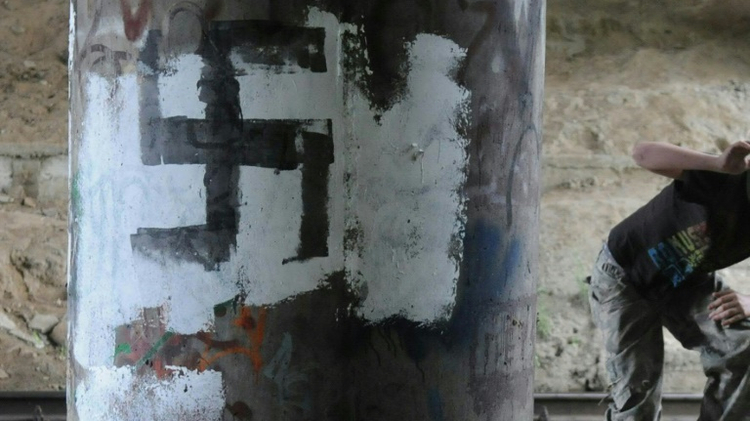 ☆
Attacks on German Jews tripled in one year
credits/photos : AFP/File
Masked suspects in Austria pushed a cyclist to the ground and used a knife to carve a swastika into his forehead, officials say
Over 2,000 anti-Semitic cases reported in 2015 out of 24,600 criminal cases motivated by xenophobia
Anti-Semitic incidents tripled in Germany between 2014 and 2015, with 2,083 cases reported last year, the German Ministry of Justice said, according to the Suddeutsche Zeitung newspaper. The newspaper cited the foreign ministry's first national analysis of xenophobic attacks.
These incidents include attacks on Jews, damage to Jewish property, and hate speech.
An initial count of anti-Semitic incidents in 2015 stood as 1,366 – already well above the 691 logged in 2014. But certain crimes – destroying headstones and Jewish cemeteries or setting a fire in a synagogue – were reclassified as anti-Semitic crimes after certain states defined them as crimes without considering them as motivated by anti-Semitism.
According to the analysis, there were 24,600 criminal cases last year that were believed to be motivated by xenophobia or far-right beliefs.
A survey in June 2015 found that the German public ranks the problem of anti-Semitism only in ninth place out of ten challenges that European society needs deal with it. The European Jewish Association (EJA) poll also found that only a quarter of the German public believes that the EU should intensify the measures taken to eradicate anti-Semitism.
Meanwhile, the hardline right-wing Alternative for Germany (AfD) party has gained in popularity as anxieties have risen over the large influx of Middle Eastern refugees, especially from Syria.
The AfD's rise has raised concerns among some in the Jewish community that it could also bring about a rise in open anti-Semitism. This June, the AfD chose to suspend, rather than expel, a party member who has argued that Holocaust-denial — which is a criminal offense in Germany — is a legitimate view.
And in September, Frauke Petry, co-chair of the party, sparked outrage after calling for a tabooed, racially charged Nazi-era term to be reclaimed. Petry was criticized for saying that terms like "völkisch" -- a Nazi-era term denoting people belonging to a particular race -- should be given "a positive connotation."
Read more: 'Berlin's Holocaust memorial couldn't have been built in today's Germany'
German far-right leader draws criticism for call to reclaim taboo Nazi-era term
Wooing Jews, protecting anti-Semites: Germany's AfD's balancing act
Anti-Semitism row deepens rift in Germany's right-wing AfD
German right-wing party won't expel lawmaker over anti-Semitism accusations