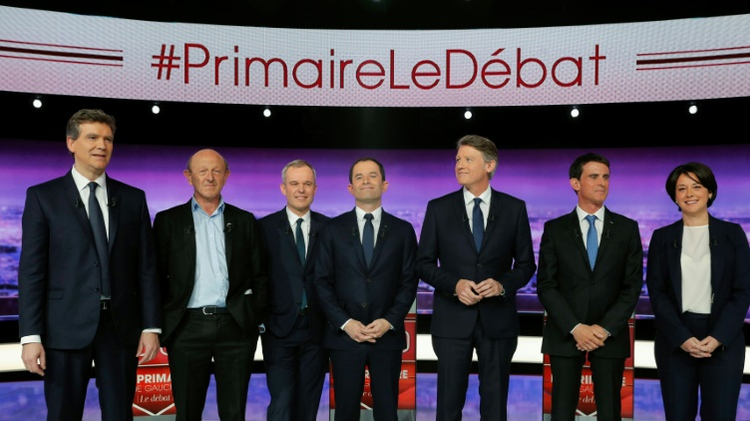 ☆
Divided French Socialists seek to counter election defeatism
credits/photos : PHILIPPE WOJAZER (POOL/AFP)
The 7 candidates for the PS primary from G to D: Arnaud Montebourg, Jean-Luc Bennahmias, Francois de Rugy, Benoît Hamon, Vincent Peillon, Manuel Valls and Sylvia Pinel, in La-Plaine Saint-Denis, on 12 January 2017.
Recent polls suggest top Socialist candidate would finish in fifth place if election was held now
France's Socialist candidates sought to fight widespread pessimism Thursday about their party's chances in this year's presidential election as they held their first televised debate ahead of a primary contest later this month.
More than two and a half hours of dense discussion saw the seven candidates frequently clash over the term of outgoing Socialist President Francois Hollande that has demoralized and fractured the French left.
Recent polls suggest that whoever wins the Socialist primary, held on January 22 and 29, would finish a humiliating fifth, or worse, if the election was held now.
Centrist ex-prime minister Manuel Valls has the most government experience among the candidates, but he faces a stern challenge from more left-wing rivals and past cabinet colleagues, Arnaud Montebourg and Benoit Hamon, polls show.
"We are here to debate in front of the French people to show that the left is still useful," Valls said early in the debate shown live on national television.
In office until last month, he was frequently forced to defend his and Hollande's record, particularly over economic reforms rammed through parliament despite deep unease in the party.
The discussion would have made uncomfortable viewing for the absent Hollande who decided not to seek re-election last month in the face of catastrophic polling numbers. 
Montebourg, who was sacked from the government in 2014 after criticising Hollande's economic policies, called the president's record "difficult to defend."
Earlier in the day, the high-profile Socialist mayor of Paris, Anne Hidalgo, had described his four-year term in office as an "immense waste."
"We can win it in four months," Montebourg said in concluding remarks, referring to the first round of the presidential vote in April. "Our biggest enemy is defeatism."
The charismatic former lawyer, who is a fierce critic of multinational companies and the European Union, wants to unleash a massive state spending plan to jumpstart France's sluggish economy.
- Absent rivals -
As well as underlining the division between the more centrist wing, represented by Valls, and leftists such as Montebourg and Hamon, the debate also highlighted another problem looming over the contest. 
The Socialist Party candidate is set to face a challenge in the election in April by two independents previously associated with the party.
Hollande's former protegee, 39-year-old ex-economy minister Emmanuel Macron, was shown in third position by a new poll of 1,000 people by BVA-Salesforce published on Thursday.
The pro-European former banker has been drawing crowds of thousands across France as he seeks to cast himself as a new face with fresh ideas for the Elysee presidential palace. 
Communist-backed firebrand Jean-Luc Melenchon is also routinely shown in fourth position by polls, siphoning vital votes away from the Socialists.
"Each time that the left won was when it was united," lamented primary candidate Vincent Peillon on Thursday night, recalling previous victories by the party.
Polls currently predict that the election will come down to a second-round battle in May between rightwing nominee Francois Fillon and far-right candidate Marine Le Pen.
Fillon is currently forecast to win that contest.
The election is seen as highly unpredictable, however. The full range of candidates is still unknown and Western democracies are in a period of tumult due to a surge in anti-elite and anti-immigration feeling.
French voters say employment, security and immigration are among their top concerns.
The Socialists say they are expecting a few million voters to turn out to pick their contender in the two-round primary contest.
There will be another two live debates before the first round on January 22.
The ballot is open to all voters who pay one euro ($1.05) and say they adhere to leftist values.