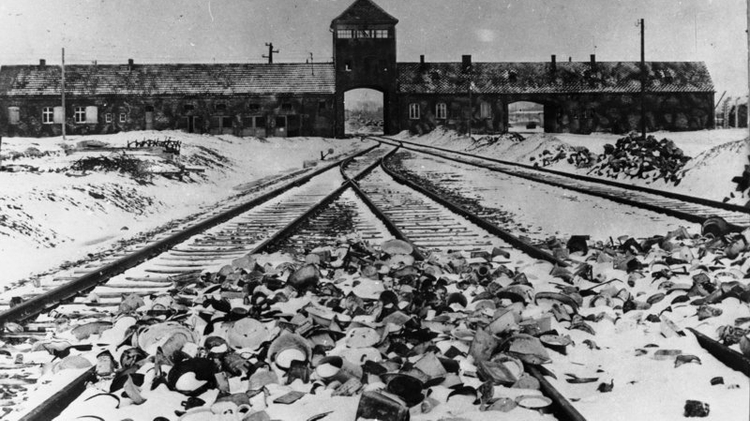 ☆
Jews on Belgian train told to get off at Auschwitz and take a shower
credits/photos : Wikipedia
Entrance to Auschwitz-Birkenau, 1945
Unknown suspects gained access to speaker system, asked all Jews to 'disembark and take a short shower'
Unidentified passengers aboard a Belgian train used the speaker system to urge Jewish passengers to get off at Auschwitz and shower at the concentration camp, the Belgian broadcaster RTL reported Tuesday.
"Ladies and gentlemen, we are approaching Auschwitz," the "pranksters" said in French. "All Jews are requested to disembark and take a short shower."
According to RTL, the suspects gained access to the train's speaker system, usually reserved for official announcements to passengers, during rush hour around 17:00 GMT while traveling from Namur to Brussels.
Passengers reported the incident to Viviane Teitelbaum, a Jewish lawmaker in the assembly of the Brussels region, who authored several books on anti-Semitism and the persecution of Jews during the Second World War in particular.
Teitelbaum told RTL that the witness suspected that members from a group of adolescents may have gained access to the keys that conductors use to make announcements over the loudspeakers.
A spokesman for the Society of Belgian Railways (SNCB), Thierry Ney, told RTL that misuse of the announcement system, which is also considered part of the trains security system, is an offense punishable by a fine or prison sentence, and assured that a complaint would be filed with Belgian police over incitement to hatred.
"We condemn the abuse of the intercom and the words spoken," Ney said.
A similar incident occurred in 2012 aboard the same line when the perpetrators, who were never caught, said, "Welcome to this train heading to Auschwitz. All Jews are requested to disembark at Buchenwald."
Between 4 August 1942 and 31 July 1944, 28 convoys to Poland were organized from the Mechelen transit camp at the Dossin Casern in the Dutch-speaking Belgian city of Mechelen. 25,484 Jews and 352 Roma passed through the camp, most of whom were sent to the Auschwitz-Birkenau death camp.
The large number of Jews passing through Mechelen, nearly half of Belgium's Jewish population, led to the city to be known as the "Antechamber of Death."