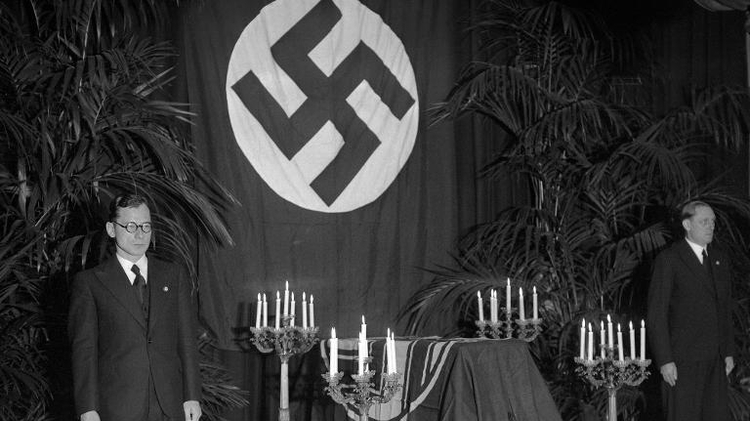 ☆
Parisian Jew attacked, swastika drawn on chest
credits/photos : AFP/File
The Nazi flag-draped coffin of German diplomat Ernst Vom Rath at the German embassy in Paris during his funeral on November 12, 1938
Teacher tells the police three young men cursed him in Arabic and hit his face, breaking his nose
A Parisian Jewish teacher was attacked Thursday night by three men, who cursed him in Arabic before drawing a swastika on his chest, according to a report by the Drancy-based Bureau for National Vigilance Against Anti-Semitism, a watchdog group known as BNVCA.
"They pressed him to the wall and hit his face, around the eyes and on his chest," the report said. The blows broke his nose, according to the report.
"One of the perpetrators opened the victim's shirt and with a black marker drew a swastika on the man's bare chest," BNVCA president Sammy Ghozlan wrote in the BNVCA report.
The victim, who was wearing a kippah at the time of the attack, was identified as K. Richard.
Richard told the police the three men appeared to be of North African descent and were in their twenties.
They shouted "Death to the Jews" and called him "Dirty Jew" in French, the BNVCA report said.