Kremlin: it would be 'absurd' to conduct Ukraine elections
Washington urges Ukraine, Russia to order; at least 31 killed in bloodiest day since new government took power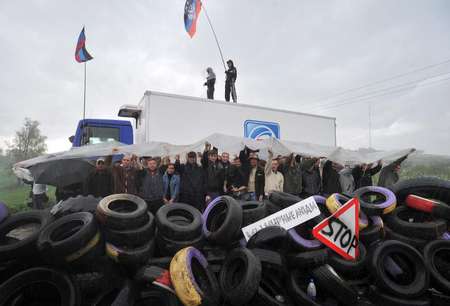 Russian President Vladimir Putin's spokesman said it would be absurd to conduct snap polls in Ukraine amid the raging violence, saying the Kremlin no longer had any influence over rebels in the country's east.
"We do not understand what elections in Kiev they are talking about in European capitals and Washington," Dmitry Peskov was quoted as saying by Russian news agencies.
"Obviously, on the basis of the current constitution, during military operations, a reprisal raid and mass killings, speaking about some sort of elections is absurd to say the least."
US Secretary of State John Kerry urged Russia to stop supporting Ukrainian separatists as he talked by phone with his Russian counterpart Sergei Lavrov on Saturday, a day after postponing the call.
"It is important for Russia to withdraw support for the separatists" and begin "to de-escalate the situation," Kerry said on a visit to the Democratic Republic of Congo. Washington's top diplomat also hailed the release of OSCE inspectors by pro-Russian rebels in the eastern Ukrainian flashpoint town of Slavyansk.
According to a statement made by the Russian foreign ministry, Lavrov asked Kerry to press Ukraine to halt its military operation.
"The minister called on the United States to use all of its influence to force the Kiev regime, which it looks out after and which has declared a war against its own people, to immediately halt military operations in the southeast, pull back its troops and free protesters," the foreign ministry said.
Ever since Moscow took control of Ukraine's Russian-speaking peninsula of Crimea in March, the West has been on tenterhooks expecting Russia to move troops to Kremlin-friendly eastern Ukraine.
But many analysts have suggested Russia will stop short of invading east Ukraine and will instead seek to compromise presidential polls on May 25 in a bid to retain influence in the neighboring Slavic country.
Peskov also said that Russia could no longer influence events on the ground in eastern Ukraine, which have plunged Russia's ties with the West to their lowest point since the Cold War.
"From now on Russia... has essentially lost influence over these people because it will be impossible to convince them to lay down arms," when there's a direct threat to their lives, the state RIA Novosti news agency quoted Peskov as saying.
He said Moscow was receiving "thousands of calls" from eastern Ukraine with requests for help and that Putin was "extremely concerned" by the new developments.
"An overwhelming majority literally demands active help from Russia," he said.
Peskov added: "The Russian president is extremely concerned by the way the situation is developing and the way it is being interpreted by the global community, in some countries of the global community."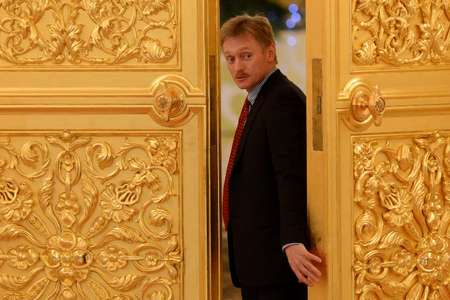 Asked how Moscow would respond to the escalating crisis, Peskov told Russian news agencies: "I cannot answer this question, it's an absolutely new element for us."
"This is not a conflict where Russia is a participant, this is a conflict in Ukraine."
He spoke after at least nine were killed during Kiev's military offensive against pro-Moscow rebels in the Russian-speaking town of Slavyansk in eastern Ukraine.
On top of that, at least 42 people died in clashes and a fire in the city of Odessa.
Peskov said Putin was expressing condolences to relatives of those who perished in the Odessa fire, calling it a "reprisal raid," an emotive term used in Russian history textbooks to describe Nazi raids against peaceful civilians during World War II.
He said the Kiev authorities were "up to their elbows in blood."
The United States condemned "unacceptable" violence on the bloodiest day since Kiev's Western-backed government took power, urging both Ukraine and Russia to restore order.
"The violence and mayhem that led to so many senseless deaths and injuries is unacceptable," State Department deputy spokeswoman Marie Harf said in a statement, after at least 31 people died in a fire in the southern Ukrainian city of Odessa.
Ukrainian local media reported Friday that pro-Russian militants were believed to have been in the building at the time.
Most of those who were killed died from smoke inhalation, while others perished trying to escape by jumping out of windows.
News of the deaths came after a day of violent clashes between pro-Russian and pro-Ukrainian militants, with reports of renewed fighting in Slavyansk late on Friday leading to the death of two more Ukrainian soldiers, meaning at least nine people had been killed in clashes in the flashpoint town throughout the day.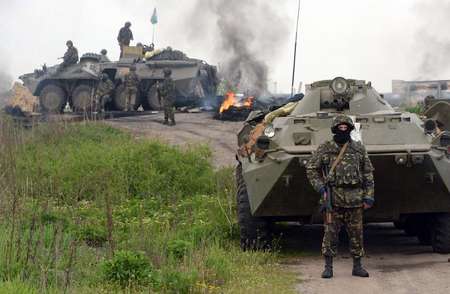 The diplomatic war of words also intensified as the United States threatened to hit Russia with new sanctions within three weeks over what Washington called its continued "destabilisation" of Ukraine.
President Barack Obama threatened to expand punitive sanctions to broad sections of the Russian economy if Moscow continued to foment chaos in the former Soviet republic ahead of planned May 25 presidential elections.
"If in fact we see the disruptions and the destabilization continuing so severely that it impedes elections on May 25, we will not have a choice but to move forward with additional... severe sanctions," Obama said at a joint news conference with German Chancellor Angela Merkel.
"If Russia continues on its current course, we have a range of tools at our disposal, including sanctions that would target certain sectors of the Russian economy," Obama said.
Previously the administration has said such measures would only come into force if Russia sent its estimated 40,000 troops on the border into Ukraine.
RECOMMENDED STORIES
Moscow does call for dialogue between Kiev and rebel leaders as EU ministers prepare to meet in Brussels
'Nothing has change,' say witnesses as Kiev hits out at 'destabilizing Russian presence'
Russian aid convoy, feared by Kiev to be carrying arms for the rebels, to arrive in east Ukraine