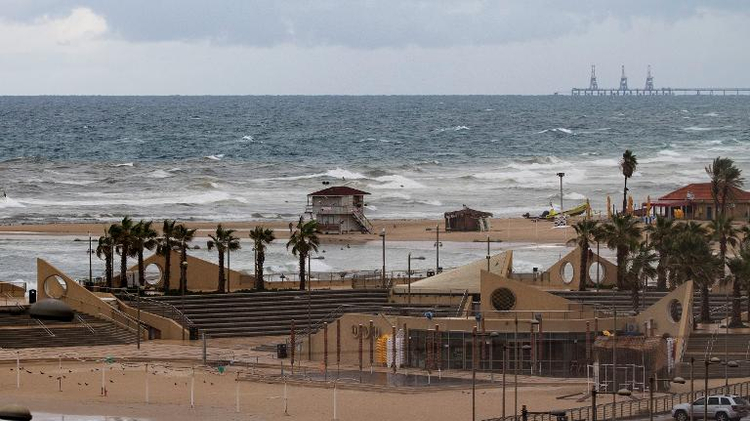 ☆
Survey shows Mediterranean fish in danger
credits/photos : Jack Guez (AFP/File)
In this file photo, stormy sea is seen near the Israeli Mediterranean coastal town of Netanya, north of Tel Aviv, on December 11, 2013
Researcher: 'There is no room left for optimism with regard to future yields'
The future of Mediterranean fish populations looks bleaker every year, according to a newly published report.
The survey, conducted by Greek scientists, took samples of fish populations across a variety of species at 42 points along the Mediterranean's vast coastline. While the survey focused on European countries, the inclusion of samples from Greece and Cyprus give the survey credibility in the eastern basin of the Mediterranean.
The populations of a variety of fish species are being rapidly depleted due to over-fishing, Haaretz reported.
The research covers the period of 1990-2010 during a time of ever increasing commercial fishing. In 2010, fishing in the Mediterranean exceeded the limits to guarantee sustainable fish population growth.
The survey also showed that commercial fisherman are catching fish that are not yet mature enough to reproduce, meaning that the younger population of fish upon which the future of each species rests is being taken from the Sea.
According to other surveys conducted in recent years, Israeli commercial fishermen have seen their yield decrease by 25 percent over the last 30 years.
Enforcing measures that could reduce the catch rate and restore fish populations would prove difficult, as the Mediterranean's commercial fishing industry is characterized by small boats operating out of a diversity of locations.
The researchers speculate that the European Union's efforts to preserve fish in the northern Atlantic, which proved successful, may have diverted energy from addressing the same issue on Europe's other coastline.
"There is no room left for optimism with regard to future yields," noted the researchers.