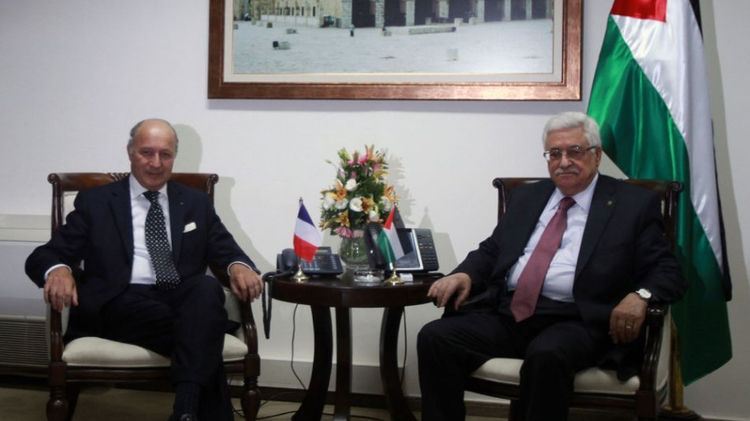 ☆
FM: France mulls recognizing a Palestinian state
credits/photos : AFP
Laurent Fabius et Mahmoud Abbas
'What we want is not something symbolic, but something that is useful for peace,' Fabius says to parliament
France's foreign minister said on Tuesday that Paris should recognize a Palestinian state only if doing so would help achieve peace, not as a symbolic gesture.
However, if negotiations between the Palestinians and Israel fail, Paris "would not shirk its responsibilities" but would recognize the Palestinian state, the minister, Laurent Fabius, said in answer to a question in parliament.
"From the moment when we say that there are two states, there will be recognition of a Palestinian state. That goes without saying, it's logical," Fabius said.
"The only question are the modalities and how to do it in the most efficient way. What we want is not something symbolic, but something that is useful for peace."
Earlier Britain's ambassador to Israel said the British parliament's vote to recognize a Palestinian state should concern Israel, adding it reflected shifting public sentiment in Britain and around the world following the summer war in Gaza.
The vote will not change London's policy, British officials have said. But Ambassador Matthew Gould said it was "significant" because it reveals negative attitudes toward Israel following its 50-day war with the Islamic militant group Hamas.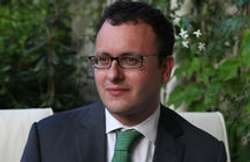 In an interview on Israel Radio, Gould suggested that although the vote was symbolic, Israel should take note. "I think it is right to be concerned about what it signifies in terms of the direction of public opinion," Gould said.
The British parliament passed on Monday a non-binding motion to recognize a Palestinian state, a move with no practical implications but symbolic ones. MP Graham Morris, who opened the debate, said that the "recognition of Palestine does not mean causing any harm to Israel... it is good for Israel as well."
The bill passed 274-12. The debate was mostly split between Labor party ministers who supported and opposed the vote, while most Conservative MPs were not in attendance.
Commenting on the vote, the Israeli embassy in London said in a statement that the "route to Palestinian statehood runs through the negotiation room."
"Premature international recognition sends a troubling message to the Palestinian leadership, that they can evade the tough choices that both sides have to make, and actually undermines the chances to reach a real peace," the statement continued. "Recognition of a Palestinian state should be the result of a successful conclusion of direct peace talks between Israel and the Palestinian Authority."
Nabil Abu Rudineh, spokesman for Palestinian President Mahmoud Abbas, said the British vote was "a step in the right direction" and that "the two-state solution is the solution of the international community," while Israel's Foreign Ministry said it undermines peace efforts because Palestinian statehood should come about only as a result of negotiations with Israel.
"Premature international recognition sends a troubling message to the Palestinian leadership that they can evade the tough choices that both sides have to make," the ministry said.
The vote can possibly create a trend, joining last week's announcement by Sweden's new government that it will recognize a Palestinian state, even as Palestinian President Mahmoud Abbas rallies support for a UN Security Council resolution calling for a timetable of Israeli withdrawal from the West Bank.
"Symbolic act, largely motivated by local politics"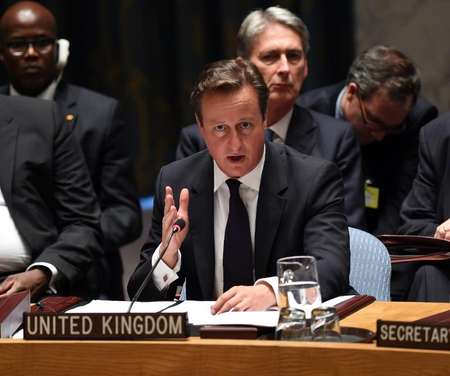 Israel has mounted intense behind-the-scenes efforts to try and influence the vote, assisted by British Jewish organizations and pro-Israel MPs. The Israeli Labor Party has also campaigned its British counterpart to shelve the vote.
According to a senior Israeli diplomat, Israel "prefers to keep a low profile and not display pressure" but is hoping the efforts will result in a low attendance at the parliamentary debate. It is also counting on the political turmoil in the Labor party over the controversial motion to derail the proposal.
The vote is perceived in Jerusalem as merely a "symbolic act, largely motivated by local politics," according to another Israeli diplomat. "The ruling Conservative Party has assured, again and again, that it will have no influence on British government policy and that the move is a meaningless political trick aimed at gaining support ahead of next year's elections."
Since Israel's summer operation in Gaza, he added, foreign ministry officials have detected a growing trend within Labor to appeal to the substantial Muslim electorate by adopting pro-Palestinian positions.
Israeli officials continue to argue and explain to their counterparts that unilateral moves "are unhelpful and create an atmosphere that doesn't contribute to resumption of negotiations, but rather create a Palestinian illusion that there's a way to bypass the negotiations."
Israeli Labor Party Secretary-General MK Hilik Bar issued a letter on the subject to leading British MPs after speaking with several members of the Labor Friends of Israel parliamentary group.
"I understand why many of you will want to vote for anything which claims to be a contribution to peace. But immediate and unilateral recognition of Palestinian statehood does nothing to advance this vital cause. In fact, precisely the opposite," the letter states.
"Unfortunately, unilateral moves simply play into the hands of those on Israel hard right, which wants to suggest that we have no partner for peace, and that the Palestinians do not want to sit down and negotiate with us."
Monday's vote will be on a motion that is being put forward by MP Grahame Morris.
"If the vote is a success it would put a tremendous amount of pressure on the current government and the next government, which is likely to be a Labor government, to recognize Palestine as a state," Morris said.
"The UK recognizing Palestine could give decisive momentum to more EU states following suit," he said.
"Recognition now would be a clear and legitimate message that Britain and others recognize Palestinian rights and that the illegal settlement enterprise has no validity."
Britain abstained in 2012 from a vote in the United Nations on giving the Palestinians the rank of observer state, which was granted despite opposition from the United States, Israel and other countries.