☆
New video shows Paris supermarket killer swearing allegiance to Islamic State
Ahmedy Coulibali video
Police authenticate video; say Amedy Coulabily also shot a jogger in previously unreported attack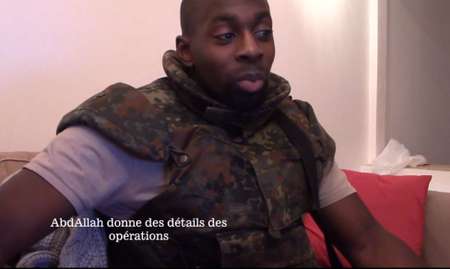 French police have confirmed that the man seen in a video released early on Sunday is Amedy Coulibaly.
A short time before Amedy Coulibaly took over a Jewish market in Paris and killed four hostages, he taped himself pledging allegiance to the Islamic State and its self-styled caliph, Abu Bakr al-Baghdadi. The video which showed up Sunday morning on a video sharing website was a chilling seven and a-half minute martyrdom tape.
The clip starts out showing him working out to develop muscles, then switches to show a pile of guns, followed by a caption describing him as Abou Bassir AbdAllah al-Ifriqi, soldier of the Caliphate, the perpetrator of Thursday's attack in which he shot and killed a police officer of the Port de Vincennes Kosher deli attack, where he took 17 hostages and "executed five Jews."
The caption also claims that he put an explosive device on a car which blew up on a Parisien street.
A security analyst who spoke to i24news believes that this refers to an incident which occurred in the VilleJuif neighborhood in Paris where a car blew up Wednesday night, which police say was criminally motivated.
There were no injuries.
The analyst also believes that an incident which occurred Wednesday where a jogger running in the Fontenay-aux-Roses neighborhood, where Coulibaly lived, was critically injured after being shot, may also have been carried out by Coulibaly.
Paris prosecutors confirmed Sunday afternoon that Coulibaly was indeed linked to that attack after ballistics tests on shells casings from the scene matched those from the automatic weapon used at the Hypercacher supermarket two days later.
-'Brothers, what are you you doing when our Prophet is so seriously insulted?'-
The clip seems to have been shot on different days and is divided into four parts.
In the first part, Coulibaly is seen wearing a jalabiye, a Muslim styled kaftan, sitting under a paper printed with the Islamic State flag. It is in this part where he pledges allegiance to Baghdadi.
Looking directly into a camera, Coulibaly explains the reasons for the attacks mounted by himself and the Kouachi brothers on the Charlie Hebdo satirical magazine.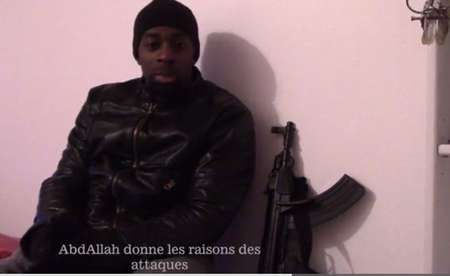 Wearing the same clothes he wore to carry out the Hypercacher attack and a bullet-proof vest he says "So there you have it, we did some things together, some separately, to have more of an impact."
The next part explains why he targeted Jews. Seen wearing a black jacket and hat sitting next to a Kalashnikov and says that "everything we are doing is legitimate, you cannot attack and not get anything back in return."
"You and your coalition bomb civilians and fighters everyday," he said, "It is you that decides what happens on earth eh? No. We cannot let you do that. We will fight back."
In the final part of the clip Coulibaly is seen once again wear a white jalabiye sitting under a printed IS flag and kalashnikov.
"What are you you doing when our Prophet is so seriously insulted? he asks in a reference to the Charlie Hebdo caricatures of Mohamed. "What are you doing when our sisters are being raped, when entire populations are being massacred?" he asks calmly, speaking in French.
"I've been to many mosques in Paris which are full of vigorous men who can defend Islam," he says, "Why is it, when we have millions of young men, we can't defend the prophet?"
-Start of wave of attacks-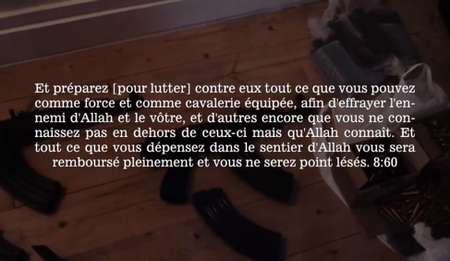 Meanwhile, the German Bild newspaper reported Sunday that the bloodshed in France could signal the start of a wave of attacks in Europe, according to communications by Islamic State leaders intercepted by US intelligence.
Shortly after the attacks in Paris, the US National Security Agency had intercepted communications in which leaders of the jihadist group announced the next wave of attacks, the tabloid said, citing unnamed sources in the US intelligence services.
Paris was cited as being the signal for a series of attacks on other European cities, including Rome, the newspaper said, adding however that a concrete plan of attack was not known.
The US services also had information that Cherif and Said Kouachi had contacts in the Netherlands, Bild said.
According to a separate report on CNN, police were put on high alert after intelligence learned that terrorist Amedy Coulibaly could have activated sleeper cells, who plan on attacking law enforcement.