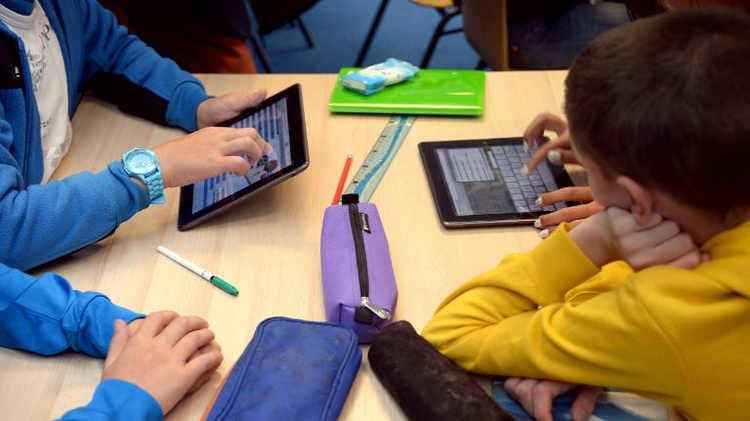 ☆
Fearing Syrian refugees, German school bans miniskirts
credits/photos : Damien Meyer (AFP/File)
File picture shows pupils using tablets during courses in a classroom in a school in western France
Administration of school in Pocking, Bavaria sends letter to parents in order to prevent 'misunderstandings'
A German high school banned revealing cloths and miniskirts this week, fearing the refugees residing in an adjacent shelter.
The administration of the school, located in Pocking, Bavaria, sent a letter to the parents notifying them of additional security measures taken following the opening of the shelter last week, and asking them to make sure their children don't dress revealingly, to avoid "misunderstandings."
German newspaper Die Welt reported the gym of the Wilhelm Diess Gymnasium was converted to accommodate 200 Syrian asylum-seekers.
In the letter, sent Monday to the parents, the principal Martin Thalhammer assured them that the refugees, who are expected to stay there till September, were denied access to the school gardens and its buildings during school hours. "The presence of teachers during breaks has also increased," he added.
Still, the parents were instructed to take precautions and to restrict their children from wearing transparent tops or blouses, short shorts or miniskirts. "This could lead to misunderstandings," explained the headmaster, noting the different culture of the Muslim asylum seekers. The students were also asked to refrain from staring or taking pictures of the refugees, and cautioned that "derogatory or racial remarks won't be tolerated in any way."
The letter provoked a heated discussion and drew much criticism, including from some of the parents – mostly for the restriction of freedom of expression. In response, Thalhammer clarified: "There was never a dress code at this school, and there will not be one in the future," he told the Passauer Neue Presse. Nevertheless, he stressed that "I have a duty to take care of the children. That's why I wanted to inform everyone of what is going on at school."
Polina Garaev is i24news' correspondent in Germany.